By Jane Warburton June 19th, 2009 All Boxing Previews
**With Slideshow**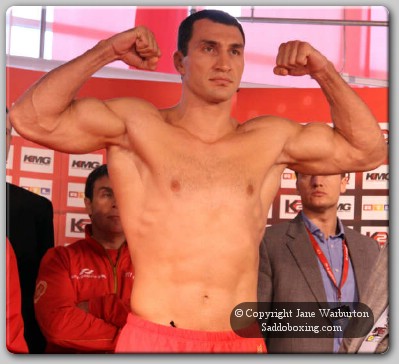 © Jane Warburton / Saddo Boxing
At 2.00 PM this afternoon, at the impressive Karstadt Sports Store in Dortmund, Germany, media and fans gathered to witness the official weigh-in of Wladimir Klitschko and Rusland Chagaev ahead of tomorrow night's heavyweight contest at Veltins Arena in Gelsenkirschen.
Introduced by Michael Buffer, both men made their entrances to huge support from the waiting crowd. Wladimir arrived wearing his red Team Klitschko tracksuit alongside trainer Emmanuel Steward.
Wladimir's elder brother Vitali, the WBC Heavyweight Champion, came along to keep an eye on proceedings.
Looking 'steely-cool', IBF/WBO Champion Wladimir towered over his opponent, Chagaev, who looked far more relaxed than he appeared at Monday's press conference.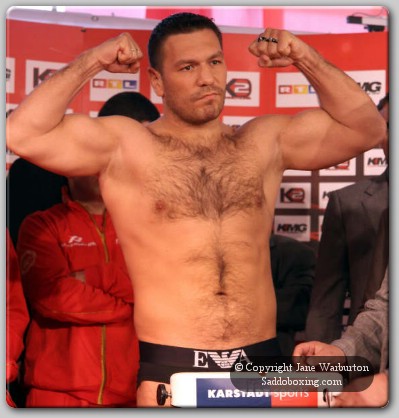 © Jane Warburton / Saddo Boxing
Sporting a white polo shirt, WBA Champion in recess Chagaev happily showed off his 'Schalke F.C.' card which bears his name. The Veltins Arena, which plays host to tomorrow's fight night, is home to the immensely popular football team.
Both men weighed in comfortably with Klitschko tipping the scales at 108.86 kg/240 lb and Chagaev registering 102.06 kg/225 lb. Afterward, each took time to pose for photographs.
As the Champion, Wladimir was then asked to choose the gloves for the contest. He settled for smart white, gold and red gloves.
Later, at the InterCity Hotel in Essen, the undercard fighters weighed in.
The MC announced that tomorrow night's event was a world record in the history of indoor boxing events, excitedly confirming that there would be a 61,000 strong sell-out crowd packed into Veltins Arena. He said that this would be a hugely important boxing event that we should all be thrilled to be a part of.
Weights for undercard boxers are as follows:
Heavyweights
Serdar Uysal 96.0 kg/211.75 lb
Cedric Boswell 104.5 kg/230.5 lb
Middleweights
Olegs Fedotovs 72.0 kg/158.75 lb
Andy Lee 73.2 kg/161.5 lb
Heavyweights
Paul Butlin 106.5 kg/234.75 lb
Johnatahn Banks 99.0 kg/218.25 lb
Heavyweights
Michael Sprott 107.5 kg/237 lb
Alexander Ustinov 139.6 kg/307.75 lb
Light middleweights
Daniel Kaefer 69.5 kg/153.25 lb
Omar Siala 69.5 kg/153.25 lb
Lightweights
Omar Yilmaz 62.8 kg/138.5 lb
Gabor Veto will be weighed tomorrow.
Click to read more boxing articles by Jane Warburton
Discuss in Boxing Forum
---
Boxing News Tags: Alexander Ustinov, Andy Lee, Cedric Boswell, Daniel Kaefer, Emmanual Stewart, Gabor Veto, Johnathan Banks, Michael Sprott, Olegs Fedotovs, Omar Siala, Omar Yilmaz, Paul Butlin, Ruslan Chagaev, Serdar Uysal, Weigh-In, Wladimir Klitschko