By Jane Warburton July 2nd, 2009 All Ringside Boxing
**With Slideshow**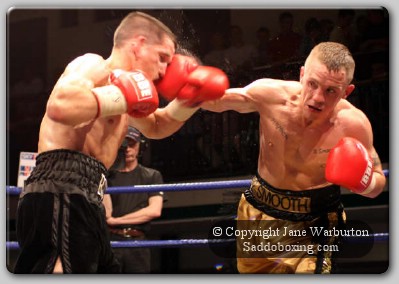 © Jane Warburton / Saddo Boxing
Tuesday Night at the York Hall in Bethnal Green, London, England, Frank Maloney hosted a fight night headlined by Nottingham boxer Jason Booth's defence of the British Super Bantamweight title against Rocky Dean of Thetford.
Both men keep busy as they start this 12 round contest, but their heads come together frequently and by the end of the first round, Booth has already sustained a cut to the forehead.
Dean has a better second round and the crowds cheer 'Rocky! Rocky! Rocky!' Sky Sports Statistics reveal that during the second round alone - Booth threw 112 punches with an 18% success rate, as opposed to Dean's 66 punches that had a better success rate of 22%.
Round four sees Booth land a sickening body-punch to Dean's torso. But Dean starts the fifth trying the same tactic and lands some short body-punches. Mid-way through the frame, he backs Booth up on the ropes but Booth retaliates with a lovely right hand to the face followed moments later by another peach of a right and he starts to 'pick off' Dean.
It's very hot under the lights tonight and I wonder how they can keep up with the pace as they are both busy.
Both men are warned about their heads in the sixth. "You see that judge there?" Referee Ritchie Davies points to Ian-John Lewis, "well, he lost his title on a cut…so watch the 'eds !"
The boxing resumes with Booth's forehead clearly displaying a bruised lump under the cut he sustained in round one.
Round seven sees Booth continue to use a combination of shots to head and body - nipping in a left to the body more than a few times. He looks 'loose' and appears to be enjoying himself now!
The crowd gets behind Dean again and he responds by digging in with some body shots as he backs Booth up on the ropes mid-way through the ninth, but Dean has sustained a cut above the left brow. He 'digs in' and puts in more effort in this round to finish the frame strongly.
But Booth comes back with a better round ten. The battle has been constant from the start of the first round and the work-rate is unceasing between these two.
The twelfth and final round sees both men 'tangle' together - still 'going at it' despite being tired after such a pace.
Incredibly, Sky Sports Stats show that Booth landed 225 of 1127 punches (19% success) as opposed to Dean's 112 landed of 842 (13%) and it came of no surprise when Booth was declared the winner by scores of 119-109, 119-109 and 120-108.
'2Smooth' Booth retains the British title for the first times and improves to 33 wins (13 by KO) and 5 losses.
Afterward, he tells Ed Robinson of Sky Sports that he'd like to fight former British, Commonwealth and European super bantam champion Michael Hunter.
Undercard action:
Akaash Bhatia (Harrow) v Jamie Arthur (Wales)
10 x 3 British Featherweight Title Eliminator
'Kash the Bash' suffered his first defeat when he lost out on points to determined Welsh-boxer Arthur. Both men provided non-stop action in this eliminator bout, which sees the Welshman cut to his right eye in the opening round.
Bhatia scores with the long-reaching left while Arthur targets his opponents head with lefts and rights. Bhatia gets a cut to the forehead and both men are bloodied. Bhatia seems disheartened and Arthur puts in one last big effort in the final round to secure a well-deserved points win.
Arthur wins on points 96-95 and improves to 15 wins (4 by KO) and 2 losses (2 by KO). He now gets a shot at the British Featherweight title against Martin Lindsay.
Tom Dallas (Chatham) v Stas Belokon (Ukraine)
6 x 3 Heavyweight Contest
It was all the sixes as six foot six inch tall Dallas notched up his sixth win, scoring a TKO over Ukrainian opponent Belokon. Dallas dominated from the start and Belokon - aka 'The White Horse' - takes a knee from a big right to the head in the last half minute of the first.
The Ukrainian takes a big right to the head in the second minute of round two and drops to his knee. Fighting resumes, but Dallas 'lays in to' his opponent with big solid punches to the head and body, finishing with a big left hook that sends Belokon to the canvas again just inside the closing minute of round two. He takes the count but referee Dave Parris calls an end to the fight
Dallas wins by second round TKO and improves to 6 wins (4 by KO), no losses.
Darren Sutherland (Dublin) v Gennadiy Rasalev (Ukraine)
6 x 3 Super Middleweight Contest
Darren The Dazzler got his fourth win by TKO over Ukrainian opponent Rasalev, but it was a testing four rounds for the popular Dublin boxer, who was visibly disappointed that his opponent had to pull out on a cut.
Sutherland gets off to a good start but Rasalev unleashes some big swinging right punches which find their mark. Round two sees the Ukrainian land with lefts and rights to the face of Sutherland inside the opening minute of the frame - putting 'The Dazzler' on the back-foot momentarily.
Sutherland sustains a swelling and cut to the right cheekbone which sees him 'dab' away at it with his glove. It's a close round but Sutherland lands a decent right to the face of Rasalev, who also has an injury to his right cheekbone.
Sutherland lands two big right jabs to the face of Rasalev in the closing seconds of the round. The action continues in the third with both men scoring shots. But mid-way through the fourth, Rasalev is led to his corner to check on the left eye damage and referee Mark Reade stops the contest.
Sutherlands record now stands at 4 wins (4 by KO) and no losses. Afterward, there was question as to whether Darren Sutherland's next fight - in Sunderland next week - will still go ahead.
Sutherland said he was disappointed the fight was stopped as he'd like to have carried on, but added that he 'was learning'.
Liam Shinkwin (Watford) v Ibrar Riyaz (Reading)
6 x 3 Lightweight Contest
Popular Shinkwin had a tough contest against late opponent Riyaz, hitting the canvas in round four but it was counted as a no-knockdown. Round five sees Shinkwin down inside the first twenty seconds and he's caught a few times from the left punch but secures a draw.
Shinkwin goes to 2 wins, no losses and 1 draw. Riyaz sees his record to 3 wins (1 by KO), 5 losses and 1 draw.
Martin Power (St. Pancras) v Sid Razak (Birmingham)
6 x 3 Bantamweight Contest
Former British bantamweight champion Martin 'Too Much' Power ended his losing streak by securing a points win over late opponent Razak.
Power looked classy against a 'cagey' Razak - targeting the body to wear down his opponent. Power's record now stands at 20 wins (8 by KO and) 4 losses (3 by KO).
Ashley Sexton (Cheshunt) v Kemel Plavci (Serbia)
6 x 3 Flyweight Contest
Sexton was scheduled to fight Mike Robinson but a last minute change of opponent saw him up against experienced Serbian opponent Plavci.
Flash Ash was keen to impress against pint-sized Plavci, but Plavci had come to 'have a go' and realised he had some success with a wide swinging right in round four. Sexton kept focussed and busy, using his long reaching right and left which landed right on target to Plavci's face.
By this time of night, metal hoardings were being dismantled on the stage area of the York Hall and unfortunately the clanking of metal would have sounded like a bell to the boxers so I wasn't surprised when Sexton stopped before the end of the sixth - thinking the contest was over!
Luckily for Sexton, Plavci wasn't quick to respond and Sexton jumped back in to the fight with just a few seconds remaining.
Sexton wins on points, 60-55, and improves to 7 wins (3 by KO), no losses. Now, Sexton is looking ahead to a title shot in September.
Mene Edwards (Thamesmead) v Lee Nicholson (Doncaster)
4 x 3 Light Heavyweight Contest
It was a short night for Edwards on his pro-debut against an opponent who took the fight on the day. Nicholson was floored inside the opening seconds of the first round then down again later in the round. Nicholson didn't want to come out for the second round and Edwards gets his first pro-win by stoppage round one.
Tomas Grublys (Hounslow) v Alex Spitko (Mansfield)
4 x 3 Light Middleweight Contest
Lithuanian born Tomas Grublys didn't get off to a good start against last minute opponent, Latvian born 'Pit Bull' Spitko. He took a number of right punches to the head, but despite being 'wobbled', scored a fourth round TKO.
Grublys record stands at 4 wins (3 by KO) and no losses.
Martin Welsh (Swanley) v Kristian Laight (Nuneaton)
4 x 3 Light Middleweight Contes
This was Welsh's pro-debut against experienced Laight. The Kent Boxer wins on points, 40-36, to notch up his first win.
Ryan Evans (Wales) v Johnny Greaves (East Ham)
4 x 3 Light Welterweight Contest
Evans had a difficult opponent for his pro-debut in the form of Johnny Greaves! Greaves - who usually chats during his fights - gave Evans a tough first contest.
Team Greaves were clearly delighted with his performance, shouting 'Good Shot, Johnny!' with regularity and on occasion he would reply with a nod and a 'yes that was quite good, wasn't it?', much to my amusement, but very off-putting for his opponent!
Evans - who had some good support in the York Hall - kept focussed to pick up his first win
Click to read more boxing articles by Jane Warburton
Discuss in Boxing Forum
---
Boxing News Tags: Akaash Bhatia, Darren Sutherland, Frank Maloney, Gennadiy Rasalev, Jamie Arthur, Jason Booth, Rocky Dean, Stas Belekon, Tom Dallas, Tony Jeffries