By Jane Warburton July 6th, 2009 All Ringside Boxing
**With Slideshow**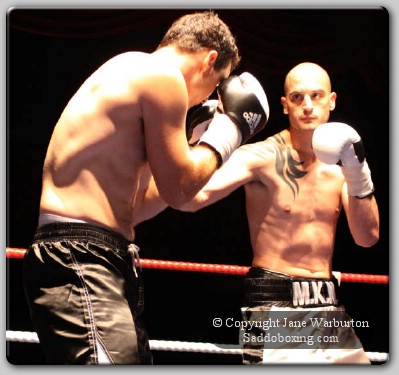 © Jane Warburton / Saddo Boxing
Yesterday afternoon at the Tower Ballroom in Edgbaston, Birmingham, England, PJ Rowson and Errol Johnson of First Team Promotions hosted a six bout fight card.
The Tower Ballroom is a great venue located next to scenic Edgbaston Reservoir.
The six-contest bill, which originally was scheduled for ten contests, kicked off with an exhibition bout between welterweights Andrew 'Paddy' Patterson and Jason Nesbitt of Birmingham, after which the professional bouts began.
Nasser Al Harbi (Birmingham) v Martyn King (Cumbria)
4 Round Light Middleweight Contest
It's a close first round as both men suss each other out. Round two sees Al Harbi use the right with success while King lands a decent left in the last half minute of the frame.
Both men land shots with King throwing the left and Al Harbi landing with a clubbing left just behind King's right ear.
It's a closely matched contest with Al Harbi winning on points, 39-38 and his record now stands at 8 wins, no losses.
Richie Wyatt (Stourbridge) v Craig Dyer (Swansea)
4 Round Light Welterweight Contest
Dyer landed some decent left punches to the head of the Stourbridge man, but Wyatt scored with some big uppercuts. Dyer was told to watch his head going in and a confident Wyatt kept focussed to win the contest on points, 40-36, notching up his second pro-win.
Dee Mitchell (Birmingham) v Martin Concepcion (Leicester)
4 Round Light Middleweight Contest
The "Immaculate Concepcion" enjoyed the support from the travelling Leicester fans, but it wasn't enough to successfully get him through the action-packed four rounder. Concepcion's left glove was slightly low, leaving his face open to Mitchell's big right, which caught Concepcion almost every time.
Urged by his corner to get busier in the latter rounds, Concepcion 'ups' the work-rate in the fourth and final frame, landing a notable left while Mitchell almost laughs at him. It seems it was too little too late as Mitchell gets the points decision, 39-37, much to the disapproval of fans.
Mitchell improves to 9 wins (2 by KO), and 4 losses (1 by KO).
Quinton Hillocks (Dudley) v Adam Wilcox (Cross Hands, Wales)
4 Round Light Heavyweight Contest
Popular Hillocks entered the ring wearing a red superman cape and looked in great physical shape. Things get off to a bad start when Wilcox throws after the bell in round one and receives a 'telling off' from referee Rob Chalmers.
Hillocks dominated, but it was a fast and messy fight with lots of grappling. Hillocks wins on points 40-37 and improves to 3 wins, no losses.
Eddie McIntosh (Birmingham) v Jamie Norketh (Newark)
6 Round Super Middleweight Contest
The final fight of the afternoon was a six-rounder. Early on in the fight, Norketh sustains a cut to the left brow but it wasn't serious and fighting continues.
McIntosh finds success with the straight right and left to the face of his opponent, which gets past Norketh's guard. Norketh's nose is bleeding by round five but he starts to fight 'smarter', trying to get McIntosh to miss.
A bit of a messy fight, but 'Braveheart' McIntosh dominates to win on points, 60-54. His record now stands at 9 wins (2 by KO), no losses.
Click to read more boxing articles by Jane Warburton
Discuss in Boxing Forum
---
Boxing News Tags: Adam Wilcox, Boxing Results, Craig Dyer, Dee Mitchell, Eddie McIntosh, Jamie Norketh, Martin Concepcion, Martyn King, Nasser Al Harbi, Quinton Hillocks, Richie Wyatt, Ringside