By Jane Warburton July 26th, 2009 All Ringside Boxing
**With Slideshow**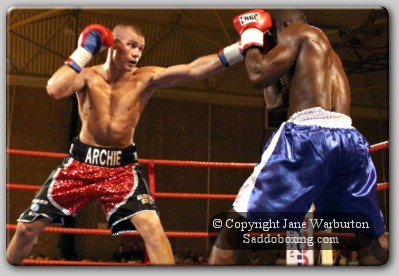 © Jane Warburton / Saddo Boxing
Last night, at the Sutton Sports Centre in St. Helens, Merseyside, England, Oliver Harrison promoted a fight-night which would see nine all-action contests.
The headliner would see popular Martin Murray of St. Helens face Ghanaian boxer Thomas Awinbono in an eight round middleweight contest, his first since splitting with Steve Wood of VIP Promotions.
Looking in great physical shape - as ever - confident Murray entered the ring to huge support from the St. Helens fans. Murray dominated from the start, keeping centre of ring, he forced Awinbono to 'edge' around the ropes.
Landing some clubbing left punches to the head in the early rounds, Murray looks for the shots. Awinbono manages to land some decent shots of his own as he sneaks the right jab through the middle of Murray's guard.
Round three sees Murray sinking in some punishing body-shots that had his opponent cringing, sucking in air after each blow. It seems as if he can't possibly take any more of the body-shots but he soaks them up and carries on - albeit tentatively at times.
Perhaps Awinbono's resistance disheartens Murray past the middle rounds as the Ghanaian digs in to take more shots and sees it out to the end of the eighth.
A good performance from Murray, who might have 'stopped' another opponent with those thumping body-shots.
Murray wins on points, 80-72, and improves to 15 wins (5 by KO) and no losses.
There were also seven all-action support bouts on the undercard.
Justin Jones (Rhyl) v Jamie Norkett (Newark)
4 Round Super Middleweight Contest
Jones finds success with the left which sneaks through the guard of Norkett. Lunging forward with rights and lefts to the body - Jones goes on to win on points 40-36 and improves to 3 wins (1 by KO), no losses and 1 draw.
Scott Mitchell (Bolton) v Chris Woollas (Epworth, Lincs)
6 Round Heavyweight Contest
Mitchell finds success with left and rights to the head and targets the body of Woollas but the Epworth man manages to get in some decent head shots.
Mitchell wins on points, 60-55, and improves to 5 wins and 1 los.
Tom Doran (Connahs Quay, Wales) v Craig Tomes (Barnsley)
6 Round Light-Middleweight Contest
It was a good 'scrap' between these two men. Using big uppercuts in the final round - Doran has Tomes on the canvas mid-way through the frame.
Doran wins on points, 60-53, to notch up his second pro-win.
Rob Beech (St. Helens) v Mark Lewis (Mansfield)
4 Round Heavyweight Contest
Local man 'Beechy' - the busier of the two men - found success with the left jab. Team Lewis urge their man to "Work!" and "Don't Wait!". When he does throw a shot within reach - it's a decent one, but the Mansfield boxer needs to up the work-rate.
Beech wins on points and improves to 3 wins and no losses.
Steven Harkin (Liverpool) v Jason Smith (Barnsley)
4 Round Super Middleweight Contest
Not sure Harkin enjoyed his first contest - as he looked a bit 'shell-shocked' afterward! But, the debutant notched up his first pro-win against Smith on points, 40-36.
Craig Lyon (St.Helens) v Isaac Owuso (Ghana)
6 Round Bantamweight Contest
Popular Craig Lyon had an 'army' of fans to support him! And they weren't disappointed. Lyon scored a good points win over southpaw Owuso.
The local man sustained a cut above and below the left eye in the latter rounds of the fight but his corner did a good job of stopping the blood and Lyon went on to win on points, 60-54.
Afterward, he confirmed that he'd needed 12 stitches. Lyons record now stands at 7 wins (2 by KO)
Martyn Grainger (Heywood, Lancs) v Howard Daley (Preston)
6 Round Heavyweight Contest
'Grid' Grainger faced fellow stable-mate Daley in a six rounder. Both men put in bags of effort but it was Grainger who got the points win. His record now stands at 3 wins (1 by KO) and 1 loss (1 by KO).
Click to read more boxing articles by Jane Warburton
Discuss in Boxing Forum
---
Boxing News Tags: Boxing Results, Chris Woollas, Craig Lyon, Craig Tomes, Howard Daley, Isaac Owuso, Jamie Norkett, Jason Smith, Justin Jones, Mark Lewis, Martin Murray, Martyn Grainger, Ringside, Rob Beech, Scott Mitchell, Steven Harkin, Thomas Awinbono., Tom Doran