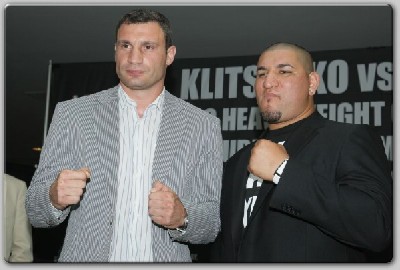 © Jan Sanders / Goossen Tutor Promotions
WBC heavyweight champion Vitali "Dr. Ironfist" Klitschko and No. 1-ranked Cristobal "The Nightmare'' Arreola met the media and faced-off on Thursday for the first time at a packed Staples Center press conference to promote their Saturday, Sept. 26, showdown.
There wasn't much trash-talking as both fighters paid their respect to one another. Arreola was asked by one reporter about his chances. "Any man is beatable," he said. "If you've got two hands you can beat any man. He has a chin and I have a chin. It only takes one punch. I've said it before: We're in the hurt game and one of us is going to get hurt. I just hope it's not me."
Klitschko, of Los Angeles and Hamburg, Germany, brings a record of 37-2 with 36 knockouts into what will be an exciting, hotly contested 12-round showdown. The dangerous-punching Arreola, of Riverside, California, via East Los Angeles, is 27-0 with 24 KOs .
Here's what both fighters and the principals had to say on Thursday.
Vitali Klitschko: "I'm very happy to be here fighting in Los Angeles. I want to thank everyone for making this fight come true.
"I've fought here two times and I won both times. I was ahead on the scorecards when the doctor stopped the fight (against Lennox Lewis). I am so happy to be back in L.A., back in the Staples Center and back fighting in the U.S.
"Everyone is interested in this fight. Everyone has a prediction. Both fighters have a great KO ratio. If you ask me who will be the winner of the fight, I don't know.
"I know I studied him very well. I know he is a good fighter. He's Mexican, so you know he has heart. He's the first Mexican I've fought. This will be a very interesting fight for not just the fans, but for me.
"Everyday I think about how I am going to fight him. I'm ready for this fight and I know this will be a real battle. Everyone says that this fight will not go the distance. I don't think it will either.
"No one can give a prediction. We know he is a very good fighter with a great KO percentage. I show my skills in the ring. Who will be the winner? The one with more skills. I have my skills, Cris has his. Who will be the winner? You will see on Sept. 26. I can't explain my strategy. I want to present my style in the ring.
"This is heavyweight boxing. It's two punchers. No one knows what will happen, that's why I prepare to finish the fight inside 12 rounds. But, I am ready to fight all 12 rounds. I am ready for anything that can happen.
"I'm an old man. I have pain. But, don't worry. I'm feeling much better. I had a good performance against (Samuel) Peter. I stopped (Juan Carlos) Gomez. I will do the same against Arreola. I know Shaq (Shaquille O'Neal) is a big boxing fan. If Shaq wants, I will be happy to be his teacher on his reality show.
"Cris' knockout ratio is much higher than David Haye. He's undefeated. He's fought his whole career at heavyweight. David just made his first step. It's too big of a difference (between cruiserweight and heavyweight). In my opinion, Cris is a much stronger and a much better opponent.
"Cris isn't much of a trash talker. He doesn't make as much noise (as Haye).
"My goal is to take the last world title for the Klitschko family and control the heavyweight division. To have all the titles, that's our goal. Right now, I feel like I have more experience than I did before (prior to his brief retirement due to injuries).
Joking to Arreola: "I see you have respect for older people. Please, don't hit me too hard. I am 10 years older than you. I have better skills than Cris and I want to show that on Sept. 26."
Cristobal Arreola: "There isn't going to be a lot of trash talking. I'm here to fight. I'm here to make history.
"I'm going to make him a pop culture question: 'Who did Cris Arreola beat to become the first Mexican-American heavyweight in the world?' I'm honored by this and it's not just the opportunity. It's history. It's hard for me to even describe.
"I've never been into trash-talking. I respect the man and so we'll save all our trash-talking for the ring.
"Any man is beatable. If you've got two hands you can beat any man. He has a chin and I have a chin. It only takes one punch. I've said it before: We're in the hurt game and one of us is going to get hurt. I just hope it's not me."
Tom Loeffler, Managing Director, K2 Promotions: "We're really excited to bring this to Los Angeles. It's a natural here. Vitali has a place here, his children were born here. He really considers this ( Staples Center ) his home arena in the U.S.
"This fight is a natural in L.A. Vitali has a great KO ratio, but we know that Cris is not going to run. For the fans, this is going to be a great fight.
"We priced this event correctly. For a fight like this, you would expect higher prices. But we wanted it to be very affordable, especially in this economy, and we expect a sold out house on Sept. 26".
Bernd Boente, Managing Director, Klitschko Management Group: "We're very happy to be here at the Staples Center again. This is fun fight for the fans.
"We did this in a very short time period. Our cruiserweight champ (David Haye, who was scheduled to fight Vitali but withdrew) got cold feet and needed a tune-up. This is definitely a better fight for the fans.
"It's a great heavyweight fight for fans here in the U.S. and worldwide. I think we'll have more than 100 countries covering this fight. Vitali will show a great performance and defend his title.
"The heavyweight division is the best division in boxing. If this is a great fight for the fans, then we're all winners."
Henry Ramirez, Arreola's Trainer: "A lot of people say we're cashing Cris out meaning we're going for the money by fighting Klitschko. I can tell you we're not cashing out, we're going to break the bank and win. Come Sept. 26, Cris is going to rise to the occasion and bring home the world title to the U.S. "
Dan Goosen, Arreola's Promoter: "Right now, Cristobal is a monster. He wants to rip your head off. Cristobal's been asking for this fight for a long time. He could have fought Wladimir, which everyone says would have been an easier fight. This is a chance to put boxing back on the covers of magazines and on the front pages of newspapers. But, it's got to be a good fight and that's what this is.
"One of the problems Vitali has had when he comes over to fight in America is the way he fights. The fans here don't want to see jabs. They don't want to see hugging or grabbing. They want to see a fight. Unfortunately, today's fans expect a lot more. I believe that this is going to be one of the greatest nights of heavyweight fighting since the days of Mike Tyson. This will get people excited about the heavyweight division again.
"One of the things that our sport has really lacked in is making the biggest and best fights that the public want to see and, quite frankly, what the fighters want to take part in. That's what we have on Sept. 26. It's truly a fight that fans can get excited about.
"We want to see that statue of Arreola in front of Staples Center soon."
Tickets will go on sale Saturday, Aug. 15 beginning at 10 a.m. PT at all TicketMaster outlets, by phone at 800-745-3000 and online at www.ticketmaster.com
Tickets will be available at the Staples Center Box Office Monday, August 17 at 10 a.m. Tickets are priced at $500, $300, $200, $100, $75, $50 and $25.
The world title fight, which will be promoted by K2 Promotions in association with Goossen Tutor Promotions, will air Live on HBO at 10 p.m. ET/7 p.m. PT.