By Ginamarie Russo August 25th, 2009 All Boxing Interviews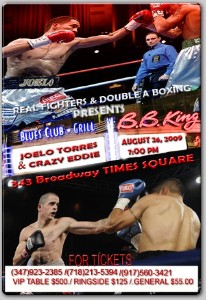 Fighting out of Guaynabo, Puerto Rico, undefeated light welterweight Joelo Torres, 10-0 (6), will be facing David Armstrong, 20-11 (12), on DiBella Entertainment's Broadway Boxing series at B.B King's in Manhattan on August 26th.
Torres has fought such opponents as Mike Gonzalez and Christopher Fernandez, and won his last fight against Omar Serrano by way of knockout in just the first round.
Torres is ready to take on Armstrong in an eight round main event. SaddoBoxing spoke with him and his manager Ricardo Figueroa of Real Fighters.
SaddoBoxing: You are facing David Armstrong Wednesday night; how have you been preparing to fight him and are you familiar with his style?
Joelo Torres: I am comfortable fighting him, even that he is a right handed fighter.
Ricardo Figueroa: Joelo's a complete fighter, we feel confident against his style.
SB: How has training camp been in Puerto Rico?
JT: I have the same approach and am progressing with my trainer Uri Ramos. The regime is tougher and the intensity is increased. I've been concentrating on technique, in-fighting, to pick apart my opponent. During training, I focused on technique such as slipping.
SB: Not looking past your fight, but if you could, who would you like to earn a fight with in the future?
JT: I don't look beyond what's in front of me. I will wait to get to the point I am no longer looked at as a prospect, and I will fight whoever comes my way. With my great training and my trusting team, I know that when it comes time to cross that river and step up to the plate, I can do it.
SB: What do you hope to add to the American boxing market?
JT: Well, Puerto Rico is a boxing rich island, and I am proud to be apart of it. I am continuing the trend from Puerto Ric, which is being a great boxer, as Puerto Rico produces some of the best boxers in the world. I am bringing that to America as well.
SB: You have a tentative fight date in October in Puerto Rico, billed as a triple header starring Kermit Cintron, Carlos Quintana and yourself.
JT: Granted all goes well, I will be fighting then. DiBella is presenting events in Puerto Rico, being the market is so close to New York.
SB: What can your fans and viewers anticipate on Wednesday night?
JT: I am prepared for anything and everything. I am prepared to win by knockout. I feel confident and strong. I think the fight might end early!
RF: As his manager, I know Torres has the skills to win a fight by taking over. He has the power to end the fight early or end the fight late if he wants. Joelo is a multi-dimensional fighter. He is very aware of instructions from his trainer, and is effective at following through. He fights and performs.
SB: Any last comments or thoughts?
JT: Thank you for this interview, I appreciate it.
RF: I'd like to thank Lou DiBella and his team for their efforts. You can look forward to watching two of my fighters on the card Wednesday night, the main event Joelo Torres, and Bronx's Eddie Irrizary facing Felix Flores. For those who believe, thank you and for those who don't, we will make a believer out of you come fight night! And thank you to all his fans, we couldn't do it with you!
Click to read more boxing articles by Ginamarie Russo
Discuss in Boxing Forum
---
Boxing News Tags: David Armstrong, DiBella Entertainment, Joelo Torres