By Ginamarie Russo October 21st, 2009 All Boxing Interviews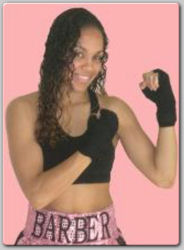 NABF Female Featherweight Champion Jennifer "The Razor Barber" will be facing Gloria Ramirez at the Irvine Marriott in Irvine, California on October 29.
This co-main event six-rounder will not be a defense for her title, but it will give Barber a tough competitor.
Ironically, a few months ago, Barber had foreseen the addition of women's boxing to the Olympics as a major stepping stone to gain more recognition and respect among the sport. This year it was decided that women's boxing will take place in the 2012 Olympics.
SaddoBoxing: How is your preparation and training going for your bout with Gloria Ramirez?
Jennifer Barber: It's been good. I've been sparring nine rounds for three minutes, so training has definitely been stepped up.
SB: How are your sparring partners?
JB: They're good. Good for training. I've been mostly sparring with amateur boxers. Also, Mia St. John too.
SB: That's effective. You get the energy and force from the amateurs and the veteran. I can see your regime is modified?
JB: Yes, yes. My coach Stan Ward stepped up my training about five notches. There's a lot more cardio, and just all in all intense.
SB: You had told me something I find very interesting and vital. You don't actually watch any video footage on your opponent before a fight?
JB: No, I do not. My coach actually researches them and studies them. If I did, I would go into the fight expecting something. It doesn't matter what she does, it matters what I do. I think that's the best part of the amateurs, not knowing who your opponent is or anything about them.
SB: Your weight for this bout?
JB: I am usually featherweight at 126lbs. For this I have to go up to 130lbs because my opponent can't get down. It will be a super-featherweight class fight.
SB: I remember during a previous interview you had said that women's boxing in the Olympics will help out the women of the sport and the sport itself. And now, come 2012, female boxing!
JB: I know, I know! It's great that it happened! I think that there's going to be a big change the next couple of years. The fact that it will be a apart of the Olympics is explosive!

SB: You will be at the World Boxing Hall of Fame.
JB: Yes I will. I was actually asked to be a guest. I will be the representation for women's boxing.

SB: And you run for charitable causes?
JB: Yes, I do. I recently participated in an 8K run for research on ovarian cancer. And I will be running a 10k for preventions and help of drug abuse. It's great exercise!
SB: I'm sure it is. Killing two birds with one stone, supporting a cause and training! Any last comments?
JB: Thank you for this interview, I appreciate it! Check out my website www.jennifertherazor.com.
Click to read more boxing articles by Ginamarie Russo
Discuss in Boxing Forum
---
Boxing News Tags: Gloria Ramirez, Interview, Jennifer Barber