By Jane Warburton November 28th, 2009 All Ringside Boxing
**With Slideshow**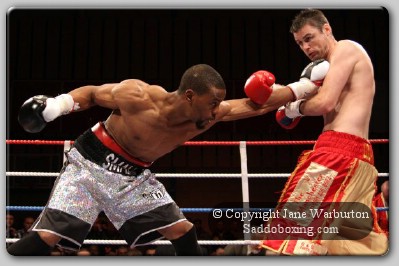 © Jane Warburton / Saddo Boxing
Last night at the Robin Park Arena in Wigan, England, Hatton Promotions hosted a fightnight billed as 'Wigan Warriors' in which Anthony Small successfully defend his British and Commonwealth Light Middleweight titles against Thomas McDonagh.
Supremely confident Small spent much of his time 'showboating' in the early rounds but secured a unanimous points win over popular Mancunian Tommy Mac.
Small improves to 23-1 (16) while McDonagh falls to 34-3-3 (7).
Super feather prospect Anthony Crolla, 15-2 (6), stopped the comeback of former featherweight world title challenger Michael Brodie, 36-4-1 (24), with a third round stoppage.
Former British featherweight champion Andy Morris, 18-2 (6), outpointed Pierre Francois Bonicel, 17-3-2 (7), over eight rounds at super feather.
Ex-Commonwealth welter king Craig Watson, 15-3 (4), stopped Riad Menasria, 28-2-1 (9), in the second round while undefeated middleweight Martin Murray, 17-0 (6), posted an eight round verdict over Sergey Khomitski, 21-6-1 (8).
Promising super bantam Scott Quigg, 16-0 (10), finished off veteran Yuri Veronin, 27-10-2 (18), in the sixth and welterweight Mark Thompson, 22-1 (13), anded his bout against Danny Parkinson, 12-4 (4), even earlier with a first round stoppage.
Welter Denton Vassell, 13-0 (7), outpointed Jamal Morrison, 5-1-2 (2), over six frames while featherweight Joe Murray, 5-0 (2), ended his contest with Barrington Brown, 5-5-2 (2), in the second.
Kieran Maher, 2-0 (0), got a four round result against well-seasoned Kristian Laight, 6-69-5 (0), at welter and crusierweight Matty Askin, 3-0 (1), stopped Bobby Scott, 3-5-1 (2), in the very first round.
Click to read more boxing articles by Jane Warburton
Discuss in Boxing Forum
---
Boxing News Tags: Andy Morris, Anthony Crolla, Anthony Small, Barrington Brown, Bobby Scott, Boxing Results, Craig Watson, Danny Parkinson, Denton Vassell, Jamal Morrison, Joe Murray, Kieran Maher, Kristian Laight, Mark Thompson, Martin Murray, Matty Askin, Michael Brodie, Pierre Francois Bonicel, Riad Menasria, Ringside, Scott Quigg, Sergey Khomitski, Thomas McDonagh, Yuri Veronin