**With Slideshow**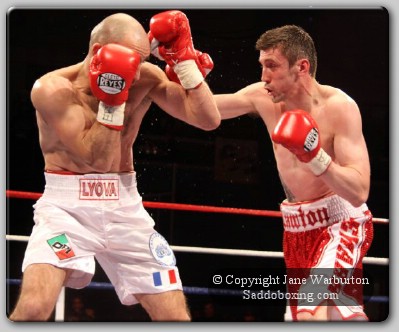 © Jane Warburton / Saddo Boxing
Friday night, at the Fenton Manor Sports Complex, Stoke-on-Trent, England, Hatton Promotions hosted a fightnight which would headline three title fights and a title eliminator.
In a packed venue, local boxer Scott Lawton was welcomed by his army of supporters.
Lawton faced Armenian-born Leva Kirakosyan of France, for the vacant European Super-Featherweight Title but, sadly, it was to be a short night for the likeable man from Stoke.
Despite the big height difference (he towers over his opponent) – Lawton enters the ring as the underdog against big hitting Kirakosyan.
In the opening forty seconds of round one, Kirakosyan 'shoots-out' a right that lands to the face of Lawton and he falls to the canvas. He gets up quickly and smiles – but looks unsteady. Kirakosyan goes straight at him and Lawton tries to keep away from the Armenians advances – using the expanse of this larger ring.
Staying on the back-foot – the Stoke man edges around the ropes keeping gloves up high as Kirakosyan punches relentlessly at his head and body. A left hook lands right on the bell and Lawton's legs wobble.
It's a better start to round two but Lawton has to hold-on in the third minute as Kirakosyan lands another hard left. Lawton is backed in to the corner in the closing half minute of the frame and is forced to take three or four big lefts before slumping back against the ropes.
Surprisingly, Referee Soren Saugmann steps in to give Lawton a standing-eight-count (which is not used in the UK). Visibly dazed – Lawton supports himself on the ropes and he is allowed to continue even though he looks 'out of it'. Thankfully the bell signals the end of the round.
As he comes out for the third – Lawton doesn't look very steady. In the opening twenty seconds he is pressured under a barrage of punches culminating in a huge right which lands clean and Lawton falls back against the ropes. Thankfully, Referee Saugmann calls the fight off and escorts Lawton back to his corner.
Leva Kirakosyan wins the European Super-Featherweight Title by third round TKO. His record now stands at 32 wins (22 by KO) 5 losses (2 by KO) while Scott Lawton drops to 27 wins (6 by KO) 6 losses (4 by KO) and 1 draw.
Lawton's Stable-mate Chris Edwards of Stoke faced Abmerk Shindjuu of Namibia for the vacant Commonwealth Flyweight title.
As usual – Edwards sets a fast pace but his opponent had clearly 'come to fight'. Not looking as accurate – Edwards is taking some punches from Shindjuu, but round three sees the reverse – with Shindjuu now missing with sometimes wild swinging shots.
Edwards is frantically throwing punches - his nose bloodied as Shindjuu starts to land shots in round four. By the end of the round – Sky Sports Statistics reveal that Edwards has landed 103 of 474 punches thrown (21% success) while Shindjuu has landed 54 of 298 (18%)
Edwards keeps up the pace continuing to 'bob' below Shindjuu's punches. The Stoke man sustains a cut above the left brow in round nine and his face is looking marked up.
Edwards looks like he's on 'automatic' as he continues in his jaunty style. He digs in and keeps throwing till the final bell.
Final Sky Sports Stats show that Edwards has landed 262 of 1365 punches thrown (19%) while his opponent has landed 205 of 1004 (20%)
All three European judges gave it to Edwards (115-114).
Chris Edwards wins the Commonwealth Flyweight Title. His record is now 14 wins (4 by KO) 14 losses (3 by KO) and 3 draws.
A disappointed Shindjuu drops to 7 wins (2 by KO) 3 losses and 2 draws.
The third title fight of the night was the third defence of the English Light Heavyweight belt by Champion Danny McIntosh of Norwich, who faced the challenge of former British titlist Tony Oakey of Havant.
Despite problems making the weight – McIntosh made light work of Oakey. Oakey went down from a right in the first half minute of the second round. 'The Big Mac' piles on the pressure and a big right sends Oakey to the canvas again.
Oakey was slow to get up for the count and was counted out by Referee Victor Loughlin. There was debate from Team Oakey as to whether he was actually counted out or not but the decision remained and McIntosh retains his title by second round TKO.
McIntosh improves to 11wins ( 5 by KO) 1 loss (1 by KO) while Oakey drops to 29 wins (8 by KO) 5 losses (2 by KO) 1 draw.
Undercard Results...
Gary Buckland of Cardiff faced Ugandan-born Sam Rukundo of Sweden for the Lightweight Commonwealth Final Eliminator.
Rukundo – who'd had trouble making the weight – gave a good effort in this ten round eliminator but was warned for his 'slapping' technique by Referee John Keane.
Welshman Buckland had problems with his gumshield which kept coming out - much to the despair of the Referee, but he secured a Unanimous Points win by a large margin (117-111, 117-111, 116-112) to get the Title chance.
His record improves to 18 wins (6 by KO) and 1 loss while Rukundo drops to 15 wins (6 by KO) 1 loss and 1 draw.
Matthew Hatton (Manchester) v Mikheil Khuchishvili (Georgia)
8 x 3 Welterweight Contest
Hatton (now under trainer Bob Shannon) dominated the fight – forcing a TKO round five over the Georgian.
Magic improves to 38 wins (15 by KO) 4 losses (1 by KO) and 2 draws.
Khuchishvili drops to 13 wins (4 by KO) 10 losses (7 by KO) and 2 draws.
Martin Murray (St.Helens) v Shalva Jomardashvili (Georgia)
8 x 3 Middleweight Contest
Murray had his toughest test to date when he faced a determined Jomardashvili, but secured the points win 58-56 to keep his perfect record. He improves to 18 wins (6 by KO) no losses, while Jomardashvili drops to 26 wins (19 by KO) and 2 losses.
Scott Quigg (Bury) v Nikita Lukin (Ukraine)
8 x 3 Bantamweight Contest
Impressive Quigg made quick work of Georgian-born Lukin scoring a first round KO.
Quigg improves to 17 wins (11 by KO) no losses, while Lukin drops to 10 wins (3 by KO) 18 losses (1 by KO) and 2 draws.
Craig Watson (Manchester) v Barrie Jones (Ferndale, Wales)
6 x 3 Light Welterweight Contest
On-form Watson secured a fourth round TKO over Welshman Jones.
Watson improves to 16 wins (6 by KO) 3 losses (1 by KO) while Jones drops to 16 wins (7 by KO) 5 losses (2 by KO)
Steven Foster jnr v Youssef Al Hamidi (Dewsbury)
6 x 3 Super Featherweight Contest
Foster scored a points win 59-56 over tough – Syrian born -Al Hamidi.
Foster improves to 26 wins (16 by KO) 2 losses and 1 draw. Al Hamidi drops to 6 wins (1 by KO) 25 losses (1 by KO) and 2 draws
Sergey Gulyakevich (Belerus) v Nikolov Berkatshashvili (Georgia)
6 x 3 Super Featherweight Contest
New Hatton-signing Gulyakevich proved too much for the Georgian Boxer who was forced to retire round two. Gulyakevich improves to 28 wins (13 by KO) and 2 losses.
Berkatshashvili drops to 15 wins (6 by KO) 5 losses (3 by KO).
Anthony Crolla v Jason Nesbitt (Birmingham)
4 x 3 Super-Featherweight Contest
Million-Dollar Crolla secured a points win (40-36) over last minute opponent Nesbitt.
Crolla improves to 16 wins (6 by KO) and 2 losses while Nesbitt drops to 7 wins (5 by KO) 103 losses (11 by KO) and 2 draws.