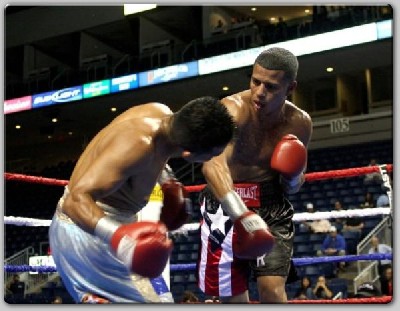 Photos Courtesy Of Luis Del Valle
Twenty three year old Luis Del Valle is confident but not cocky. He has high aspirations but is not unrealistic, wants to model himself after other great fighters of Puerto Rico like Felix Trinidad but also wants to carve out his own legacy.
In short, what you have is a determined young man who knows hard work can take him to the top and on the way following the example of positive role models will help him keep the straight path. Did I forget to throw in he can fight?
Luis, who stepped on the pro scene in April 2008 scoring a third round KO over another undefeated opponent Ray Rivera in Atlantic City NJ, is not exactly new to the boxing atmosphere.
As an amateur with a 126-12 record, in 2004 he won a silver medal at the PAL nationals in the 125lb weight class and was also the National Golden Gloves featherweight champion. In 2005 he was the under 19 National amateur champion, won a silver in the 2005 PAL championships and was a Bronze medalist at the Tammer Tournament in Finland.
In 2006 Del Valle continued his amateur whirlwind winning first place at the Six Nations Cup, third place at the National PAL championships, a bronze at the US Amateur Championships, gold at the Jose Che Aponte tournament, represented the United States at the 20026 world cup and claimed gold at the Six Nations Tournament in Italy.
Then in 2007 he took third place at the US Amateur Championships, and was a semi-finalist at the 2007 Pan American Olympic Qualifiers. His experience gained during the amateur years have proven valuable to Del Valle thus far carrying him to a currently undefeated record of 8-0 (6).
Luis' next challenge is a bout against fellow Puerto Rican upstart Jorge Cordero on March 27th in Poughkeepsie NY. Earlier today the DiBella contracted fighter set some time aside from last minute preparations to speak with me on his thoughts for this weekends bout, how he has adjusted from his amateur career to his professional one, his hopes for the future and more. Read it exclusively at Sadd Boxing.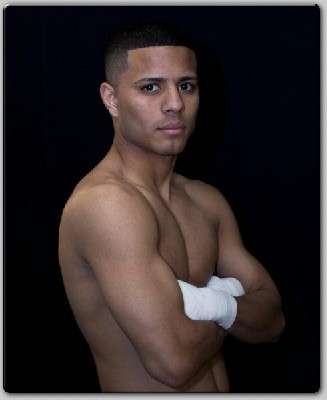 SaddoBoxing: I know that you have been working hard for your upcoming bout coming this March 27th. How has training been and tell us a little bit about yourself for the readers.
Luis Del Valle: "Well I am 22 years old, I originally come from Bayamon, Puerto Rico, now fighting out of Newburgh NY. I am a featherweight; my record is 8-0 (6). I hold an amateur record of 126-12. I am a former three time New York State Golden Gloves Champion, a former National Golden Gloves Amateur Champion. I was ranked number one in my weight class, two years in a row. I have been fortunate enough to travel all over the United States, overseas to Europe as a representative of our country. I am grateful for that amateur experience because it has really helped me into my transition as a pro."

SB: Since your transition from the amateurs to the professionals, what has been the biggest adjustment for you I know for many young fighters, making that transition the first thing they notice is the difference between professional styles and amateur styles. Many seem to not understand that as a professional, scoring points with the judges is much different than scoring points in the amateurs. Has that been a difficult transition for you?
LD: "No, not really. Because even when I was an amateur I was learning about the difference between the pro and the amateur styles. I think probably the first thing that I really noticed, was the power difference. As a professional, I am able to sit down more on my punches and let my hands go instead of worrying about quantity of shots that is often more important in the amateur rankings."
SB: Standing next to you, you seem like a big featherweight compared to many other featherweights that I have met. When not in training, what is your walking around weight?
LD: "Usually I walk around at about 135-136 lb. In between fights, I am still at the gym regularly, so I really don't gain too much weight."
SB: If you were going to model your career after any fighter, current or from the last decade, not to be like, but in terms of achievements and path that they took to get there, who would it be?
LB: "If I was going to pick somebody, I would have to say Felix Trinidad, not only because of what he achieved, but the way he carried himself in and out of the ring and the way that he represented his home of Puerto Rico. I think that any young boxer, from Puerto Rico, including myself, coming up today looks at him as a role model in that aspect."
SB: Do you know anything about your opponent for this Saturday's upcoming bout?
LD: "I am going to be fighting another upcoming fighter from Puerto Rico, named Jorge Cordero. I know that he is a southpaw, so I am excited for the challenge."
SB: What best describes your style? Are you a puncher, boxer-puncher, or still developing into what suits you best?
LD: "I am a boxer-puncher. I can go head to head, but I can turn into a pure boxer, if needed. It depends on what I need to adjust to. I prefer to come forward and apply the pressure until I can break my opponent down. I like to be an exciting fighter, but that doesn't mean that I am one dimensional in any way."
SB: Is that instilled in you to be a puncher and get your guy out of there or is that just something that you are comfortable with now, but still haven't really settled down with one definitive style yet? Are you still developing what style is most comfortable for you?
LD: "I don't really consider myself a heavy puncher, but I apply a lot of pressure and use that pressure to wear my opponent down. I don't allow them any time to try to dictate the pace. I keep them fighting at my pace and so far with six knockouts, out of my current eight wins, that pressure has been too much for some guys to handle. So right now, I would consider myself a boxer-puncher, but I am still developing."
SB- So far, you have had two 4 round distance fights and the rest have been six rounds. Are you going to step up to eight rounds any time in the near future?
LD: "This is my last six round fight. After this, it will be eight rounds. The longer the fight goes on, the stronger I get. Right away, I wanted to start out with six round fights, but I had to go through a couple of four rounders and now since I am stepping up to eight rounds, it is going to be even more beneficial because I will be able to take my time a little bit more and put my work in. You know, in the four round fights, you really don't have that time and have to do everything right away. Now with the eight round fights it allows me to execute my game plan a little bit better."
SB: Have you signed with a promoter yet?
LD: "Yes, right now I am part of the DiBella stable. Lou knows my manager Ray Rivera from way back, and Lou had seen me fight in the Golden Gloves several times, so when Ray approached him about me being a free-agent, Lou put me in a show to give me a trial. After the show, Lou was impressed with what I did and we signed."
SB: So where do you see yourself in the next five years, assuming that everything goes according to plan?
LD: "If I do what I am supposed to do, work hard, stay grounded, stay humble, don't take short-cuts, I definitely see myself as a champion. I know it is not going to be easy. I know that I have to put everything into it, 100%, and as long as I stick to that, I will be a champion."
SB: Luis, thank you, it has been a pleasure talking with you. Good luck on your fight Saturday. Hopefully, we can sit down and do this interview again when you have a belt around your waist.
LD: "Thank you."