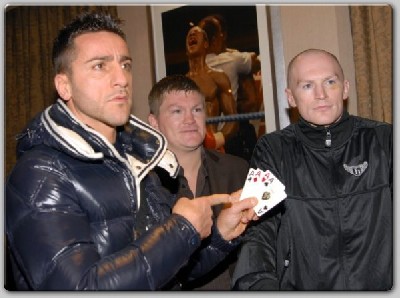 © Phillip Sharkey
Yesterday at the Sportsman Casino in London, England, Ricky Hatton -Chairman of Hatton Promotions - hosted a press conference ahead of his first London show which takes place at Goresbrook Leisure Centre in Dagenham this Friday.
The fightnight sees ricky's brother Matthew Hatton challenge former light welter world title challenger Gianluca Branco for the vacant European Welterweight Title.
Matthew – sporting a bruised eye – laughed alongside his brother as they posed for photographs with Branco.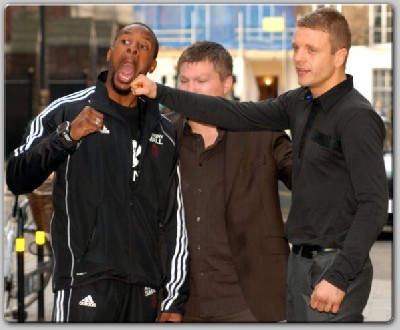 The 'Bill' on Friday headlines Anthony Smalls' British Light Middleweight Title defence against Sam Webb.
Londoner Webb, who defeated Small twice in their amateur days, wasn't impressed with the Champion's antics in front of media today. Although Small spoke of his respect for Webb – he presented him with a head-guard because he 'cuts so easily'. Webb slung the headguard back at Small who dodged it – remarking how good he is at 'slipping punches!
Ricky refused to be drawn on his own boxing career, the focus was strictly on his boxers.