By Boxing Press April 12th, 2010 All Press Releases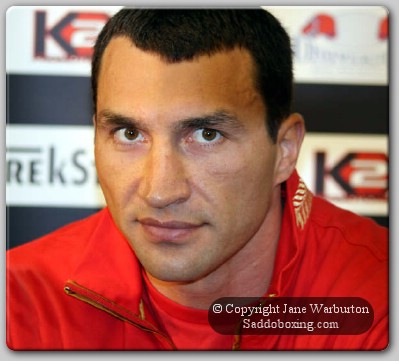 © Jane Warburton / Saddo Boxing
Boxing fans worldwide want to see one fight: IBF, WBO and IBO Heavyweight Champion Wladimir Klitschko against WBA Heavyweight Champion David Haye.
Now, triple champion Klitschko is taking action and officially calls out David Haye: "David, don't be a coward and run away!"
Haye has already pulled out of fights with the Klitschko brothers twice.
"I want to send this message to boxing fans and directly to David Haye," said Klitschko. "David, you've bitched out on fighting both Klitschko brothers twice already and now's the time to make it happen.
"On behalf of the boxing fans around the world, I am officially calling you out to fight me. You can't run away from me forever and you need to follow through with this fight if you want to be respected. I'm ready! What are you waiting for?"
Click to read more boxing articles by Boxing Press
Discuss in Boxing Forum
---
Boxing News Tags: David Haye, Wladimir Klitschko