By Jane Warburton April 23rd, 2010 All Boxing Previews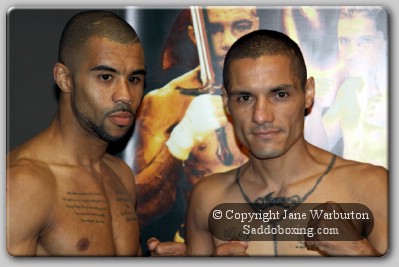 Click the image to view all photos from the weigh In
Yesterday, at The Village Hotel in Coventry, England, Frank Maloney Promotions hosted the official weigh-in of Rendall Munroe vs. Victor Terrazas ahead of their WBC Super Bantamweight Title Eliminator tonight at the Coventry Skydome.
Both men were relaxed and smiling as they took to the scales.
Munroe – looking in fantastic physical form – weighed in first, tipping the scales at 8 stone 9 lb and 2 ounces (121.25 lb).
Terrazas – smiling – came in at 8 stone 8 lb and 8 ounces (120.5 lb).
Also on the bill, Martin Concepcion faces Kevin Hammond in a re-match for the Midlands Area Light Middleweight Title. Both men provided a thrilling close contest last time out with Concepcion winning by one point.
Martin Concepcion (Leicester) 11 stones exactly (154 lb).
Kevin Hammond (Lincoln) 10 stone 13 lb and 10 ounces (153.5 lb).
Other weights yesterday:
Tony Jeffries (Sunderland) v Nathan King (Mountain Ash)
6 x 3 Super Middleweight Contest
Jeffries: 12 stone 12 ounces (168.75 lb).
King: 12 stone 5 lb 5 ounces (173.25 lb).
Young Mutley (West Bromwich) v Patrick Bogere (Denmark)
6 x 3 Welterweight Contest
Mutley: 10 stone 6 lb 6 ounces (146.5 lb).
Bogere: 10 stone 7 lb 12 ounces (147.75 lb)
Dales Miles (Alfreton) v Darren Askew (Workington)
4 x 3 Light Middleweight Contest
Miles: 10 stone 12 lb 12 ounces (152.75 lb).
Askew: 10 stone 4 lb and 3 ounces (144.25 lb).
Other boxers will weighin in before the fight this evening.
Tonight's event – billed as the 'St.Georges Day Slayer' features eleven contests.
Click to read more boxing articles by Jane Warburton
Discuss in Boxing Forum
---
Boxing News Tags: Frank Maloney, Nathan King Weigh In, Rendall Munroe, Tony Jeffries, Víctor Terrazas