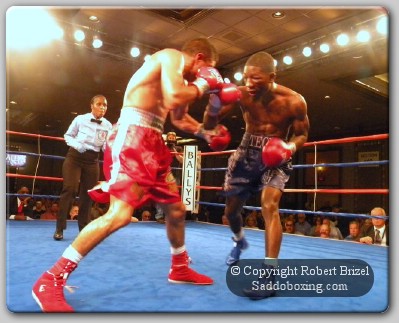 © Robert Brizel / Saddo Boxing
In the main event of a seven bout card promoted by Peltz Boxing Promotions at Bally's Hotel and Casino in Atlantic City on Saturday night, Jose Angel Beranza waged a brutal twelve round toe-to-toe war with USBA Super Bantamweight Champion Teon Kennedy.
Kennedy emerged with his right eye swollen shut, his left eye nearly swollen shut, and a twelve round majority decision to retain his USBA title in "the fight of his life".
Many spectators at ringside shouted "Robbery!" and told Beranza point blank in both English and Spanish that he won the bout. Among the sports writers at ringside it appeared that Kennedy had won the first six rounds.
It appeared Teon only had to win one of the last six rounds to retain the title, and he appeared to win the ninth and tenth rounds. However, the rounds were extremely close and featured the most brutal exchanges, making the bout difficult to score. Two judges scored the bout 117-111. The third judge had it at 115-113.
After a tentative and cautious first round featuring quiet jabs and counter jabs, both fighters landed some combinations and counter power shots in the second round. In the third round, both fighters did good bodywork. Kennedy did better technical work as his jab landed more often, but Beranza countered well.
In the fourth round, Beranza's left hand counters over Kennedy's right hand lead staggered Kennedy early in the round. Kennedy landed his jab more often than Beranza in the fifth and the sixth rounds, but was unable to shake away Beranza's 51 bouts of experience.
Beranza, ten years older and wiser, kept the rounds closer with supreme intensity, and in round seven, the Mexican's left hands over the Kennedy right closed his right eye shut. Beranza won the seventh and the eighth rounds, landed power shots and kept applying the pressure.
Kennedy came back with body combinations and won rounds nine and ten, landing more often, as Beranza missed at times, but the pace was furious. In the last two rounds, his left eye closing fast, Kennedy was forced to take a rough beating and hang on for dear life in the twilight zone.
Beranza, when he couldn't land the right on Kennedy's left eye (which Beranza was targeting) also resorted to using his head. Beranza's game plan late seemed to be to close Kennedy's left eye as well, then take him out. He nearly succeeded, and Kennedy barely survived. Kennedy improves to 15-0-1 (6), Beranza falls to 32-18-2 (25).
In the undercard to the main event, Patrick Majewski, a Polish middleweight fighting out of Somers Point, New Jersey, scored a controversial sixth round stoppage over game Loren Myers of Fresno, California. A consistent bout while it lasted, Majewski took advantage of height and reach advantage to outscore Myers with overhand lefts and counter rights, but Myers countered back well, took a great shot and 'was in the house'.
An accidental butt opened a horrible gash above the left eyebrow of Myers that would not stop bleeding. The round continued despite the blood. The ringside doctor allowed Myers out for round six, but the fight had to stopped, due to the flow of blood from the cut not stopping.
There was confusion as to whether the bout should have gone to the cards due to the referee's declaration of an accidental butt. An appeal to the New Jersey Boxing Commission could potentially create a technical decision win for Majewski. After the bout, Majewski's manager, Frank Moseley, was somewhat confused as to the rules governing the outcome of the bout in New Jersey .
In an exclusive interview with SaddoBoxing, Majewski emphasized how listening to his corner had helped him win the bout. "My corner told me just keep doing what you're doing, just break him down you aren't going to take him out with one shot. This guy used a lot of head butts, that's his style."
Majewski continued, "I tried to keep him on the outside, as he had a strong uppercut, I was cautious working to the body. I thought he would come to me, but he didn't. He's a tough fighter!"
Majewski is now 13-0 (8), Myers falls to 7-8-1 (2). Middleweight Majewski is one of Poland 's best prospect training in the United States after Tomas Adamek, now campaigning as a heavyweight. With Kelly Pavlik's title loss to Sergio Gabriel Martinez, the middleweight division is wide open.
In others bouts, Marcos Garcia scored a four round decision over Ryan Carson in the opening bout, a competitive junior lightweight scrap. Carson, 3-0 (1), Norristown, Pennsylvania, won by scores of 39-37, 38-38, and 40-36. The scoring in the first bout went three different ways, proving the classic argument that three judges can see the same bout three different ways.
Carson did well in this bout counterpunching from the second round on. Garcia, 0-2, of Camden, New Jersey, threw aggressive combinations mixed with bombs. Close bout, tough to score, and the four rounder looked like a draw.
In a scheduled six round junior welterweight bout, Ronald Cruz, a Puerto Rican fighter out of Bethlehem, Pennsylvania, scored a fourth round technical stoppage of veteran Juan Ramon Cruz of Hartford, Connecticut. Ronald, 9-0 (6), wound up in a no referee war of sorts, in which both fighters let go without clinching the whole way.
Ronald threw bombs for a minute and a half in round one, then settled down when he realized the opponent would not go 'gently into the night'. Juan Ramon, a decent counterpuncher, took a good shot, but took more than he got. He managed to cut Ronald with a butt over the right eye in round two, and went to work on the cut, hoping to get lucky.
Ronald came on strong in round four, pinning Juan Ramon on the ropes and dropping him with a flurry. The ending was strange. Juan Ramon beat the count, and then went down from a slip. Referee Earl Ladson waved his hands sideways indicating a slip.
Ronald's corner entered the ring prematurely believing the bout over, a disqualification in some venues. The ringside doctor immediately stopped the bout in Juan Ramon's corner as the bell rang, as he was out. Juan Ramon falls to 16-9-1 (12).
In an exclusive interview with SaddoBoxing after the bout, Ronald Cruz stated "I wanted to feel him out. We wanted to take him out. The guy had a lot of experience. So in rounds two and three I let him land some shots. He's an older guy, I let him get tired. I tried to work the body and take him down little by little with body shots."
Ronald Cruz continued, "I had videos of him. We knew he could take a good shot. He hit me with three head butts. He could have been disqualified. The referee called my eye cut an accidental head butt, but it was dirty tactics. He went down from the affects of taking shot after shot."
Ronald Cruz' manager Jimmy Deoria, along with trainer Alec Morales, explained the road ahead. "We'll deal with the cut now until August," said Deoria. "Ronald will be running and training, but he won't be sparring for two months (due to the cut)."
In a short welterweight bout, Josh Mercado of Cape May, New Jersey, went to 4-1 (2), with a second round stoppage of Joel Nieves, 0-2, of Allentown, Pennsylvania. Mercado dealt Nieves a horrible beating till the referee stopped it at 1:02 of the second.
In a bout marred by controversial scoring, a six round junior lightweight bout between Anthony Flores of Philadelphia, Pennsylvania, and Carlos Vinan of Newark, New Jersey, ended in a scoring controversy. Flores seemingly won the bout in everyone's minds except the three judges. Flores, now 8-1-1 (5), and Vinan, 9-8-4 (1), settled for a draw with scores of 57-57, 58-56 and 56-58.
For the second time on the card, all three judges saw the same bout differently. A good toe-to-toe scrap from pillar to post, the bout was exciting because there was no defense. Flores used jab combinations with height and reach advantage to apparently win this bout.
Vinan was cut in the corner of his left eye from power shots at some point. Vinan pressured Flores as he hung tough and did good bodywork. The bout went down as a draw, but it was a wild contest, with both fighters in the house, and represented superior matchmaking by promoter Russell Peltz.
The walkout bout ended in a minor upset, as Rafael Jastrzebski, a super middleweight out of the same training camp as Shamone Alvarez and Patrick Majewski, scored a split decision upset over Troy Maxwell. Jastrzebski, 2-6-1 (2), of Atlantic City, New Jersey, went to war with Maxwell, 2-1 (1), of Galloway, New Jersey.
Jastrzebski's record turned out to be deceiving, as he now is in the capable hands of world class trainer of Arnold Robbins. Now well-trained and ready to do battle, Jastrzebski would up in a toe-to-toe scrap with height and reach advantage.
Maxwell is a short tough fighter, and he came forward like a bulldog, but Jastrzebski successfully counterpunched while moving along the ropes, and patiently waited for and scored on openings created by the flat-footed Maxwell walking straight in. If anything, the bout proved a good trainer, hard work and quality sparring can work wonders if a fighter commits himself and gives it his all.
You never know-even a 1-6-1 fighter can be shown the light. The only question was whether the judges would get it right and they did, with most spectators gone, except for a bunch of wild cheering Polish fans, who posed for pictures for their hero at ringside.