By Jane Warburton May 28th, 2010 All Boxing Interviews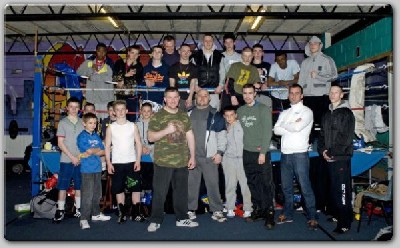 © Mark Jones
A fire which destroyed Chelmsley Wood ABC two months ago has rendered the popular Birmingham club 'unsafe' to use. Burglars broke in to the gym vandalising equipment before setting it ablaze at the end of March.
The Amateur Club in Chapelhouse Road, Tile Cross, has provided boxing training for local youngsters for several years under the Clubs' Founder - John Costello.
Trainer – Paul Webb has told SaddoBoxing of their plight today. "A lot of our equipment went up in smoke" said Webb. "We are in a temporary Unit at the moment and are searching for a new home.
"We have to vacate the temporary place soon though so we need to get a new home sorted quickly. We have received some fantastic offers of help and would like contributors to know how very grateful we are to them.
"Lemarr Professional Boxing Equipment in Hertfordshire, donated equipment including gloves, headguards and boots, Female Boxer Laura Saperstein has been a big help and the 'Midlands Ex-Boxers' had a collection for us.
"Kerry Kayes at CNP has been very kind. We use the CNP products here at the club and I rang to see if he had any old punch bags hanging around the gym that we could use. Straight away he said 'I'll post a cheque to you tonight!' What a true gent he is.
"The kids (from the club) were really getting 'down' and it is a shame after all the hard work they have put in to training and the gym. We have some really good lads like Jack Marsh and Jordon Clayton, when they saw the gear that Lemarr sent – their eyes lit up!
"We are still looking for new premises," Webb concluded, "but hopefully – Thanks to these guys – we will be back – bigger and better than before!"
Anyone wishing to offer help in any way, can contact Paul Webb on 07967 300205
Click to read more boxing articles by Jane Warburton
Discuss in Boxing Forum
---
Boxing News Tags: ABC, Chelmsley Wood, Clubs Founder John Costello, CNP, Kerry Kayes, Laura Saperstein, Mark Jones, Midlands Ex Boxers, Tile Cross