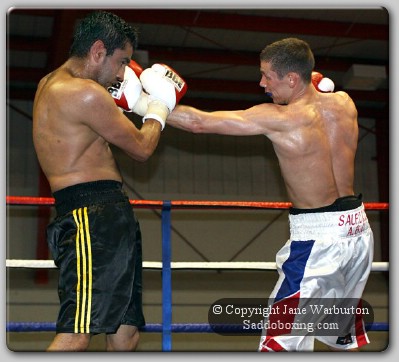 © Jane Warburton / Saddo Boxing
Saturday night saw a packed Fit-City in Broughton, Salford, England, as Oliver Harrison Promotions presented a Six-Bout Fightcard entitled 'The Night of the Stars'.
Liam Cullen (Northenden) v Mike English (Manchester)
4 Round Cruiserweight Contest
This opening four rounder saw Cullen targeting the body of his opponent, while English concentrated on straight lefts to the head.
Cullen wins on points 40-36 much to the dismay of English – who looked like he thought he'd done enough (!). Cullen's record now stands at 3 wins no losses while English drops to no wins, 3 losses.
Danny Randall (Denton) v Matt Seawright (Tamworth)
4 Round Light Middleweight Contest
Despite a disappointing performance and an early cut to the right eye – Randall narrowly secured a points win (39-38) against 'up for it' Seawright – who (in my opinion) gave one of his best performances to date.
Seawright's trainer (Errol Johnson) was clearly annoyed at the decision. Even Randall's own trainer (Joe Gallagher) looked to breathe a sigh of relief when Randal'ls arm was raised at the end of the contest.
Randall notches up his fourth victory – no losses, while Seawright drops to 3 wins, 30 losses (8 by KO) and 1 draw.
Lee Gillespie (Salford) v Sid Razak (Birmingham)
6 Round Lightweight Contest
Debutant Gillespie notched up his first pro-win with a decent points victory (59-55) over tough Razak (who also had a better than usual night).
Razak had a good round 2 and 4 – landing hooks to the face in the second half of the fourth and the end of the fifth round, but the local man prevailed.
Razak drops to 4 wins (1 by KO) and 49 losses (3 by KO).
Lyndon Newman (Denton) v Ryan Clark (Waddington)
4 Round Middleweight Contest
It was literally 'Lights Out' (!) for Clarky as he faced Debutant Newman. Both men 'went at it' right from the off and it looked to be a real 'tear-up' between these two!
But a shot to the head saw Clark fall heavily to the canvas in the second round and the fight was immediately called off, much to the delight of Newman – having gained a first pro-win by KO.
Clark seemed visibly annoyed that the fight was ended – and was reluctant in taking assistance by ringside medics. His record drops to 1 win 15 losses (1 by KO) and 2 draws.
Derry Mathews (Liverpool) v Kristian Laight (Nuneaton)
4 Round Light Welterweight Contest
'Dirty' Derry Mathews received huge support from the crowd as he faced veteran Laight. Durable Laight was under pressure from the Liverpool man in the closing seconds of the first round but still grinned at Mathews as if to say 'is that all you've got?'
Mathews wasn't fazed by Laight's taunting expression and scored a good points victory (40-36) over the experienced Nuneaton Man. Mathews improves to 22 wins (11 by KO) and 4 losses (4 by KO) while Laight drops to 6 wins, 80 losses (4 by KO) and 6 draws.
Matty Sedgwick (Wigan) v Damien Turner ( Stretford , Lancs)
4 Round Lightweight Contest
Debutant Sedgwick had lots of support from the Salford crowd. He piled on the body-shots in the opening round and Turner looked dazed in round three.
It went the distance though and Sedgwick gets the deserved points victory (40-36) to secure his first pro-win. Turner drops to 7 losses (2 by KO) – no wins.