By Ciaran Gibbons
**With Slideshow**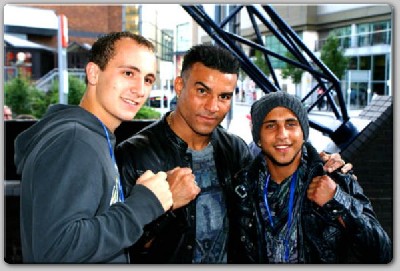 © Ciaran Gibbons / Saddo Boxing
Cardiff, Wales, successfully hosted the 'WBC Night of Champions' Festival from Thursday 29th thru Saturday 31st July of this year. The high profile event – which celebrates boxing achievements – takes place every four years.
The three day Festival saw over eighty World Boxing Champions from past and present welcomed into the Capital.
The Festival's first event was the premiere of the Welsh Film 'Risen'. The film chronicles the inspirational story of Welshman - Howard Winstone, who suffered an industrial accident as a young man - losing three fingers on his right hand. Despite being unable to make a fist – Winstone went on to become a Featherweight World Champion.
Day two of the Festival showcased a pre-olympic tournament that saw the prospective Olympic Great Britain Boxing Team face International Boxing Stars from around the world. This was a chance for fans to meet their boxing heroes and watch some world-class amateur boxing.
World Champions such as Roberto Duran, 'Bonecrusher' Smith, Zab Judah, Tim Witherspoon, Shannon Briggs and Vitali Klitschko stopped to chat to fans and sign autographs as they made their way to watch the tournament.
All the boxers gave every thing they had in the twelve evenly matched contests but the fight of the night was between Cardiff 's Fred Evans and American Errol Spence over a trio of three minute rounds.
Both boxers were happy to stand and trade on the inside from the start and the American landed some great body shots that put Evans down in the first round.
To his credit, Evans fought back well but never appeared totally comfortable against the non-stop attack from Spence whose pro boxing style gave the normally slick Evans plenty of problems throughout the fight. Even though he appeared to be exhausted and bloodied at the final bell Spence got the victory he deserved against the local hero Evans.
The night had proved a huge success and everybody left the Cardiff International Arena happy having met some of the biggest names in Boxing and watched talented amateur boxers who may become the hero's of the future.
Results:
51kg- Nicola Adams vs. Shipra Nilsson (Sweden) RSC4 1:48
54kg- Andrew Selby vs. Jaiwei Zhang (China) Pts. 16-11
57kg- Luke Campbell vs. Jun Tan (China) Pts. 11-5
60kg- Amanda Coulson vs. Helena Falk (Sweden) Pts. 10-6
60kg- Tom Stalker vs. Duran Cafferro (USA) Pts. 16-11
64kg- Scott Cardle vs. Ross Hickey (Ireland) Pts. 20-12
69kg- Savannah Marshall vs. Love Holgersson (Sweden) Pts. 10-1
69kg- Fred Evans vs. Errol Spence (USA) Pts. 15-9
75 kg- Anthony Agogo vs. Jason Quigley (Ireland) Pts. 7-4
81kg- Obed Mbwakongo vs. Fanlong Meng (China) Pts. 10-3
91 kg- Warren Baister vs. Babacar Camara (Sweden) Pts. 8-4
91kg+ Amin Isa vs. Sean Turner (Ireland) Pts. 18-14 raw score after original
score of 7-7
The Festival concluded on Saturday with the 'Night of Champions Gala Awards Dinner' – heralded as the 'Oscars of the Boxing World'.
A presitigious event of musical entertainment, fine food and a host of celebrities who gathered to see the presentation of Awards – not Oscars (!) but gold-plated statues of Mike Tysons Fist!
Fighters of the Year went to Heavyweight Champion - Vitali Klitschko (Ukraine) and Middleweight Champion - Argentinian - Sergio Martinez.