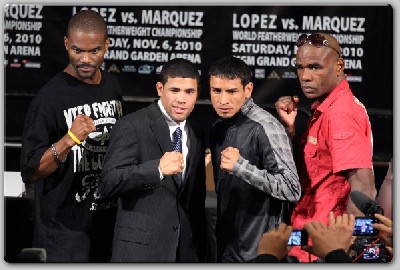 © Tom Casino / Showtime Boxing
Showtime will kick off a tremendous run of world championship boxing to close out 2010 this Saturday with two can't miss fights, live at 10 p.m. ET/PT, delayed on the west coast, from the MGM Grand Garden Arena in Las Vegas.
In the Showtime Championship Boxing main event, Puerto Rican superstar and WBO featherweight champ Juan Manuel Lopez and Mexican legend and future Hall of Famer Rafael Marquez will meet in what has been called a rebirth of the spirited Puerto Rican vs. Mexican rivalry that spans generations.
In the co-feature, world-ranked contender Allan Green will face veteran contender and former world champ Glen Johnson in a must-win Super Six World Boxing Classic bout. The winner of the 12-rounder will earn a spot in the tournament Semi-Finals.
The fighters participated in a final press conference just two days before the important bouts and were joined by promoters Bob Arum and Gary Shaw, and their trainers and managers.
What the participants had to say on Thursday:
Juan Manuel Lopez:
"I want to thank Bob Arum, Showtime and MGM Grand and obviously God for giving me this great opportunity. It is truly a dream that is coming true. For all of us it is just a dream to have this opportunity. We are going to take full advantage of it.
"I know that I read that the team of Rafael Marquez said that I have no chin. But the one that is undefeated is me. I know he has won a few fights by knock out, but on Saturday night you'll see who really can take a punch and who can't. And one time Gary Shaw told me if you're so good how come you don't fight Rafael Marquez. I'm so good I'm going to beat Rafael Marquez on Saturday."
Rafael Marquez:
"I want to thanks everyone, Gary Shaw, Showtime and Top Rank. I am a man of few words. I know it will be a spectacular fight and I will win this fight for me and for Mexico . I had a tremendous training camp. I am in terrific shape and I will take this title.
"You will see on Saturday night the hard work that I put in. I will show that I can beat anyone at any point in their career. Experience and talent will beat youth on Saturday night. I will answer any questions on Saturday night. Did I bring my power with me? I think I have. Hard work and preparation will beat youth anytime.
"I was probably the smallest of all the great Mexican fighters. It has never been a detriment to my career or to my morale. The Vazquez series raised my visibility and I'm grateful for that.
"I have a lot of respect for Juanma's talents. I believe he is a top-10 pound-for-pound fighter. I don't think the fight will go the distance and I know Juanma won't be the winner."
Allan Green:
"It is an honor and a pleasure to be here. I want to thanks Ken Hershman for keeping the Super Six intact."
"I feel good. I feel great. I'm ready to fight. Glen Johnson is a very good friend of mine and always has been. I learned a lot from him in my early career but as he said, come Saturday night we'll come to do business. Let the best man win. I'll do the rest of my talking Saturday night."
Glen Johnson:
"First I want to thank Showtime for even considering me when they were looking for a replacement. Thanks very much. I feel appreciated for all the years I put in boxing. To be a part of such a prestigious event -- I feel grateful just to be apart of it.
"I thought making the weight would be more difficult then it was. I was at weight two weeks ago so that was surprising for me.
"I just want to say, Allan Green is a friend of mine. It is not somebody that I'm looking forward to fight just because of our relationship, but this is business and I'm sure he will feel the same way. We're just going to go out there and do our job and our relationship will remain the same afterwards."