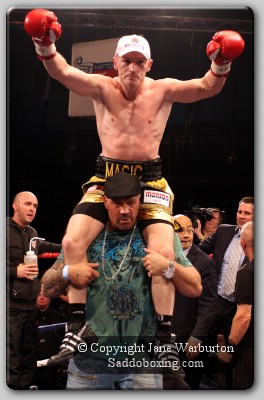 Click the above Image for more Photos by Jane Warburton
Friday night, at the Reebok Stadium, Bolton, Hatton Promotions hosted an all-action fight-card which headlined 'Magic' Matthew Hatton's second defence of the European Welterweight Title.
Matthew Hatton (Manchester) v Roberto Belge (Switzerland)
EBU (European) Welterweight Title
Hatton looks sharp as he faces undefeated Belge. He lands with a decent left shot in the first minute of the opening frame then brushes aside the punches of his opponent. Belge tries for a big swinging right but Hatton gets in with a left to the face which throws the Italian off-balance. Hatton looks confident as he finishes the first round.
Belge comes out of his corner throwing punches as they begin the second. Hatton is warned a couple of times (to keep the head up and for holding on) but he lands with a clubbing right to the head of Belge just inside the third minute and finishes the round with another short right hook.
The third round sees Belge 'feel' the sting of Hattons right shot to the face. Belge comes back with some shots - untidy and off-target. Moments later (mid-way through the third) Hatton lands a sickening left hook to the body and Belge drops to one knee. Spitting out his gumshield – the Italian is clearly winded from the shot, bending double on the canvas while Hatton has already started to celebrate in the neutral corner (!) Belge rolls on to his back and is counted out by Referee Robin Dolpierre.
A delighted Matthew Hatton is carried aloft by Billy Isaac.
Hattons record now stands at 41 wins (16 by KO) 4 losses (1 by KO) and 2 draws,
While Belge drops to 25 wins (4 by KO) 1 loss (1 by KO) and 1 draw.
Former Champion - Junior Witter was ringside and is looking at a come-back fight in December or the New Year. He and Matthew Hatton didn't rule out the possibility of a match-up in the future.
St. Helens Boxer - Martin Murray, secured a third round stoppage against Carlos Nascimento of Brazil for the vacant WBA International Super Middleweight Title.
After a steady opening round, Murray starts to target the body of Nascimento. Mid-way through the second, the Brazilian throws a wild swinging shot which – miles from target – sends him spinning round, only for Murray to nip in with another body-shot. Murray is pressured in the corner but comes back with a neat uppercut to shake off his 'clumsy-looking' opponent. Nascimento sustains a cut to the left brow by the end of the second. The bell signals the start of the third and Nascimento comes out throwing all he's got at Murray. But the St. Helens man lands an uppercut and Nascimento is under pressure from a barrage of shots when Referee Terry O'Conner jumps in to stop the contest. Murray wins the Title by third round stoppage.
Murray improves to 21 wins (8 by KO) no losses, while Nascimento drops to 25 wins (21 by KO) 3 losses (3 by KO)
Scott Quigg (Bury) v Daniel Kodjo Sassou (France)
WBA Inter-Continental Super Bantamweight Title
A good testing contest for Scott Quigg who fought maturely – and really showed his use of some cracking body-shots. Sassou goes down from a fast flurry of head shots mid-way through the seventh but the fight goes the distance. Quigg secures a points win and wins the Title - having dominated the contest with a sharp performance.
His record now stands at 21 wins (14 by KO) no losses, while Sassou drops to 29 wins (7 by KO) 15 losses (4 by KO) and 4 draws.
Other Results include:
Joe Murray (Manchester) v David Chianella (Italy)
6 x 3 Super Bantamweight Contest
Murray wins on points and improves to 8 wins (4 by KO) no losses.
Chianella drops to 16 wins (5 by KO) 7 losses (5 by KO) and 2 draws
Matty Askin (Blackpool) v Mitchell Balker (Netherlands)
6 x 3 Cruiserweight Contest
Askin wins by third round TKO and improves to 9 wins (5 by KO)
While Balker drops to 3 wins (2 by KO) 1 loss (1 by KO)
Adam Etches (Sheffield) v Ian Jackson (Luton)
4 x 3 Light Middleweight Contest
Etches wins by first round TKO over debutant Jackson to notch up his second pro-win.
Dean Halsall v Jamie Norkett (Newark)
4 x 3 Light Heavyweight Contest
Debutant Halsall secures his first win on points against experienced Norkett.
Norkett drops to 3 wins (1 by KO) 17 losses (2 by KO)
Tasif Khan (Bradford) v Pavels Senkovs (Mansfield)
4 x 3 Super Bantamweight Contest
Khan wins and improves to 4 wins (1 by KO) and 1 loss and 2 draws, while Senkovs drops to 2 wins (2 by KO) 26 losses (1 by KO) and 2 draws
Kid Galahad (Sheffield) v John Riley (Middlesbrough)
4 x 3 Bantamweight Contest
Galahad gets a win by first round KO and improves to 5 wins (2 by KO) while Riley drops to 1 win 2 losses (1 by KO)