By Jane Warburton March 24th, 2011 All Ringside Boxing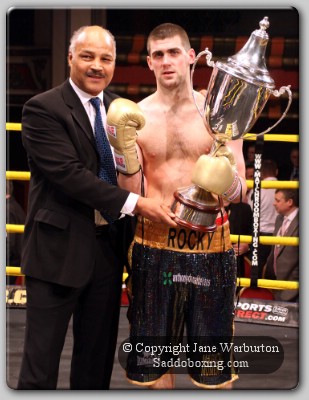 Click the above Image for more Photos from this Event
Barry Hearn / Matchroom Sport gave us another great Prizefighter tournament last night – this time it was the Super-Middleweights II at Liverpools' Characterful Olympia.
It was the turn of Rocky Fielding to raise the Prizefighter Trophy and collect the £32,000 prize money. Fielding - who only turned pro last September – was drafted in just a week ago to take the place of Tony Quigley.
Scoring a second round TKO over Patrick Maxwell of Sheffield in the quarter-final, Fielding then faced fellow Liverpudlian - Joe Ainscough in the Semi's who was stopped in the first round with a cut.
The atmosphere inside the Olympia was fantastic! The sounds of the 'Rocky' Theme rang out around the venue as were the chants of 'Rocky, Rocky!'
The final saw Fielding up against Tobias Webb of Swansea, Wales (nephew of former World Cruiserweight Champion - Enzo Maccarinelli). But Webb was forced to retire after suffering two knockdowns in the first round.
Fielding's record now stands at 6 wins (3 by KO)
Results:
Quarter-final 1 (3 x 3 Minute Rounds)
Rocky Fielding (Liverpool) v Patrick J. Maxwell (Sheffield)
Fielding wins by TKO Round 2
Quarter-Final 2 (3 x 3 Minute Rounds)
Joe Aisncough (Liverpool) v Wayne Reed (Sheffield)
Ainscough wins by Split Decision
Quarter-Final 3 (3 x 3 Minute Rounds)
Robin Reid (Runcorn) v Tobias Webb (Swansea)
Webb wins by Unanimous Decision
Quarter-Final 4 (3 x 3 Minute Rounds)
Carl Dilks (Liverpool) v Jahmaine Smyle (Leicester)
Smyle wins by Split Decision
Semi-Final 1 (3 x 3 Minute Rounds)
Rocky Fielding v Joe Ainscough
Fielding wins by TKO Round 1
Semi-Final 2 (3 x 3 Minute Rounds)
Tobias Webb v Jahmaine Smyle
Webb wins by Unanimous Decision
Final (3 x 3 Minute Rounds)
Rocky Fielding v Tobias Webb
Fielding wins when Webb retires Round 1
Click to read more boxing articles by Jane Warburton
Discuss in Boxing Forum
---
Boxing News Tags: Barry Hearn, Boxing, Enzo Maccarinelli, Jahmaine Smyle, Joe Ainscough, KO, Liverpools Characterful Olympia, Matchroom Sport, Maxwell Sheffield Fielding, Minute Rounds Joe Aisncough Liverpool, Patrick Maxwell, Prizefighter, Quarter Final, Ringside, Robin Reid, Rocky, Semi Final, Tobias Webb, Unanimous Decision, Wayne Reed