By Jane Warburton May 3rd, 2011 All Ringside Boxing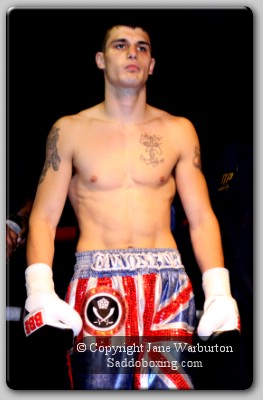 © Click Image for more photos from this Event
On Saturday night, at the Don Valley Stadium, Sheffield, England, Dennis Hobson promoted a fight-night which – aptly named a 'Right Royal Rumble' - featured nine bouts from local boxers.
Liam Cameron (Sheffield) v Jason Ball (Doncaster)
8 x 3 Middleweight Contest
The main bout of the night saw Liam 'Canonball' Cameron face 'Daddy Cool' Ball in a scheduled eight rounder. But Cameron was in no mood to 'hang about'! The Sheffield man pressured his opponent with head-shots mid-way through the opener and Referee Howard Foster was forced to jump in.
Cameron wins by first round TKO and improves to 9 wins (3 by KO) while Ball drops to 3 wins (2 by KO) 2 losses (1 by KO)
Nicki Smedley (Sheffield) v William Warburton (Atherton)
6 x 3 Lightweight Contest
Nicki 'Nightmare' landed a left to the body of Warburton early in the third round which saw the Atherton man wince. There was a feeling that Smedley could have 'gone for it' – as Warburton looked to put some distance between the two men this round, but he took it to the final bell. A decent win on points for Smedley (59-56) who improves to 14 wins (3 by KO) while Warburton drops to 3 wins 18 losses (2 by KO) and 2 draws.
Israr Asif (Sheffield) v Carl Wilson (Darlington)
6 x 2 Heavyweight Contest
Wilson secured his first pro-win when he scored a second round TKO over popular 'Izzy'. Izzy went down to the canvas and although he made the count, Referee Michael Alexander deemed him not fit to continue. Asif protested to no avail – even resorting to some exercises centre of ring !
Wilson improves to 1 win (1 by KO) and 4 losses (3 by KO) while Asif drops to 2 wins and 1 loss (1 by KO)
Imran Khan (Sheffield) v Dale Hutchinson (Sheffield)
6 x 2 Welterweight Contest
It was a Sheffield duel as Debutant Khan faced Ingle-boxer Hutchinson. But first-timer - Khan was about to suffer a disappointing first pro-outing. Hutchinson (aka the 'Samba') came out 'fired-up' for this contest – visibly 'winding him-self up' in the ring as he waited to get started (!)
Former 'Thai Boxing Champion' Khan looked confident as they came out – clearly enjoying the crowd attention and got off to a decent start against his fellow Sheffield opponent. During the contest, heads banged together and Hutchinson sustains a cut to the brow, but it wasn't enough to deter the 'Samba' who went on to get his first win on points.
Hutchinson improves to 1 win 5 losses (4 by KO) and 1 draw.
Kid Galahad (Sheffield) v Sid Razak (Birmingham)
4 x 3 Super Bantamweight Contest
Tough veteran Razak found himself on the canvas in the third but – having been caught teetering off-balance – it was a 'no knockdown'. Popular Galahad (with a small army of fans!) gave a quick-fire performance to secure the points win.
Galahad improves to 7 wins (2 by KO) while Razak drops to 6 wins (2 by KO) 65 losses (3 by KO)
Andy Roberts (Doncaster) v Delroy Spencer (Wolverhampton)
4 x 3 Super Bantamweight Contest
Spencer (who was wearing the best-pressed boxing shorts I've ever seen!) got off to a flying start against Roberts when he caught him in the opener. The home-boxer didn't go down but clearly 'felt' the shot.
Later in the fight, Spencer looks to have been clipped by a glancing right to the head – but he shakes his head as if to say 'that was nothing'. Spencer gets the deserved points win and improves to 14 wins (1 by KO) 115 losses (12 by KO) and 3 draw.
This was Roberts's second loss out of three since returning to the ring after a seven year 'break'. His record now stands at 15 wins (3 by KO) 21 losses (4 by KO) and 5 drawn.
Kyle Whitham (Sheffield) v Billy Boyle (Sheffield)
6 x 2 Light Heavyweight Contest
'Kylos' had a decent first couple of rounds against 'People's Poet' Boyle. Boyle 'ducks' low to avoid the lefts and rights, but Whitham manages to get through the middle. Then Boyle – with head down – throws a left which would have landed bang on Whithams forehead but for the left hook winging it's way to his own right ear (!)
A boyish (almost embarrassed) grin appears on the face of Boyle as he over-shoots a shot and trainer Glyn Rhodes remarks jokingly 'what's he doin?'
Whitham sustains a cut to the corner of the right brow in the fourth round from an accidental clash of heads. Deemed too bad a cut to continue – the Referee's scorecard is consulted. Whitham is winning on points at this stage (39-37) and the contest is announced as a 'Technical Decision' much to the disappointment of Boyle and Rhodes, who immediately says that they'll fight again.
Whitham improves to 4 wins and 1 draw, while Boyle drops to 13 wins (7 by KO) 9 losses (4 by KO)
Reagan Denton (Sheffield) v Darren McKenna (Hayes)
4 x 3 Middleweight Contest
It was a decent match-up between these two, with both men landing lefts and rights to the head but it was home-favourite - 'Dynamite' Denton who secured the points win over Londoner McKenna.
Denton improves to 12 wins (2 by KO) and 1 loss while McKenna drops to 1 win (1 by KO) and 1 loss.
Danny Tombs (Sheffield) v Paul Davis (Lowestoft)
4 x 3 Cruiserweight Contest
Tombs wins by second round TKO against Irish-born Davis. Davis was under pressure in the corner when Referee Howard Foster jumped in to stop the contest.
Tombs's record now stands at 5 wins (3 by KO) 1 loss and 2 draws while Davis drops to 2 wins (2 by KO) 2 losses (2 by KO) and 1 draw.
Click to read more boxing articles by Jane Warburton
Discuss in Boxing Forum
---
Boxing News Tags: Andy Roberts Doncaster, Boxing, Carl Wilson Darlington, Daddy Cool Ball, Debutant Khan, Heavyweight, Imran Khan Sheffield, Israr Asif Sheffield, KO, Kyle Whitham Sheffield, Liam Cameron Sheffield, Liam Canonball Cameron, Middleweight Contest, Poet Boyle, Popular Galahad, Reagan Denton Sheffield, Referee Howard Foster, Right Royal Rumble, Ringside, Super Bantamweight