By Gary Totten November 18th, 2011 All Boxing Interviews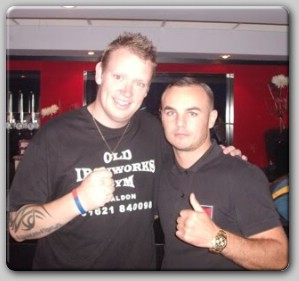 Coach Kevin Campion is an Essex based professional Boxing Coach licensed by the British Boxing Board of Control.
Campion has had coaching experience alongside legendary boxing trainer Bobby Rimmer. Bobby was former assistant trainer to ex-World Champion Ricky Hatton, British Champion Michael Gomez and current European Champion Matthew Hatton and a former trainer of Olympic Bronze medalist Tony Jefferies.
Kevin has worked alongside Bobby with Rimmer's current stable of excellent fighters and English Light Middleweight Champion Brian Rose, Commonwealth Super Featherweight Challenger Jon Kays, to name but a few.
Campion coaches out of Old Ironworks Gym in Maldon, Essex and has two great young prospects under his wing at the moment in Luke Fowler and Scott Hartley.
SaddoBoxing: Could you tell us how you got into boxing Kevin and how you got into training fighters?
Kevin Campion: I used to box myself as an amateur and on the unlicensed circuit but I had to give up at a really young age due to sight problems caused by headaches I was having through my teens. So, I was advised to stop. But all I have ever wanted to do was coach even at that young age so I stayed involved, coaching amateurs and white collar fighters before working alongside Bobby Rimmer. I was then convinced to turn pro and haven't looked back since. Loving every minute of it.
SB: Kevin could you tell us about the boxers you train today and the boxers that you have worked with in the past?
KC: Currently, I train Luke Fowler, an 18 year old light welterweight who has had one pro fight, which he won and Scott Hartley, a former Scottish International amateur who is a super middleweight and debuts this Sunday at York Hall, Bethnal Green. I have worked with many fighters over the years but only been pro since March 2011. So when I turned pro I made a clean break from all other fighters I had (amateur, white collar) so I could concentrate on the pros. I have mainly worked alongside Bobby and his stable of fighters.
SB: What are your ambitions as a boxing coach?
KC: I want to be the best I can be. Train champions and I hope to one day be thought of as one of the best in the country. I live and breathe this sport and that's no lie. I work so hard for my fighters, I study so much, I source the best information I can from some of the biggest names in the sport. I never have a night off. Being a professional coach really means something to me, that's why I work so hard.
SB: Freddie Roach said that he wanted to be a clone of his former coaching mentor Eddie Futch; are you influenced by any other boxing coaches or are you taking your own approach to training fighters?
KC:That's a good question. I do a bit of both, we have some great trainers in this country and they are all top guys, people like Bobby Rimmer, Dean Powell, Spencer Oliver, Anthony Farnell and the Tibbs family. So, I look at and talk to some of these guys, feed off their experience. I don't have an ego so, am always willing to listen. But I like to be my own man, so I bring my own style to it, I think a good top coach constantly adapts and changes with the times. That is something I try to implement into my training of fighters.
SB: Is rigorous disciplined training more about training the mind than the body and is this something that fitness experts fail to understand?
KC: Well, again, it's both. It's no good having this hugely fit talented prospect who freezes and totally shuts down under pressure. So mind is a massive part. Boxers during a fight can get dragged into dark places of the mind most people don't know exist so they have to be mentally tough. But at the same time, there is no good having a mentally sound fighter who will only last a round because they haven't put the work in. It's a balancing act and it's my job as their coach is to ensure they are balanced going into a fight.
SB: Barry McGuigan once told Amir Khan if he wanted to get to an elite level in boxing he would have to be trained in America . Do you think that American boxing coaching is more advanced than coaching in the UK?
KC: I don't believe so. But then I suppose I would say that being English, if you ask an American I bet they would say yes. Look, it's basic facts if you bring me a donkey I can't turn him into a race horse. Same goes for boxers, you can improve certain things for sure but unless your a magician you cant take someone further than their ability allows them to.
Boxers and managers are too quick to blame coaches when things go wrong. How many times have we seen a boxer win bunches of fights then lose one then change trainers. It's silly. Ultimately, you can't force a fighter to do anything in a fight, only advise.
You may be telling him to box long but he keeps standing toe to toe. If he then loses the fight, the coach probably gets blamed even though the boxer didn't listen to his coach. What else can you do? But I don't think they are more advanced at all, I think the main thing is not the fact it's in America but the fact that it's away from all distractions. That's a huge benefit.
SB: How do you find sorting out game plans for your fighters?
KC: I study, get fight records, write notes, watch videos, read reports, make lots of phone calls , get all the information I can see what the opponent did well against and what they struggled against. Then from there I devise a minimum of three plans of what to do depending on how the fight pans out. Making the plan is the easy bit. Getting the boxer to follow it, that's a different thing all together.
SB: Could you recall some of the memorable moments that stand out for you with the fighters that you have worked with?
KC: Well, there's so many. Remember first and foremost I am a fan of the sport so I am happy to be in and around these amazing sportsmen and women. Everything is memorable, I am blessed to do the job I do.
SB: Do you have a favourite fight of all time and who are your favourite boxers of the past and present?
KC: Well, favourite boxer has to be Floyd Mayweather, he is the best for me, his determination, his ability to adjust in the ring and his calmness in fights is amazing. Also, Pernell Whitaker for his movement and stunning shots. Past, well, not many fighters did more to put boxing in the papers than Mike Tyson. He was so exciting it was frightening so I would probably say him.
SB: Do you think boxing as a whole needs any improvements and what do you think about the way the sport is governed?
KC: Need less titles and sanctioning bodies. World Champion, interim champion, diamond champion, silver champion, blah blah, it's a joke. That's how we lost casual fans; everyone's confused about who is the champion. Look at MMA. The UFC is regarded as the top organisation. They have one champion in each weight category so basically even the casual of fans knows that if you're a UFC you're regarded as the best in the world.
Simple. Is it like that in boxing? No. We have a better product than MMA do but they market it and structure it better than we do. Also, we have to change this concept we have in boxing that as soon as you lose one or two fights you're a shot fighter. Jesus, it's fighting; anything can happen.
Again, look at the UFC; all their champs have loses, no one screams from the rooftops when they lose. We moan about fighters with padded records but when someone takes a chance and loses we jump all over them. So, you can't blame managers for not taking risks and trying to keep a fighter winning rather than matching even fights that they might lose.
SB: I ask everyone that I interview this question; do you think that the Mayweather v Pacquiao fight will happen and if so, who will win and why?
KC: Don't think it will ever happen. Talked about it for way too long. But if it did, Mayweather adjusts too quickly, he works everyone out, he work Manny out too.
SB: Kevin, thank you on behalf of everyone at SaddoBoxing for agreeing to take time out of your busy coaching schedule to do this interview.
KC: No problem at all, totally my pleasure.
Click to read more boxing articles by Gary Totten
Discuss in Boxing Forum
---