By Robert Brizel November 23rd, 2011 All Ringside Boxing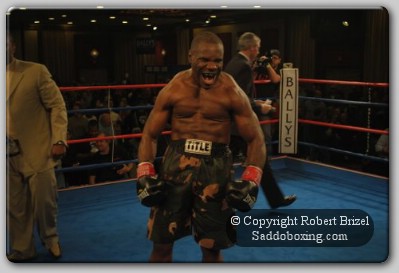 Saturday night Peltz Boxing Promotions hosted a seven bout card held at Bally's Hotel and Casino in Atlantic City, New Jersey televised over the internet on Go Fight Live. USBA Cruiserweight Champion Garrett Wilson seemed to lose nine of eleven rounds but in the tradition of the Yogi Berra adage "It ain't over till it's over" he scored a late knockout at 0:41 of round twelve over game challenger Chuck 'The Professor' Mussachio.
Wilson, 29, now 11-5-1 (5), Philadelphia, Pennsylvania, who has lost four of six of his last six round bouts, and who has never gone eight or ten rounds in his career, has now gone into the eleventh and twelfth rounds for the second consecutive bout and proved capable of winning in the championship rounds. The accomplishment is noteworthy considering fighters like former middleweight champion Jermain Taylor have gone into the twelfth round in his last two fights only to be stopped by his opponent.
Mussachio spent the entire fight on the outside out of the shorter Wilson's range; forcing the one dimensional Wilson to swing wildly at empty air in frustrated fury as the fast moving Mussachio was never there. Wilson, who requires getting his feet planted and set before punching and then punching again, looked like the Wall Street bull status in motion, steam coming out of his face. Mussachio's game plan was to get Wilson to expend a lot of energy pursuing 'the matador' and burn himself out.
Mussachio had two major style flaws which both worked against him. People have said for years typical white fighters pull away from the punch instead of moving side to side blocking punches or tying the opponent up. Mussachio has been doing this sporadically throughout his career, but he kept his hands up. Early in the twelfth round, Mussachio got caught doing this, but with his hands down and as a result he got knocked out at 0:41 of the round twelve, flat on his back with his face under the ropes. He fell over trying to get up and could not beat the count.
According to Mussachio, "I got hit late in the eleventh round from a body shot to the gut and I could not breathe for 20 seconds, I lost my wind. When I regained it, Wilson hit me again with a body shot to the gut in the same spot at the bell, and I went to my corner not fully recovered." His explanation was far from complete.
One man at ringside, former Philadelphia Featherweight Golden Gloves Champion and 1940's lightweight contender Nunzio Carto of Philadelphia, identified Mussachio's second-and far more serious-style flaw, which in his view caused Mussachio to lose a bout in the final round which should have been won. According to Carto, "Mussachio fights with his body turned in, rather than squaring his body, exposing himself to numerous kidney punches, which, because they landed, caused an accumulation of damage."
In a lively and interesting undercard bout, rising Atlantic City welterweight prospect DeCarlo '3Mendo' Perez got taken on a six round trip to hell by trial horse ringer Manuel Guzman. Perez, now 6-1-1 (2), had his hands full with the hot and cold Guzman, 7-14-2 (3), Lancaster, Pennsylvania. Perez won the first round on points with a consistent left jab, and then lost rounds two and three as Guzman loaded up and landed power shots and bombs.
Guzman benefited from a 10-8 third round as Perez lost a point due to low blows, which forced a stop in the action twice. Perez won rounds four through six by landing a lot of overhand rights and punch flurries to the body of Guzman. Knowing he needed a knockout to win, Guzman went toe-to-toe with Perez in the fifth and sixth rounds, triggering nonstop action and earning the cheerful respect of the crowd.
Result: DeCarlo Perez W6 Manuel Guzman, Welterweights
Scoring: 58-55 twice, 57-56 Perez.
Other Undercard Bouts
Ronald Cruz TKO5 Anges Adjaho, Welterweights (2:54)
Dontre King W4 Julio Dejesus, Junior Welterweights
Naim Nelson W4 Deroy Beaton, Junior Welterweights
Bryan Jennings KO1 Kevin Franklin, Heavyweights (1:51)
Antowyan Aikens W4 Charles Kirby, Super Middleweights (walk out bout)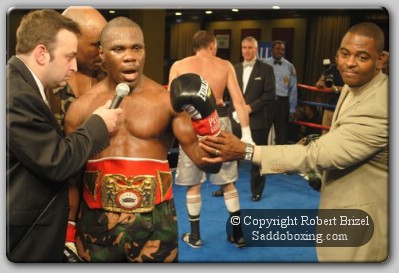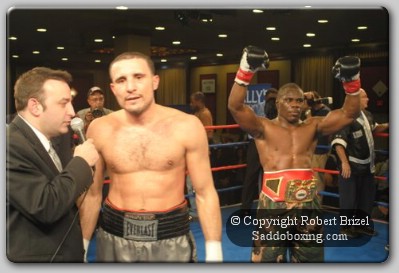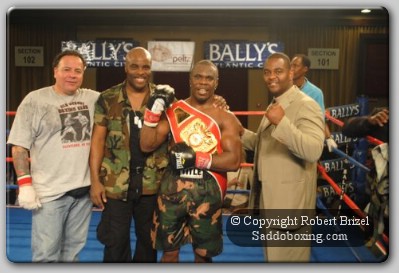 Click to read more boxing articles by Robert Brizel
Discuss in Boxing Forum
---