By Gary Totten November 29th, 2011 All Boxing Interviews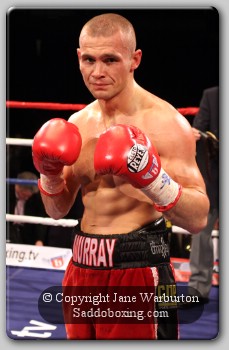 Martin Murray is an exciting, unbeaten middleweight boxer from St Helens, England currently ranked 4th in the World by the WBA.
He is the Commonwealth, British and WBA International title holder, trains under Oliver Harrison and is managed by Hatton Promotions.
Murray has tremendous support as a boxer, and always brings an 'energetic' crowd with him to his fights which creates an electric atmosphere at any venue. He is truly grateful for the support he gets. Now at 28 years old, Martin is looking to get the high profile fights and titles.
A brief history
Murray has always been actively involved in boxing but didn't start training properly until he was 10 years old, and this was mainly because his best friend at the time was doing it.
He was trained by John Chisnall, manager of the Glass Boxing Gym in St Helens, who was responsible for training most of the fighters in the area. John had a big impact on a lot of the young people in the area, and over the years Martin became very close to him.
Martin's amateur career spanned over 14 years. He had his first fight at just 11 years old and his last fight at 25; although he is keen to point out that there were lots of breaks in between.
Martin grew up watching fighters like Nigel Benn, Chris Eubank and Prince Naseem when British boxing seemed at a high during this era in the 80's. Although he enjoyed watching the fights, he wasn't influenced by the fighters, but more influenced about wanting to be able to fight on the same stage as them.
During his amateur career, Murray won the ABA's at welterweight and had the opportunity to box for England until his career took a setback because of events outside the ring.
Boxing has played a huge part of Martin's life, and he has applied himself to the sport with full dedication since turning professional. He now fights for his family which includes fiancé Gemma, son Archie and daughter Amelia.
Martin kindly took time out of his very busy training schedule to accommodate this interview for SaddoBoxing and this is what he had to say.
SaddoBoxing: How did you get into boxing and what age did you start going to the gym?
Martin Murray: I have always been involved in boxing always had a pair of boxing gloves in my hand i went into the gym at seven and boxed proper from when I was 10 years old.
SB: How is training going for the big fight against Felix Sturm for the world title on 2nd December?
MM: The training is going very well, Gaz. I have had 14 weeks of hard training for the biggest fight of my life,everything is just falling into place at the right time just as planned and we are just on the countdown now and I am buzzing. I know I'm the underdog but I'm coming to win definitely, we go out to Germany on Sunday 27Th November.
SB: Felix Sturm is a fighter, like yourself, who always seems to come to every fight in immaculate shape; is there a part of you that hopes this is the fight where he slips up a little and underestimates you?
MM: I know that Felix Sturm underestimated Matthew Macklin in their fight. Felix has come out and said that. He is always in immaculate shape but so am I. I don't think he will underestimate me but I hope he does. I hope he feels that I'm not as good as he thinks, because if he does he is in for a big surprise come the 2nd December in Germany. I know what I can do and I've been crying out for a fight like this for a couple of years.
SB: Do you feel that you can knock Sturm out?
MM: Felix has only been stopped once in his career, and went 12 rounds 14 times in his career so I have prepared myself for a really hard 12 round fight against Felix.
SB: Did you watch the fight between Sturm and Macklin and what do you feel you can do differently than Matthew?
MM: Yes, I did watch the fight. I had Sturm winning the fight and when I watched it again the next day, I had him even more clearly winning it. I am a completely different fighter to Macklin, I'm a better fighter than Macklin. Matthew had no method in his pressure against Sturm and I also have a better coach in Oliver Harrison.
SB: Have you spoken to Matthew Macklin to get any advice?
MM: No, we don't really get on. He's got a big issue with me and he's bitter, which I think is pathetic. It's only because I've done everything he has, but in half the time. We were meant to fight once and I accepted, but it was him who knocked me back and that's because he knows I'll beat him. He thinks that he is a level above me.
SB: Could be a good British showdown between the two of you next year in your first defense?
MM: Yes, it could be a great British showdown, and as I have already stated he's always said I'm not important to him and not in his class, but I bet I'd be important to him with a world title around my waist when I've done the job he couldn't do in beating Sturm in his own backyard.
SB: How important is Oliver Harrison to your success in the ring, Martin?
MM: I can't tell you how important Oliver is to my career in boxing. He has masterminded my career, works out all the tactics and views all the videos of my opponents. I don't view them, Oliver does all the homework and I trust Oliver to get it spot on so I only do what he tells me to and it has worked so well so far in my career. But it's not just Oliver, it's a team effort right from my strength and conditioning coach right to my manager Neil.
SB: Who is your biggest inspiration in life and boxing?
MM: My kids are the biggest inspiration in my life. This is why I'm in this sport, it's for them. I don't view it as a sport, more as a job, and I want to provide the best life i can for them.
In boxing, I would say Nigel Benn. I have gotten to know Nigel in the past and speak to him quite regularly and he has given me lots of words of inspiration which I have taken on board and really appreciate.
SB: Do you get nervous before your fights?
MM: Yes, I do get nervous before my fights and even more so as I'm stepping up in class. If you weren't nervous, there would be something wrong its a good nervous though, like butterflies.
SB: It's very hard to get a decision in Germany; I think Glen Catley is the last British fighter to win world title in Germany in 2000. If you don't get the decision, where will that leave you?
MM: I know that it's hard to get a decision in the opponent's backyard, as long as I can give a good account of myself and if I get beaten fair and square then that is okay, I still have my British title to fall back on and there is a rematch clause in the Sturm contract as well. I know this is a massive ask, but I know that I am a world class fighter and on the 2nd December in Germany, I will do everyone proud.
SB: The middleweight division is very healthy at the moment. It is getting back to the days like the Eubank, Benn and Collins era. Would you like to fight the likes of Darren Barker domestically, maybe throw Andy Lee in there also?
MM: If we can get fights made that make sense and are the right fights for me, then let's get them done. At the end of the day, all fighters are in this game for the money and to provide for there families. You can't go through your domestic career swerving fights if the money's right, the fights will be made.
SB: What area of your game do you think you can make the most improvements in right now?
MM: A lot of people think that I can only fight on the front foot but they couldn't be more wrong. I can also move onto the back foot and mix it up a bit. The most improvement I can make at the moment in my career is experience.
SB: I believe that you are pushing for boxing to be brought back into schools; can you tell us more about that?
MM: Yes, boxing has came back into schools in the Wigan area and the teachers and pupils are really taking to it. I am recently qualified as a youth worker, so I go in and coach and work with these kids and it's great. It teaches them a lot of things like behaviour, discipline and also informs them about their dietary requirements. I went down a bad road and boxing brought my life back.
SB: You have a very loyal fan base; how important is this to you, Martin?
MM: I can't begin to tell you how much my fan base means to me. Words don't describe how great they are to me. They are buzzing as much as I am about the fight, texting and phoning me all the time, which is great. At the end of the day I am going over to Germany to win the world title as much for them as for myself, The army of fans going over to Germany to support me, especially in the tough financial times that we are in and at the mouth of Christmas, is a massive boost to me they have been behind me from day one.
SB: Who are your favourite fighters past and present and why?
MM: Nigel Benn was a hero of mine, I loved watching him on TV with his all-out action style, knocking out everyone. Also, as I have said he has become very friendly with me and has give me great inspiration. Julio Cesar Chavez Sr is another favorite of mine. He broke fighters down with his body shots, he was awesome.
SB: Do you have anything else you would like to say to all the fans at SaddoBoxing?
MM: I'm not going over to Germany just to make up the numbers, I am going there to bring back the world title and I am very confident about beating Felix Sturm and hope to do everyone proud. It's about time Britain had a middleweight world champion again and next time you're talking to me Gaz, you will be hopefully talking to me as world champion, mate.
SB: Martin, thanks for your time and effort for this interview, mate.
MM: No problem at all Gaz mate, anytime, I appreciate the interview.
Gary Totten can be contacted via his twitter account @gaztop1979
Click to read more boxing articles by Gary Totten
Discuss in Boxing Forum
---