By Gary Totten December 14th, 2011 All Boxing Interviews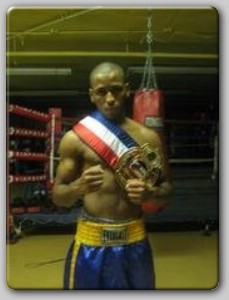 At 21, William Shamar Whitt from Brooklyn, New York, exudes the confidence and ring generalship found only in seasoned fighters in
their prime.
Possessing a calm demeanor and confident swagger, the 5'10' tall junior welterweight southpaw has already stacked up numerous titles and accolades.
With just twenty-five amateur fights under his belt, Whitt has already captured some of the most coveted amateur boxing titles.
To date, he's captured the 2008 NY Golden Gloves Championship and the Empire State Games Trials Championship. He's also the reigning Long Island Amateur Boxing Champ, two-time Friday Night Fights Champion and has been touted as HeavyHitter.org's "Amateur of The Year" and Pound 4 Pound DVD's "Amateur of The Month".
Not only is Witt a talent in the ring, having the ability to fight southpaw as well as orthodox and fighting successfully between 141 and 152 lb, he's also a talent outside the ring as well.
As a role model for the youth in his Brooklyn neighborhood, Whitt is respected and revered by his community and peers. One to watch, WIlliam Shamar Whitt has a plan and his plan is to be the best; so far his plan is working.
William kindly took time out of his very busy training schedule to accommodate this interview with SaddoBoxing
SaddoBoxing: Could you tell us how you got into the sport of boxing?
William Shamar Whitt: As a kid growing up, I loved to watch boxing and I loved to fight. In November or December of 2006 I joined Ardon Sweet Science Gym, My trainer Greg Ardon saw my potential, he made me work hard and we had our first fight a few months later in January, 2007.
SB: Who are your biggest influences in boxing and in life?
WSW: When it comes to boxing, I look up to Paulie Malignaggi, who has become like a brother to me over the last few years, as well as my gym mates who push me to the limit everyday.
In life I look up to my family, my older sisters and my older brother, just knowing all of the things that we've been through in life and where we are today, I'm proud of them and inspired by them.
SB: How does it feel to finally have your first professional bout coming up in January, 2012?
WSW: It feels great! I've been working hard in the gym. My style has always been suited for the pros, and I just can't wait for all of my fans and friends to pack the building to watch me perform.
SB: You have a very celebrated amateur background. I was wondering if you could tell us what your proudest moment in your amateur career was?
WSW: My proudest moment in the amateurs was winning the Golden Gloves. Before the tournament, I promised myself that I'd win it for my mother and younger sister, whom I lost in 2005. I dedicated winning the Golden Gloves to them so it was very special for me and what better place to do it than in Madison Square Garden in my hometown of New York.
SB: What do you consider your best asset you bring into the ring with you?
WSW: Besides natural talent, I'm a very smart fighter. I know how to adapt and my will to win is up there with the best. I'm very confident in myself, my work ethic and my team. In camp the word "lose" doesn't exist because it's not an option.
SB: Who's currently training you William and can you tell us how things are going in the gym?
WSW: I'm training with Greg Ardon in Brooklyn. Things are going great. We have a great relationship and great chemistry. He keeps me grounded and focused.
SB: How many fights would you like to have in 2012?
WSW: I'd like to have between 8-12 fights. I want to be busy and showcase my skills as much as possible.
SB: Speaking of your future, what is it that you would ultimately like to accomplish in professional boxing?
WSW: I'm a competitive person by nature so in anything that I do, I want to be the best. In professional boxing I want to at least win one world championship and secure my future financially. I don't plan on boxing forever, I want to be done by age 32 or33 so that I can enjoy the rest of my life.
SB: I have interviewed Paulie Malignaggi recently and he was a really great guy. I believe that you and Paulie are very close friends; can you tell us a bit more about this, please?
WSW: Paulie and I are brothers. He calls me his little brother and I call him my big brother. He's taught me a lot about boxing, not just fighting but a lot about the business. But when we're sparring he doesn't treat me as a little brother (laughs).
SB: William, do you model yourself on any fighters past or present?
WSW: I just try to be me. There are a lot of great fighters that I watch and that I borrow bits and pieces of what they do and I do it my
own way.
SB: As of right now, when you enter the ring in your first professional fight, you won't have a nickname. Would you be looking for the fans to help you in choosing one? Maybe you could tell the fans a little bit about your style or a little bit maybe about what you might be looking for in a boxing nickname?
WSW: The nicknames will come, hopefully they're good nicknames. I think my full name has a nice ring to it, William Shamar Whitt. I'm a boxer. I love to counter punch and I love to go to the body. All of my knockouts, whether it has been in a fight or in sparring, have come from body work. You break your opponent's will by going to the body.
SB: William,do you have anything else you would like to say to all your fans and readers at saddoboxing.com?
WSW: I'd like to thank you for the interview, and I'd like to thank all of the readers for checking me out. I am a very active Twitter user so you guys can follow me on twitter at @TheRealShamar or www.twitter.com/TheRealShamar . All of my updates are posted on there.
SB: Thank you very much for the great interview, William. Good luck in your pro debut and hopefully we can talk again when you win your first professional title.
WSW: Thank you, it was a pleasure to be interviewed by such a great site and great writer. We'll definitely do this again. Thank you! And God bless!
Click to read more boxing articles by Gary Totten
Discuss in Boxing Forum
---