By Jane Warburton February 29th, 2012 All Boxing Articles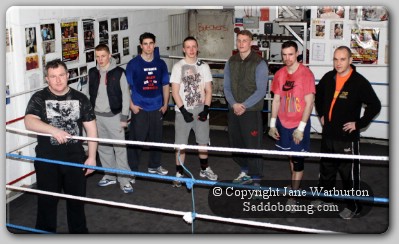 When I went along to John Costello's gym at Chelmsley Wood, Birmingham, I knew I was going to a shopping centre – but had no idea where the gym was.
Trainer – Paul Webb met me at the centre's entrance to walk me to the gym and asked if I'd heard about their location. I laughed – saying, 'You're not going to tell me it's at the back of some butchers are you?' and was shocked to hear him say 'Yes – exactly!', because the most recent venue for Chelmsley Wood Gym is in fact below the Butchers shop owned by Simon Robbins.
"We had our gym burned down and we're very grateful to have this place; We love it here!", said gym owner Costello.
The single room is accessed through the Butchers shop and down the stairs, but has all the necessary equipment; ring, punch-bags, beam and although the floor is unfinished – there are plans to add a toilet and shower.
It seems the basic interior doesn't deter the lads that train there, they all appeared very happy with the surroundings as they got stuck in to some training.
I asked John to tell me about the boxers he had training at the gym.
"We've got Jordan Clayton, who's a Super-Middleweight, Ashley Silver is just coming back to training, then there's Joe Costello and Thomas Costello (my two lads), Sean Robbins and Jamie Cox," replied Costello.
"Joe is a European Gold Medallist - he won Gold at the European Juniors, three National Schoolboy Titles, Junior ABA's and a Golden Belt. He was rated Number One in the world (under 17s). But he has been plagued with injuries and personal problems and two or three horrendous decisions which have 'cost' him.
"Joe boxed Mark Mekearn (European Bronze Medallist) and picked up a public warning in the last round - it cost him the contest. It was closely contested. Prior to that he lost in the quarter-finals to Henry Thomas. Every man and his dog thought Joe won the fight quite clearly and we were bewildered at the decision. The score was 15-13.
"The year before he lost on count-back. Those watching couldn't understand how the computer-generated score had given it the other way. Afterwards the ORC, judges, officials came over to apologise because on the individual scores Joe had clearly won the contest. That cost us the National Title. So Joe – rather than pushing for the next Olympics now – doesn't know whether to stay Amateur and be smothered with the politics or get in to the pro's and start early like Thomas did.
"I'm trying to hold him back because I think he's a dead-cert for 2016, I think he's by far the most talented kid out there – he's only just 18. He's sparred with Steve Foster Junior, Rendall Munroe, Jazza Dickens (who comes to the gym regularly) and many others. And he holds his own with all of them. So we don't know the answer yet.
"Thomas has been plagued with injuries and false promises. He's contracted to Frank Warren – he should have had another seven fights. Some of that is down to us, but a lot of it is that they're struggling to put fighters out. We've been promised a busy year this year so we'll just wait and see. But Thomas will definitely be pushing for domestic titles towards the end of this year.
"I believe that with Thomas and Jamie Cox – I've got the best two Light-middleweights in the country so I just want them to go out now and prove that. I think Jamie already has proved his calibre, I think everyone knows Thomas's potential – his punching power (for me) is tremendous, so we're just going to let the reigns off Thomas [Aka 'The Natural] now and see what he can achieve. Hopefully by the end of the year people will be talking about him as a future world champion which is what people have been saying since he first turned pro."
"Thomas's record stands at 9 wins (3 by KO) and 1 draw. He turned pro in 2007, but hasn't had a busy career so far. He fought once in 2011 and once in 2010.
"Ashley Silver won a Midlands Title – and is an incredibly tough kid who has boxed some of the best kids in the country as Amateur. He enjoys his boxing, so we're going to see how it goes with Ashley and see if we can get the skills and capability in to him – that will match his 'heart'.
"Sean Robbins won three National Titles as an Amateur with me – just like Thomas did. He matured quite late but then won the under-19 GB Title, Junior ABA's and the CYP's (Clubs for Young People). But he felt he was under-performing in the championships after the GBs, in Scotland, so we took him to the hospital to get his back looked at.
"He had an X-ray and it revealed he'd been boxing with a broken back! So he's had two years out, physio, and he's here today – looking very good. He's been sparring with the best of them - Ovill McKenzie (about 8 weeks ago), and he's held in high regard. We're looking to expose him on the domestic scene.
"Jamie Cox (of Swindon) has had a bit of an 'up and down' time in his pro career thus far, having had a court case which kept him out of boxing for 12 months – that was a real shame. After that we got him busy. Dean (Powell) and Frank (Warren) got him a Commonwealth Light-Middleweight Title shot which we're very grateful for. Jamie had only had six weeks notice for the fight – and had to cut his holiday in half to come back for it. We knew nothing about his opponent."
[It was against Obodai Sai of Ghana. Jamie won the Title by Unanimous Points Decision. He was cut in rounds two and six and was deducted points for low blows in the fifth and twelfth.]
John continues, "After the fight it seemed there was a bit of a 'witch-hunt' against Jamie by some people – talking of low blows, etc. But they didn't realise that Jamie broke his hand in the third round of that fight. We didn't want to give it the 'David-Haye-Syndrome of the broken toe (!) so we didn't say too much. No-one commented on the fact that Sai's shorts were four inches too high!
"Some of Jamie's punches were below the target area and were low-blows, but the last low-blow he administered (where he got deducted a point) – his punch actually landed on the belt so he shouldn't have had that point deducted. The Referee didn't give Jamie a final-warning – if had given him a final ultimatum ie 'one more low-blow and you're out of here' – then it might have changed things.
"Jamie was looking for a soft area to punch because his hand was shattered, when you're having to get through nine rounds against someone of that calibre [Sai had a 16 win (11 by KO) record] – it shows a lot about Jamie's character and determination to get through that fight – let alone to win it!
"We know there's a lot more to come from him. We'll be looking to get him lined up for a defence of the Title and - before the end of the year – a European Title shot. His record is 16 wins (9 by KO) no losses. He was competing at Welterweight and was saying he was making the weight ok – but he wasn't. Light-Middleweight is where Jamie belongs. I believe that after two years of the right competition – he'll be challenging against the best people in the world, with Thomas right behind him. Because I believe they're the most talented kids in the country."
I asked about any imminent fights coming up for John's boxers.
"Thomas is boxing on March 23rd at Wolverhampton Civic Hall – we're then hoping to get him lined up for a Title fight. I believe Thomas would beat Brian Rose right now. No disrespect to Brian Rose because I think he's a lovely boxer and he's got 'something about him', but I think Thomas is too strong for him, too clued, hits far too hard and has the punching power and skills to beat the best of them.
"Thomas has just turned 23, so Jamie (25) is in the best position to defend the Commonwealth Title, fight for the British Title and then move on. Once he's moved on I'm looking to slot Thomas in behind him and hopefully Thomas will pick up the Commonwealth Title. I've got to bring them along – both at the right pace. To be able to beat Brian Rose is one thing – beating Ryan Rhodes is another (!) but another two years down the line and I think he'll be ready to mix it with the likes of those guys.
"We're very excited about the next two years. We're looking to keep the lads busy and win some Titles."
Click to read more boxing articles by Jane Warburton
Discuss in Boxing Forum
---