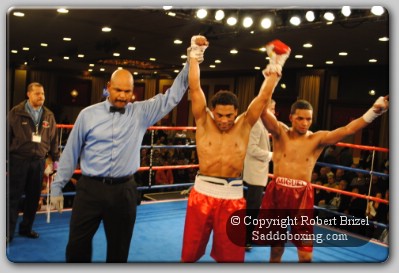 Welterweight Luis Cream, grandson of the late former World Heavyweight champion Jersey Joe Walcott, won his third professional on the undercard of a seven bout card at Bally's Hotel and Casino on Saturday, February 25, 2012.
Cream's name might not attract instant notice but his grandfather's real name was Arnold Raymond Cream, better known by his professional boxing name of Jersey Joe Walcott .
And now Luis Cream, 29, Camden, New Jersey, 3-0 with three decisions, won his best bout to date with a four round unanimous decision over Miguel Corcino.
Corcino, 27, also Camden, New Jersey, now 3-2 with two knockouts, looks like an older twin brother of welterweight prospect Raymond Serrano, and had height and reach advantage and hit the shorter Cream with some vicious head shots which would have felled an elephant.
Surprisingly, Cream with a wild fire in his eyes, took every shot Corcino was able to landed and responded with a relentless head and body attack which had Corcino red in the face and fighting for dear life.
Given, the young Cream has a long way to go. While living up to his famous grandfather's shoes may not be possible, he certainly gave a good accounting of himself in the ring. Cream has the hunger and passion of a Roberto Duran, and good technical skills. he will improve as his career evolves.
Enough excitement was generated by Cream's performance without most spectators at ringside knowing his true identity that one got the impression Cream would be going places in the future.
Given the tenacity and fire at which he got inside his taller opponent, it won't be longer before some promoter signs the young man, who has definite potential.
Jersey Joe Walcott (1914-1994) fought as a professional between 1930 and 1953. At 37, he became the oldest man to win the world heavyweight title when he knocked out Ezzard Charles, and was one of only a handful of fighters to win a world title in their fifth try.
After defending the heavyweight title by fifteen round decision against Charles, Walcott's career ended when he lost twice to Rocky Marciano, who retired undefeated at 49-0. Walcott knocked down Marciano in the first round, and was way ahead on the scorecards with Marciano when Rocky knocked him out in the thirteenth round to take the title. Walcott lost the rematch and then retired.
In retirement, Jersey Joe was elected as Camden County Sheriff from 1971 to 1974, then served as Chairman of the New Jersey Athletic Commission from 1975 to 1984.
He was elected as a member of the International Boxing Hall of Fame in Canastota, New York. The name 'Jersey Joe Walcott' was taken by Arnold Raymond Cream in recognition of his childhood hero, welterweight champion Joe Walcott of Barbados.