By Robert Brizel March 9th, 2012 All Ringside Boxing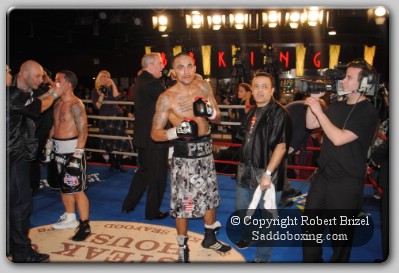 Welterweight Alex Perez went to 16-0, with 9 knockouts by winning a hard fought ten round unanimous decision over veteran Francisco (Frankie) Figueroa in the main event of a DiBella Entertainment boxing card held Wednesday night, March 7, 2012, at BB King Blues Club and Grill in New York City.
Perez knocked down the shorter Figueroa in the fourth, and appeared to win every round except the cautious first. Figueroa's only shot was headhunting, looking for certain openings and then power counterpunching for a knockout.
Perez appeared to enjoy giving Figueroa a bad beating whenever Figueroa settled on the ropes and tried to tire Perez out. Both fighters were in superb condition, and that strategy did not work for Figueroa. Perhaps Figueroa won one of the later rounds.
Figueroa landed some overhand rights and a few lefts which were hard, but did not phase Perez, who also took Figueroa's best shots when he did land. By volume, the taller Perez, sporting a reach advantage, tagged Figueroa all night with both head and both combinations.
Perez, now 16-0, 90 knockouts Newark, New Jersey, had no problem with Figueroa, now 20-4-1, 13 kayos, Bronx, New York. No knockout was possible for either man, and Figueroa was in the house, so it made for an entertaining bout.
However, Perez is now worthy of higher level opposition. Figueroa has a big heart, but like short and talented welterweight Lanardo Tyner, his height and reach disadvantage cause him to lose key bouts where the disadvantage cannot be overcome by technical skill and hard work in the gym.
Result: Alex Perez Win 10 Francisco Figueroa, Welterweights
Figueroa was down in the fourth round
Scoring: 99-90, 98-91, 96-93 for Perez, now 16-0, 10 Kayos
Referee: Gary Rosato
In a standing ovation light heavyweight preliminary bout to the main event, and the best bout of the night, unbeaten Delen Parsley came off the canvas to win an eight round decision over previously unbeaten Boyd Melson. Parsley allowed the shorter Melson to get inside in the first two rounds and got knocked down in the second.
Melson expended too much energy, though, and by the third round Parsley was working height and reach advantage to win rounds on points, and tying up Melson whenever he came in. Melson was also down in the tenth. Some press at ringside had Melson winning if the missing knockdowns had counted and called for a rematch.
Promoter Lou DiBella noted Melson scored two knockdown which were ruled slips. "Those were knockdowns," noted DiBella. "The judges scored the round I had the knockdown of Parsley at 10-9. How could they do that? I had two knockdowns which weren't counted. This affected the scoring also," stated Melson after the bout.
On the undercard, in a no defense light heavyweight slugfest reminiscent of George Foreman versus Ron Lyle, Will Rosensky won a brief all offense war over Zane Marks. Both fighters went for the head, and Marks went down twice in the first. he somehow recovered before the bout was stopped in the third, with Rosensky giving Marks a beating on the ropes.
Preliminary Bouts
Allen Benitez Win 4 Ian James, Lightweights
Badou Jack Win 6 Grover Young, Light Heavyweights (Young a southpaw)
Luis Rosa Win 6 Jonathan Alcantara, Super Featherweights
Floriano Pagliara Win 6James Lester, Junior Lightweights
Keisher McLeod-Wells Win Split Dec. 6 Patricia Alcivar, Junior Lightweights
Will Rosensky TKO 3 Zane Marks, Light Heavyweights (1:26)
Tor Hamer KO 2 Dieuly Artistelde, Heavyweights (2:59) (Aristelde down twice)
Delen Parsley Win 6 Boyd Melson, Junior Middleweights (both fighters down)
Click to read more boxing articles by Robert Brizel
Discuss in Boxing Forum
---