By Nick Chamberlain March 24th, 2012 All Boxing Previews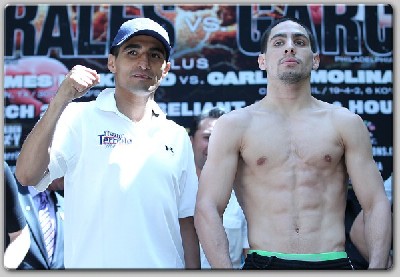 © Tom Hogan - Hoganphotos / Golden Boy Promotions
Danny 'Swift' Garcia has the biggest test of his career tonight in facing off against the modern day legend that is Erik 'El Terrible' Morales.
Garcia, 22-0-0 with 14 KO's, has been brought along steadily since turning pro back in 2007, and he has recently started mixing it up with a few recognisable names of the division.
He fought Nate Campbell in early 2011 and finished off the year with Kendall Holt. Both fighters are on the verge of being shot, if not already, but still pose certain threats to a young, up and coming fighter in terms of experience.
Garcia handled them exactly as was expected of him, no scares, no wobbles, no dramas. Shutout points victories in both fights.
Morales brings far more to the table than Holt or Campbell. This will be a huge gut check for Garcia, which, to be fair, is needed from tomorrow's stars.
Morales, 52-7-0 with 36 KO's,…for those that don't know…is a first ballot hall of famer without doubt. A glittering career since turning pro in 1993, he was the first Mexican boxer to win world titles in four different weight classes.
He was in two classic trilogies against Marco Antonio Barrera and Manny Pacquiao. Other scalps on the list are Carlos Hernandez, Junior Jones, In Jin Chi, Paulie Ayala, Jesus Chavez, Kevin Kelley, and Wayne McCullough to name just a few.
Morales had his own test against Daniel Zaragoza early in his career, at age 21, stopping him in the eleventh round, now 'El Terrible' plays the role of the old guard.
After four straight losses to Pacquiao twice, Zahir Raheem and David Diaz, Morales decided to retire in late 2007.
By mid 2009 there were rumours that Morales was to come back, laughable rumours as he was very overweight and he wanted to return to a talented division.
When he did return, he had a tune up fight at lightweight, then moved up to light welterweight and he looked surprisingly good, taking on Jose Alfaro, Willie Limond and Francisco Lorenzo.
Then he was to face against a monster of the division, Marcos Rene Maidana.
Most thought it would be a massacre, and that Morales' old body and rusty skill set would not hold up. He had looked OK in his comeback but Maidana is a different customer altogether.
We had all forgotten about Morales' heart, his grit and his Mexican pride, which he showed an abundance of against Maidana.
And with it the rust fell off, as we started seeing Morales counterpunching and working the angles, almost chasing Maidana round the ring at times, just like he used to.
Add to this the fact that Maidana caught Morales with an uppercut in the first round which shut Morales' left eye completely by the third or fourth round.
A one eyed Morales reminded us all just what he is about, and although he lost the fight on points, he had fought back and made it close and almost dropped Maidana a couple of times.
Maidana's face was a picture.
Off the back of that fight, it earned him a crack at the WBC light welter belt which was vacant, against undefeated Pablo Cesar Cano.
Morales busted him up, no other way to describe it. Cano's corner did not let him come out for the eleventh round and his face was a mess.
Morales will be extremely confident going into this one; just another young buck that needs to be put in his place, but Garcia is a very talented fighter.
This could be the passing of the torch.
But when Morales decides he wants a scrap, Garcia will find himself in the trenches, and will need to stick to his game plan perfectly, which surely will be 'stick and move'.
Garcia has very quick hands, good footwork, nifty movement and will be looking to make a statement as well.
Garcia should win this fight, that's what's supposed to happen, but Morales will not be following that script and it would be good to see how Garcia holds up.
Essentially Garcia's youth, speed and talent will go against Morales's experience, heart and talent…the result of this should produce fireworks and will either confirm that there is life in the old dog yet or there's a new star in town.
Click to read more boxing articles by Nick Chamberlain
Discuss in Boxing Forum
---