By Jane Warburton March 24th, 2012 All Ringside Boxing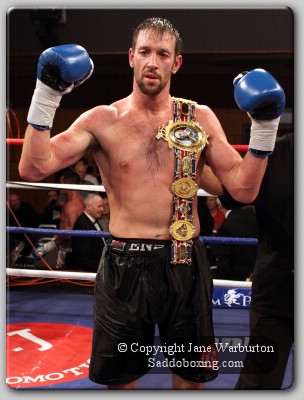 Click the above Image for more Photos from this Event
Swansea's Enzo Maccarinelli took the British Cruiserweight Title from Nottingham's Shane McPhilbin Friday night by Unanimous Points victory – but the fight wasn't without controversy.
The PJ Rowson and Frank Warren promoted event was screened live on BoxNation from Wolverhampton's Civic Hall.
Shane McPhilbin (Bulwell) v Enzo Maccarinelli (Swansea)
12 x 3 BBBofC British Cruiserweight Title
Supported by an army of fans – the Champion – Shane McPhilbin, approached ringside with a giant pink 'Mr.Blobby' (bizarre!)
Maccarinelli didn't seem to notice (!) and as the opening round began it was the Welshman who made the first notable contact – a right – midway through the frame which sees McPhilbin falter. But a left hook from the Nottingham man sent Maccarinelli falling backwards to the canvas! He started to get to his feet – but thinking better of it – took to a knee to recover. He looked 'out of it'. And within a handful of seconds – the bell had signalled the end of the round. Problem is – it rang 47 seconds too early! All too quickly the men were up on their feet again and McPhilbin went straight at Maccarinelli who was under pressure again. He looks wobbled mid-way through the round – struggling to regain his senses – then moments later McPhilbin is on the canvas – but it's a no knockdown. Maccarinelli looks unsteady again at the end of the frame.
Round three and McPhilbin is hitting around the back of the head. Maccarinelli goes down to the canvas again – getting caught by McPhilbin's wild shots. In the fourth, Maccarinelli catches McPhilbin with a left but although McPhilbin touches down briefly – he is not counted.
The fight starts to get messy around the fifth with lots of holding on.
Maccarinelli is caught again mid-way through the sixth but so is McPhilbin at the end of the round – who then shimmies as if to say 'So what?'.
The Champion is looking 'disinterested' and 'unfocussed' around the seventh round – walking away and looking around, then searching for spots around the edge of the canvas to spit (!) He touches down on the canvas from a left in the ninth round and the timekeeper calls the eight-count (Referee Ian John-Lewis did not). McPhilbin is furious.
The final rounds are brawling with lots of holding.
Both men seem unaware of the controversy surrounding the first round as the decision is announced. Maccarinelli wins by Unanimous Points Decision.
Maccarinelli improves to 35 wins (27 by KO) 5 losses (5 by KO) while McPhilbin drops to 8 wins (5 by KO) and 3 losses.
The BBBofC's statement dated 27th March says they are "currently investigating the incident that occurred during this contest".
Jason Welborn (Tividale) v James Flinn (Coventry)
10 x 3 BBBofC Midlands Area Welterweight Title
Coventry man Flinn was on the canvas at the end of the first round but it was a no knockdown. Round five saw him on the canvas twice – the second time he shook his head as he arose and the fight was stopped by Referee Terry O'Connor.
Welborn successfully defends his Title for the first time - by fifth round TKO and improves to 9 wins (4 by KO) 1 loss (1 by KO).
Flinn drops to 10 wins (2 by KO) 2 losses (2 by KO)
Chris Keane (Walsall) v Remigihus Ziausys (Lithuania)
6 x 3 Cruiserweight Contest
Keane kept very busy with solid body punches. His opponent was not busy – but still got in with a couple of decent bodyshots. Despite warnings for low blows and barging with the shoulder – the Walsall man kept the work rate up to secure a points win (60-54).
Keane improves to 5 wins (1 by KO) while Ziausys drops to 21 wins (10 by KO) 48 losses (1 by KO) and 3 draws.
Martin Gethin (Walsall) v Csaba Torma (Hungary)
6 x 3 Light Welterweight Contest
Gethin looked more spritely this time out. He pressured his opponent from the off and forced the stoppage in round four.
Gethin improves to 21 wins (8 by KO) 3 losses (1 by KO) and 1 draw, while Torma drops to 6 wins (5 by KO) 7 losses (3 by KO).
Thomas Costello (Birmingham) v Lubomir Weis (Slovakia)
6 x 3 Light Middleweight Contest
Tom 'The Natural' Costello looked impressive after a nine month break. He had his opponent down early in the opener from a body shot, then down again later in the round. The fight was stopped by Referee Rob Chalmers.
Costello wins by first round TKO. His record now stands at 10 wins (4 by KO) no losses and 1 draw. Weis drops to 7 wins 25 losses (13 by KO) and 3 draws.
Kyle Spencer (Brierly Hill) v Rick Boulter (Lincoln)
4 x 3 Welterweight Contest
Kyle 'The Style' Spencer gets his second win by out-pointing Boulter 40-36.
Boulter drops to 1 win 19 losses (2 by KO) and 3 draws.
Steven Pearce (Stourbridge) v Matt Seawright (Tamworth)
4 x 3 Welterweight Contest
Matt Seawright looked like he was enjoying the first round (!) then – no sooner as I'd said it – he was on the canvas in the second. A bad cut forced his stoppage in the third but not before Referee Michael Alexander slipped down on the canvas (much to the delight of the crowd!) Seawright protested about the stoppage.
Pearce gets his second pro-win, while Seawright's record now stands at 3 wins 56 losses (13 by KO) and 2 draws.
Grant Cunningham (Stafford) v Ryan Clark (Lincoln)
4 x 3 Super Middleweight Contest
Clark suffered a bloody nose in the opener but still 'calls his opponent on' in the second round.
Cunningham gets the points win 40-36 and improves to 3 wins (1 by KO).
Clark's record now stands at 2 wins 53 losses (2 by KO) and 4 draws.
Saquib Amir (Halesowen) v Delroy Spencer (Walsall)
4 x 3 Featherweight Contest
Amir, aka 'Zak The Ripper', scored a points win 39-37 and improves to 3 wins 1 loss.
Spencer's record now stands at 14 wins (1 by KO) 134 losses (12 by KO) and 3 draws.
Dean Anderson (Dudley) v Robin Deakin (Crawley)
4 x 3 Super Featherweight Contest
Deano – who hadn't fought since his loss to Sid Razak in December 2010 - stopped Rockin Robin in the second frame.
Both men had been warned for arguing with each other during the fight. Deakin had spent much of his time sat half through the ropes while taking punches.
Anderson wins by second round stoppage and improves to 3 wins (2 by KO) 1 loss (1 by KO).
Deakin drops to 1 win 46 losses (10 by KO).
Click to read more boxing articles by Jane Warburton
Discuss in Boxing Forum
---