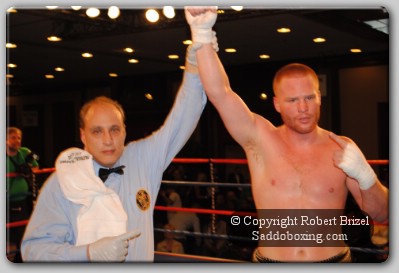 Last Saturday at Bally's Hotel and Casino in Atlantic City, New Jersey, Irish fighter Patrick 'Paddy Boy' Farrell of Jersey City, New Jersey, won a spirited four round heavyweight all offense and no defense slugfest by four round unanimous decision over previously unbeaten Kalven Jenkins of Troy, New York. The bout was closer than the scoring.
Farrell, normally a cruiserweight, returned to the ring after an absence of over a year at heavyweight, and wound up in an old-fashioned cut and dry Rock Em Sock Em Robots bout of head bombs, with both fighters standing in front of each other trading their thunder bombs. The pace was furious, the action divine, shaking the quiet Bally's crowd to their noisy feet to witness the spectacle-to see who would get knocked out and when. It seemed impossible, incredible, given the style of fight Farrell and Jenkins were fighting, that somebody did not leave the ring on a stretcher.
The St. Patrick's Day crowd, who witnessed an introduction of traditional Irish music played by bagpipers, came in their green hats and green shirts and green necklaces from the casino floor in search of a pot of boxing gold. Pound For Pound Promotions, who put this bout together, gave the crowd their money's worth.
The pace was furious and brutal, with both fighters taking each other's best shots. Farrell gave Jenkins more than he threw, and as the bout evolved, Jenkins tried the Hasim Rahman style of preferring to hold on in rounds three and four after landing a big punch or two, or trying to land and then rest for a quick moment wherever possible. Farrell, hungry after inactivity and in search of an Irish victory on this night, was more than happy to stand in front of Jenkins and fight a George Foreman style fight. Given the ferocity of the fight, that the fighters were a little red in the face after four rounds of power shots to the head was small compared to the damage an ordinary heavyweight could have incurred.
In an attempt to 'get over', both fighters also engaged in MMA style wrestling in center ring to try to manhandle and intimidate each other and control the furious paced wild action tempo, taking referee David Franciosi on a four round trip to hell.
As the late Howard Cosell so astutely noted "Action the way the public likes it!" Farrell goes to 6-1 (3). Jenkins, who earned draws in both of his first two professional bouts, can certainly throw and take a good punch. He'll be back in the future. You never know when a bout will be a winner.
Farrell had another good note to celebrate: an Irish fighter had made good on St. Patrick's Day. Meanwhile, at Madison Square Garden in New York City, Irish middleweight Matthew Macklin and light welterweight Danny McDermott were unsuccessful in their St. Patrick's Day bouts. The luck of the Irish, so it seems, was luckier in the casinos of Atlantic City, and where winning the pot of gold has different connotations in reality than story legend. For when a great bout is fought, everyone is a winner. After his one time heavyweight 'debut', Farrell stated he intended to return to cruiserweight. Farrell weighed 211 1/2 for this bout, nine pounds higher than his career high 202.