By Jane Warburton April 22nd, 2012 All Ringside Boxing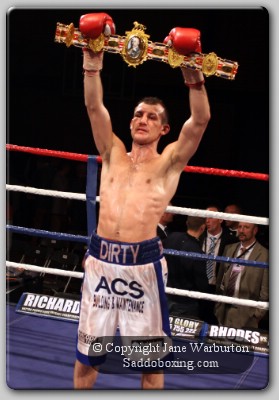 Click the above Image for more Photos from this Event
Liverpool's Derry Mathews caused an upset on Friday night by defeating Champion – Anthony 'Million Dollar' Crolla to win the British Lightweight Title by stoppage in the sixth round.
The thrilling contest was quick-paced and busy from the first bell. Mathews (who'd suffered with nose injuries in his last two fights) again sustained a bloody nose in the opener, but he didn't let it bother him.
Crolla was busy with the jab but just inside the first minute of round three – Mathews lands a peach of an uppercut and Crolla goes down to the canvas (for the first time in his career). Mathews (stood in the neutral corner) shoots a sideways glance at his corner with a look of 'that was good wasn't it?'. Crolla's head hadn't cleared and the motivated Liverpool man 'went after him'. The noisy crowds are on their feet ! Mathews lands another shot and Crolla digs in – throwing punches of his own. Mathews drops his guard almost as a gesture – as if to say to Crolla 'Come on – let's have it!'. As he does so – he takes a couple of head-shots but he doesn't look fazed. Crolla takes another shot and his head rocks back. It's been a big round for Mathews while Crolla goes back to his corner with a cut to the right brow.
In round four Crolla sustains a long cut to the left eye area below the brow (from a punch). Just inside the second minute of the frame, Referee John Keane takes the Manchester man over to his corner where cuts-man Mick Williamson wipes away the blood for Referee Keane to see the extent of the cut. Fighting resumes, but a minute later he is taken over to the ringside Doctor to inspect the wound. Again he is allowed to continue.
A determined Mathews lands more uppercuts in the sixth round then Crolla lands a wide swinging right but despite the gasps from the crowd – Mathews again looks unfazed.
Crolla gets busy throwing headshots but Mathews keeps a tight guard and comes back landing more head shots at Crolla. A big left lands on target and Crolla's legs buckle. He stays upright but seconds later Mathews lands a glancing uppercut and Referee Keane steps in to stop the contest with four seconds remaining of the sixth.
Derry Mathews wins the British Lightweight Title by sixth round TKO. His record improves to 30 wins (16 by KO) 6 losses (6 by KO) and 1 draw.
Crolla's record now stands at 23 wins (9 by KO) 3 losses (1 by KO).
Also on the Hatton Promotions fight-night at Oldham Leisure Centre, Blackpool's Matty Askin suffered defeat at the hands of Jon Lewis Dickinson by Unanimous Points Decision. Dickinson of Birtley, County Durham, wins the vacant BBBofC English Cruiserweight Title.
Dickinson was always the busier of the two men. Askin tried for the uppercut early in the contest and always looked to be 'waiting'. Dickinson picked up the pace in the fourth round – pressuring the Blackpool man but Askin had gotten through with some shots because Dickinson had sustained a bruised swelling below the left eye.
Askin himself sustained a nick under the right eye and another over the left brow mid-way through the contest and is forced to take a moment to recover from a low blow in the sixth.
Askin gets a bit busier in the seventh and eighth rounds, eases off again in the ninth, then he ups the ante in the tenth and final round – landing some head-shots. But it's too little too late and Jon Lewis Dickinson 'knows' he's done enough – going to the Referee to get his arm raised then laughing as he realises it's down to the judges decision (!)
Dickinson wins the English Cruiserweight Title by Unanimous Decision: 98-93; 97-93; 97-93.
He improves to 11 wins (3 by KO) 2 losses (2 by KO), while Askin suffers his first defeat – dropping to 13 wins (9 by KO) and 1 loss.
Undercard Results:
Adam Little (Kirkham) v Chris 'Twinny' Jenkinson (Bolton)
6 x 3 Welterweight Contest
Little wins on points 60-55
Stephen Foster jnr (Salford) v Miguel Aguilar (Nicaragua)
6 x 3 Super Featherweight Contest
Foster wins on points 60-51 after flooring his opponent in the first and fourth round.
James 'Jazza' Dickens (Liverpool) v Yuriy Voronin (Ukraine)
6 x 3 Super Bantamweight Contest
A fired-up Jazza wins by fourth round TKO
Lucas Browne (Perth, Australia) v Paul Butlin (Melton Mowbray)
6 x 3 Heavyweight Contest
Australian Browne had Butlin on the canvas four times before Referee John Latham stopped the fight in the fourth round.
Tommy '2 Slick' Stubbs (Oldham) v Gavin Reid (Redcar)
4 x 3 Super Bantamweight Contest
Stubbs wins on points 40-36 to notch up his third pro-win.
Ryan 'Dangerous' Doyle (Gorton) v Sid Razak (Birmingham)
4 x 3 Super Featherweight Contest
Doyle wins on points 40-36
Click to read more boxing articles by Jane Warburton
Discuss in Boxing Forum
---