By Robert Brizel May 3rd, 2012 All Ringside Boxing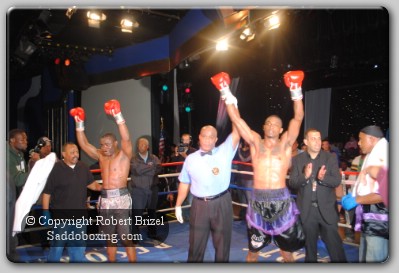 In a battle of super middleweight southpaws at Resorts Hotel Casino Friday night, unbeaten middleweight prospect Derrick Webster, showboating with his hands down at times and showing contempt for his foreign opponent, got taken on a trip to boxing hell in the seventh round by opponent Sabou Ballogou, an 8-4 Togo fighter out of Paris, France.
Webster, now 13-0 (7), Glassboro, New Jersey, had superior height and reach advantage, and used his edge to apparently win rounds one through six in what appeared to be a boring bout which nearly put the capacity crowd on the Andre Kut-Nidal Promotions event at Resorts to sleep. The bout appeared to be a mismatch but for one crucial element: Webster was not hurting Ballogou, and was showboating with his hands down at times being extremely careless.
Ballogou fell short with most counters, worked with pressure to just slightly narrow the gap of his reach disadvantage fiercely, trying to get the right hand in. Webster fought from the outside using his jab, and the bout went around in circles as the ring was not cut off.
In round seven, Ballogou's overhand rights found the mark and sent a surprised Webster to the canvas on his back and rubbery legs, trying to hang on and survive for precious dear life. The crowd came alive as it smelled an upset. Webster, never down in his career, got tired due to the furious pace and tempo of the bout, and was now taken to the middle of southpaw hell, unable to step Ballogou's right.
Ballogou failed to finish Webster and let him back in the bout, however, allowing Webster to survive to hear the bell ending round seven-and regain his composure.
The bout was still a symbolic victory for Ballogou; never should the bigger boxer underestimate the little man with the bigger heart.
Near the bell of the eighth and final round, Webster dropped Ballogou to seal the win. However, the referee did not hear the bell ending the round due to the noisy crowd and pandemonium surrounding the knockdown. An incensed Ballogou stormed across the ring and attacked Webster back, as the eight round bout strangely continued into the ninth round unstopped before ringside officials halted it. In the bout which followed between Yusaf Mack and Omar Sheika, a similar knockdown near the bell ending that twelve round bout sent that bout into the thirteen round as the bout was not stopped as the confused referee did not hear the final bell due to the same crowd noise reasons.
Click to read more boxing articles by Robert Brizel
Discuss in Boxing Forum
---