By Robert Brizel May 22nd, 2012 All Ringside Boxing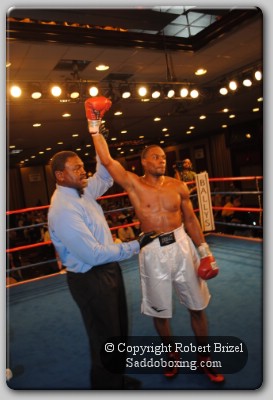 Phoenix, Arizona tall fighter Roberto Yong, now 5-4-1 (4), had a field day on the undercard of a Peltz Boxing Promotions seven bout card at Bally's Hotel and Casino, on Saturday, May 19, 2012. His opponent, undefeated 5-0 Philadelphia super middleweight prospect Fred Jenkins Jr., had never faced an opponent with a winning record since turning pro in 2011. Yong, on the other hand, had faced nine unbeaten fighters in his first ten bouts, including two debuts.
Yong, who showed up in top condition for this bout, turns out to have a deceiving record. Jenkins, who looks like a slightly smaller version of the late heavyweight champion Greg Page, unfortunately cannot move on his feet like Greg Page did.
Immediately from the opening bell, Yong succeeding in using his superior height and reach advantage to land accurate and vicious power shots to the head of Jenkins, while maneuvering away from Jenkins after landing and keeping out of punch range. Try as he did, Jenkins could not reach Yong. Yong frequently cut off the ring in corners, forcing Jenkins to take more hard shots than he should.
By round three, Yong's left hands had Jenkins staggering around the ring, and trying to hold on for dear life. Yong's power shots to the head of Jenkins took their toll. Jenkins got knocked down to the canvas at the end of rounds three and four, as the tiring Jenkins was getting hit too much. The bout appeared noncompetitive-and with Yong cutting off the ring at every opportunity-Jenkins had nowhere to hide.
After the second knockdown and the end of the fourth round, referee Earl Brown wisely waived a stoppage to the contest, for the only stoppage of the night. Yong's size, height and reach advantages proved too much for Jenkins to handle.
Click to read more boxing articles by Robert Brizel
Discuss in Boxing Forum
---