By Boxing Press June 5th, 2012 All Press Releases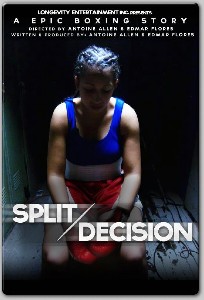 It was recently announced that a private screening for the short boxing film 'Split Decision' will be held at IndieScreen in Brooklyn on July 29.
Created by film maker Antoine Allen, 'Split Decision' identifies with the struggles of a young bisexual Latina boxer dealing with the challenges inside the squared circle, while facing adversity and scrutiny outside of the ring based on her personal choices.
In 'Split Decision', Allen tells a story of a young woman's dreams of rising up the ranks of a predominantly male sport, and the emotional roller coaster she embarks on to prove to her family and herself where hard work, perseverance and an unrelenting drive to succeed can take her, while balancing her unequivocal passion for boxing and a love for the sexes.
"I was working on a few scripts and since this was going to be my first production, I knew it had to be something everyone will remember," said Allen about what prompted him to writing 'Split Decision'. "So I came up with an underdog story, and watching Clint Eastwood's amazing movie 'Million Dollar Baby' sparked the idea."
The private screening will entail a viewing of'Split Decision' as well as an intimate meet-and-greet with the cast and crew members of the film, including director Antoine Allen, who will be available for press interviews and to answer any questions about the film.
"After people watch this film, I want them to realize that you can go after your dreams in life," said Allen. "You do not have to be afraid of who you are."
New York native Antoine Allen had dreams like any other kid growing up. A little after his career started to develop in the music industry as A&R Representative/Manager for a couple of independent hip hop labels, the phrase "Dream Big or Don't Dream at all' really hit hard due to several eye-opening incidents.
For additional information on 'Split Decision' visitwww.splitdecisionshortfilm.com or follow on Facebook at http://www.facebook.com/SplitDecisionShortFilm
Click to read more boxing articles by Boxing Press
Discuss in Boxing Forum
---