By Robert Brizel June 6th, 2012 All Ringside Boxing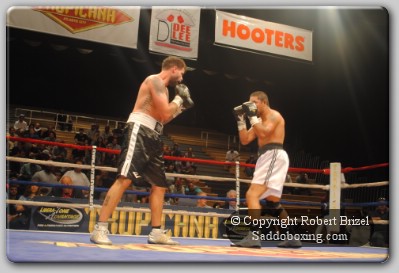 In the co-main event of a six bout card at The Tropicana Hotel and Casino in Atlantic City, New Jersey, promoted by Diane Lee Fischer's Dee Lee Promotions,
light heavyweight prospect Dennis 'The Assassin' Hasson most surprisingly got taken the eight round distance by a very game George 'The Rooster' Armenta.
Armenta, 14-9, (11), Silver Spring, Maryland, a fighter once believed to have great potential but whose results have been mixed, showed up in the best trained physical condition of his 23 bout professional career and tried to win it! While Armenta lacked the speed and power of Hasson, now 14-0, (5), Philadelphia, Pennsylvania, he did press the action forward in the first and outworked Hasson to win the round.
Showing a good defense and a solid chin, 'The Rooster' was never in danger against the dangerous Hasson, and showed weaknesses in the Hasson armor at times by taking the fight to the inside and scoring on Hasson. Amazingly, Hasson, who fights on the outside and landed a number of body shot combinations and an occasion chin shot, showed he could perhaps be outworked by the right style fighter on the inside.
Hasson won rounds two through eight by staying busier and landing more jabs and body shots by volume, but was surprisingly unable to do any real damage through Armenta's near air tight upraised gloves defense. Armenta came forward applying pressure like a fighting rooster (as is his reputation) the entire bout, forcing Hasson to move side to side or fight backing up. Armenta's tight defense frustrated Hasson.
Armenta was just not fast enough to land enough shots consistently to win. Hasson's trouble was not his technical ability (as he won the rounds) only that Armenta remained countering till the final bell and was 'in the house' and he could not do anything with him. Perhaps the best bout in a losing effort for 'The Rooster', whose previous outings include ten rounds losses to contender Sechew Powell and Mark Tucker in a USBO title bout.
Hasson, still undefeated, needs a step up bout against batter opposition in a ten rounder at this point in his career. If Hasson keeps winning, USBA light heavyweight champion Yusaf Mack, who won his title against Omar Sheika recently at Resorts in Atlanta City, could be in Hasson's near future.
Click to read more boxing articles by Robert Brizel
Discuss in Boxing Forum
---