By Robert Brizel June 11th, 2012 All Ringside Boxing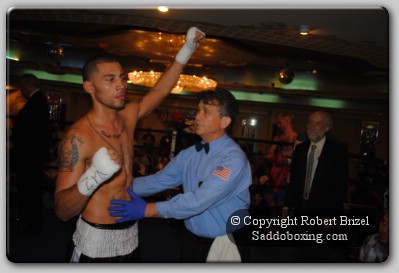 Unbeaten Brooklyn middleweight prospect Frank Galarza went through a bloody round of dangerous hell with opponent Yolexcy 'The Pit bull' Leiva-Martinez in the preliminary bout to the main event at Cordon Bleu Catering Hall on Friday, June 8, 2012. Both fighters swung away in an offensive go-for-broke barrage reminiscent of George Foreman versus Ron Lyle in accelerated motion. It was quickly evident from the opening bell only one fighter would be left standing. The only question was when the wild action slugfest would end. The answer did not take long to arrive.
Galarza, now 7-0 (4), Brooklyn, New York, wound up in big and immediate trouble, causing a big scare as 'Pit bull' Leiva-Martinez, 5-3 with 4 kayos, Nashville, Tennessee, landed an overhand left to the forehead of Galarza causing a horrific long bloody horizontal cut over Galarza's left eye. Red blood was flowing profusely, and just would not stop, raising the possibly Leiva-Martinez might score a lucky stoppage over the highly touted Galarza owing to the injury and rapid flow of blood.
Making good on his nickname, 'Pit bull' Leiva-Martinez came forward as Galarza came forward, fighting like a wild, crazy and insane pitbull. Leiva-Martinez continued headhunting Galarza, but it was not to be. Galarza landed a series of rapid fire overhand lefts to the head of Leiva-Martinez, and 'The Pit bull' went flying across the ring, bouncing off the ropes, prompting a count from referee Samuel Viruet, scored as a knockdown.
Leiva-Martinez quickly raised his hands to show he was alright, but his legs were clearly gone. Galarza, still in big trouble with red blood flowing down the center of his face which could obstruct his vision, desperately tried to close the show. He cut off the ring, and pounded away on Leiva-Martinez in his own corner with power combinations to the head and body. Leiva-Martinez tried to make it out of the round, but he was gone, with referee Viruet stopping the helpless 'Pit bull' at 2:59.
The seriousness of the situation was seen better after the bout, as Galarza's corner desperately worked with coagulant, salve and towels to try to contain the blood flow in the ring, to no avail. The ringside doctor still looked on with great safety concern as Galarza's hand was raised in victory. Immediate stitching seemed the doctor's top priority in concern for the fighter.
Click to read more boxing articles by Robert Brizel
Discuss in Boxing Forum
---