By Jane Warburton June 18th, 2012 All Ringside Boxing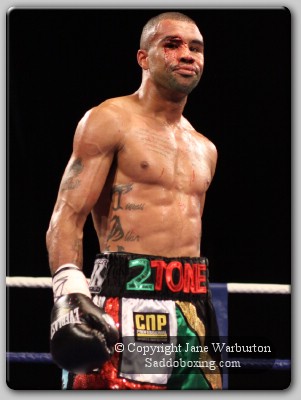 Click the above Image for more Photos from this Event
Hatton Promotions hosted a thrilling fight-night Saturday night which saw a sad outcome in the much anticipated headline contest between Rendall Munroe of Leicester and Scott Quigg of Bury.
A clash of heads in round three saw Munroe sustain a terrible cut to the right brow. The fight was promptly stopped and the result was a Technical Draw.
Also on the 'Road to Glory' Bill at Manchester's Velodrome – Sergey Rabchenko stopped Ryan Rhodes in the 7th round to claim the EBU Light Middleweight Title and Richard Towers stopped Gregory Tony of France in the ninth to win the EU Heavyweight Title.
Martin Murray won his ten round Middleweight Contest against Frenchman – Karim Achour on points and Australian Heavyweight Lucas Browne KO'd Hastings Rasani inside the first minute of round one.
Full results:
Scott Quigg (Bury) v Rendall Munroe (Leicester)
Interim WBA World Super Bantamweight Title
This much anticipated Title bout was sadly 'cut short' by a terrible cut to Munroe's right brow from an accidental clash of heads at the start of the third round. After a good, steady, first two rounds from both men – the fight seemed to be developing in to an interesting contest with both Quigg and Munroe 'settling in'. But the cut was a nasty gash which spurted blood and there was no question that it should be stopped.
The fight was declared a Technical Draw (as it was less than four rounds).
Afterwards, a disappointed Munroe and Quigg said they wanted a re-match and Promoter - Ricky Hatton – confirmed that there had to be a re-match as soon as Munroe's cut has healed.
Quigg's record stands at 24 wins (17 by KO) and 1 draw.
Munroe's record stands at 24 wins (10 by KO) 2 losses and 1 draw.
Ryan Rhodes (Sheffield) v Sergey Rabchenko (Minsk, Belarus)
Vacant EBU European Light Middleweight Title
After just the first minute of this title bout, Referee Adrio Zannoni prompted the boxers to 'get stuck in' (!) and Rabchenko duly obliged by landing a right uppercut which rocked Rhodes' head back. The Belarussian then landed a couple of lefts followed by a right which landed to the head of the Sheffield man. An enthusiastic Ricky Hatton regularly shouted 'Good Boy' to his charge (who doesn't speak English – but seemed to understand this was a compliment!)
Rhodes came out looking more confident in the second round and lands a nice right to the head of Rabchenko inside the opening minute. It was a good round for Rhodes.
Rhodes lands a solid right to the chin of Rabchenko who half stumbles back from the force at the start of the third but remains standing and comes back moments later to rock Rhodes.
Both men land shots but (according to SkySports Statistics) Rhodes had the better success rate after four rounds.
At the start of the seventh, Rabchenko is taken back to his corner to get 'wiped down' (assume this was for excessive grease on his torso). Rhodes is pressured against the ropes. Both eyes have swellings underneath and now he has a cut above the left.
In the closing seconds of the round, Rhodes lands a left and Rabchenko counters with a right then Rhodes starts to throw a wide right as Rabchenko lands a glancing left across the chest which sees Rhodes go down to one knee. Looking uncomfortable – Rhodes gets up just at the end of the count but Referee Zannoni waves it off and Rhodes lies down on the canvas clearly in some discomfort from the blow.
Rabchenko wins the European Middleweight Title and improves to 21 wins (16 by KO) no losses,
while Rhodes drops to 46 wins (31 by KO) 6 losses (4 by KO).
Richard Towers (Sheffield) v Gregory Tony (Saint Raphael, France)
Vacant EU Heavyweight Title
Towers got off to a good start with a confident first round, then mid-way through the second frame landed a solid right to the face of the Frenchman who hesitated then took to one knee. Fighting resumes and the following rounds sees both men landing shots but it was the fifth round that saw the contest 'hot up'.
Mid-way through the fifth, Tony pressures Towers against the ropes and the Sheffield Giant – unable to get away from the Frenchman's head shots – looks like he could get stopped. Forced to lean backwards over the ropes – Towers struggles to get away from Tony. Referee Ernst Salzgeber seperates the two men and Towers looks shell-shocked but launches a solid right to the head which lands on target and now it's Tony who is wobbled! But he comes back with a left and right and now Towers is wobbled again! Towers again is forced backwards over the ropes – this time above our Photographers spot and we can see that Towers has to prop himself against the corner to keep steady! He looks dazed but is allowed to continue. 'Get your hands up!' Dominic Ingle shouts as both men end up on the floor. The count is given – but I'm not sure 'who' to! Tony raises his arms aloft as Towers is moved aside but the fight continues and Tony goes straight in at Towers. Towers' legs seem unsteady and he finally manages to get away from Tony – Thanks to the Referee who stops to warn Tony for hitting back of head. Towers is literally 'saved by the bell' at the end of the fifth.
In the last half-minute of round six Towers lands a clubbing right which lands around the back of the head, Tony starts to complain but Towers reacts quickly and while Tony hesitates – Towers lands a cheeky left to the face and the Frenchman turns away. Tony threw the towel in to ring as if he'd had enough during the intermission, but his trainer picked it up and sent him back out!
At the start of the seventh, Towers has Tony backed in to the corner and almost hooks him down to the floor with a left. It is not counted. Towers teases Tony with the left while he looks to land the right but both men are starting to look tired. Tony reluctantly comes out for the eighth round but almost immediately goes down to his knee from a left to the body. He takes the count and fighting resumes. But he goes down again almost in delayed reaction to another shot. He takes the count but seems distracted by his right arm. Inside the last minute of the eighth, Towers has Tony backed on the ropes when he lands a right to the head and Tony drops to a knee again.
Inside the first minute of round nine, Tony turns away looking at his -now extended - right arm. Referee Salzgeber brings the two men together for fighting to resume but Tony just shows him his arm(!) and the fight is waved off.
Towers wins the EU Heavyweight Title and improves to 14 wins (11 by KO) no losses.
Tony drops to 17 wins (14 by KO) 3 losses (3 by KO)
Martin Murray (St.Helens) v Karim Achour (France)
10 x 3 Middleweight Contest
Martin Murray outpointed Karim Achour 98-93 and improves to 24 wins (10 by KO) and 1 draw (no losses).
Achour drops to 13 wins (2 by KO)3 losses and 2 draws.
Craig Watson (Manchester) v Tomasz Mazurkiewicz (Manchester)
6 x 3 Welterweight Contest
Despite both boxers having been on the canvas in the third round – Watson went on to get a points win 60-56. His record improves to 21 wins (8 by KO) 5 losses (3 by KO)
Polish-born Mazurkiewicz drops to 5 wins (1 by KO) 8 losses and 2 draws.
Adam Etches (Sheffield) v Ferenc Zold (Debrecan, Hungary)
6 x 3 Middleweight Contest
A left from Bomber Etches sees Zold on the canvas in round two. He gets up for the count but Referee John Latham waves it off. Etches wins by 2nd round knockdown and improves to 9 wins (7 by KO) while Zold drops to 15 wins (6 by KO) 11 losses (5 by KO)
Lucas Browne (Perth, Australia) v Hastings Rasani (Birmingham)
6 x 3 Heavyweight Contest
Browne landed a right which saw Rasani fall heavily to the canvas inside the opening minute of round one.
Browne wins by first round knockout and improves to 13 wins (12 by KO) no losses, while Rasani drops to 23 wins (16 by KO) 68 losses (25 by KO) and 5 draws.
Adam Little (Kirkham) v Dee Mitchell (Birmingham)
6 x 3 Welterweight Contest
Little wins on points 60-55 and improves to 7 wins (2 by KO) while Mitchell drops to 9 wins (2 by KO) 21 losses (2 by KO) and 1 draw
Scott Jenkins (Chesterfield) v Kristian Laight (Nuneaton)
4 x 3 Lightweight Contest
Jenkins scored a points win over experienced Laight 40-36 and improves to 6 wins (2 by KO). Laight's records now stands at 6 wins 124 losses (4 by KO) and 6 draws.
Kallum De'Ath (Manchester) v Anwar Alfadli
4 x 3 Super Bantamweight Contest
Alfadli was on the canvas in the fourth but the fight goes to points (40-36) with De'Ath getting his fourth victory.
Alfadli's record now stands at 1 win 26 losses (2 by KO) and 2 draws.
Louis Norman (Shepshed) v Delroy Spencer (Wolverhampton)
4 x 3 Flyweight Contest
Norman secures his second win on points (40-36) both times against veteran Spencer whose record now stands at 14 wins (1 by KO) 138 losses (12 by KO) and 3 draws.
Click to read more boxing articles by Jane Warburton
Discuss in Boxing Forum
---