By Sergio Martinez August 12th, 2005 All Boxing Photos
Julio Cesar Chavez Jr. weighed in at 144-pounds while his opponent, Jonathan Nelson scaled in at 138.
Jorge Paez Jr. weighed 138-pounds while his opponent, Javier Segura, weighed 134-and-a-half-pounds.
These two young superstars in the making will make appearances at tomorrow night's fight card held at the Laredo Entertainment Center in Laredo, Texas. The headline bout features Jose Aguiniga versus Gerardo Espinoza. Full fight reports and photos to come.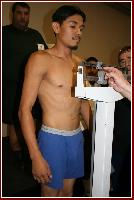 Contact Sergio Martinez at srg_mrtnz@yahoo.com
Click to read more boxing articles by Sergio Martinez
Discuss in Boxing Forum
---