By Boxing Press June 20th, 2012 All Press Releases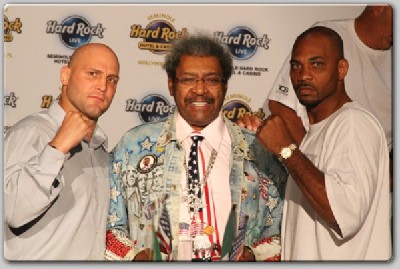 Fighters spoke in front of the press for the final time today before the "Viva Don King II" boxing card takes place on Saturday in Hard Rock Live at Seminole Hard Rock Hotel & Casino in Hollywood, Fla. Promoter Don King hosted the press conference, and all participants promised their best performance possible when they enter the ring.
Tony Grano (NABF No. 1-ranked heavyweight): "We chose to fight DaVarryl Williamson because he has had a very successful career and we need to fight guys like him. I need to fight the best to move up in this sport. I look forward to winning the NABF title."
DaVarryl Williamson (Former world No. 1 heavyweight): "I feel like I have enough gas left in my tank at age 43 for a final push towards another world heavyweight championship fight. I have been successful in South Florida in the past. I won the NABF heavyweight title by beating Eliecer Castillo in Tampa back in 2004. I look forward to winning it again on Saturday night."
Joey Hernandez (WBC U.S. super welterweight champion and WBO & IBF No. 10/WBC No. 14, fighting Brandon Baue): "Getting away from Miami to the King Training Camp in Orwell, Ohio, was the best thing for me. I plan on putting on a great show. If I win on Saturday and Cory Spinks defeats Cornelius Bundrage next Saturday, I might be fighting him for a world title, which is my goal."
Angelo Santana (Undefeated WBA No. 15 lightweight contender, fighting Justin Savi): "I am very prepared for this fight. I am undefeated and this is an important fight in my career. Justin Savi is the best fighter I have ever faced. I must be at my best as I move up in level of competition with each fight towards a world championship."
Justin Savi (Former WBC Silver Champion): I come here to fight. I must say, I will fight my best. Young Angelo Santana is a good fighter with no losses, but my experience will be too big of an obstacle for him."
Omar Henry (Undefeated junior middleweight): "I've had four opponents for this event. Most of my fights are won by knockout. I like to knock people out, and that's what I plan to do on Saturday. It doesn't matter who they put in front of me on Saturday, I will put them down."
Thomas Snow (WBA No. 15 contender): I have fought down from 136 pounds to 115. I'm the biggest and best 115-pounder out there right now. Get your cameras ready—doesn't matter what technology—you'll want to be taking pictures. I'm the only American ranked by the WBA at 115 pounds, so I appreciate your support."
Tickets priced at $154, $104, $79 & $54* are on sale now and are available for purchase at Hard Rock Live Box Office (open daily from noon until 7 p.m. ET), all Ticketmaster outlets, www.ticketmaster.com or charge by phone: Miami-Dade (305) 358-5885, Broward (954) 523-3309 and Palm Beach (561) 966-3309. *Additional fees and/or service charges may apply.
Click to read more boxing articles by Boxing Press
Discuss in Boxing Forum
---