By Robert Brizel September 26th, 2012 All Ringside Boxing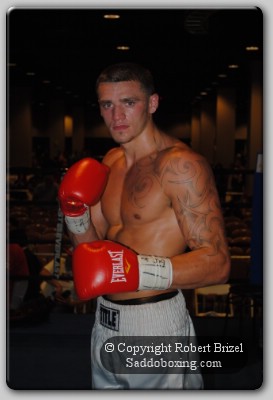 In the co-main event at Resorts World Casino of Aqueduct Raceway in Jamaica Queens, New York, promoted by New Legend Boxing, Old World Boxing and WON Promotions, light heavyweight Joe 'The Irish Bomber' Smith Jr. scored a brutal third round knockout over Yasin Abdur-Rashid in a bout which featured five vicious knockdowns scored by Smith. The bout was doomed to end early as Rashid could not land inside.
The first casino boxing card in New York City history also raised money for the Manhattan Branch of the Leukemia and Lymphoma Society, with volunteers selling raffles, cookies and candy, accepting donations and taking marathon pledges from boxing fans and casino patrons for charity.
According to promoter Felipe Gomez, "We hope we can continue to raise more money for charitable causes as we do more shows at Resorts World Casino, and hopefully the Genting Group will continue to work with us. Our next show featuring Vinny Maddalone will be held here on December 8, 2012. When our December 8 card ends, we will move from the third to the second floor so everyone can watch Manny Pacquiao's next fight, which will be on the big screens in the casino sports bar."
Smith, now 11-1 (11), Long Island, New York, began banging immediately with Rashid, now 7-3, (2), Brooklyn, New York. Smith had a substantial height and reach advantage. Rashid's only hope was to take the fight to the inside in center ring. Rashid got there but was unable to capitalize on his attack opportunities.
Smith landed many punishing body shots with both hands on Rashid. With his inside game not working in a very long first round, Rashid scored a few times with decent counter attacks when able to trap Smith on the ropes. Rashid took too much punishment on the inside.
In round two, Rashid continued the same approach and tried to take the fight inside. Smith reversed his only mistake in round one and began landing flurries of power shots with Rashid now on the ropes, and dropped Rashid twice. In the third round, Rashid was dropped again by a Smith uppercut, and was dropped a fourth time by a flurry while partially being wrestled to the canvas.
The brawl would not last, as Rashid was getting hit with numerous brutal body shots, and finally fell to the canvas a fifth time knocked down and out, forcing referee Eddie Claudio to call a halt to the mismatch after the third knockdown of the third round at 1:57. Rashid appeared in shape and game, but was clearly outclassed. Smith, trained by Jerry Capobianco, showed he is worthy of better opposition. Rashid could not come up with a change in his game plan once his attempt to take the fight to the inside against Smith backfired. Smith, a hard hitting Irish power puncher, has proven to be versatile in adapting to the styles of whoever he fights and using the other fighter's weaknesses to immediate advantage.
In the other co-main event, junior middleweights Frank 'Notorious' Galarza of Brooklyn, New York, and a much taller Alantez Fox of Forestville, Maryland, battled to an eight round draw. One judge had it 77-75 for Galarza, one judge had it 77-75 for Fox, and the third judge had it 76-76 even.
Former world champion Junior 'Poison' Jones, commenting at ringside, noted "Fox won the first half of the bout, Galarza the second half of the bout. The time for Galarza to pick up the tempo was in the third round, but he waited too long. So the decision was correct." The bout was for the vacant New York State Junior Middleweight title. Both fighters remain unbeaten at 7-0-1. Interviewing both contestants, Ring commentator Marc Abrams sparked fight fan interest in a rematch, and both fighters seem willing, but a rematch will have to wait. Galarza has an upcoming bout in Guyana with former middleweight contender Howard Eastman.
In a minor upset on the under card, unbeaten Brooklyn featherweight prospect Rafael Vazquez got dropped by a right hook in the second round, and lost a six round split decision to 3-7-1 local Queens journeyman Jhovanny Collado. It was a competitive scrap, but Vazquez appeared not to have prepared well enough for Collado, and got a wake up call. Two judges had the bout 57-56 for Collado, while the third judge had it 58-55 for Vazquez.
Undercard Bout Results
Frank Galarza Draw 8 Alantez Fox, Junior Middleweights
Boyd Melson W6 Yolexcy Martinez, Junior Middleweights
Jhovanny Collado SD6 Rafael Vazquez, Featherweights
Micah Branch W4 Allan Phelan, Featherweights
Daniel Gonzalez (debut) KO2 Anthony Smith (debut), Welterweights (1:01)
Elton Dharry TKO2 Gabriel Cruz, Bantamweights (corner retirement)
Juan Dominguez W6 Jesus Bayron, Super Bantamweights
Angel Garcia W4 Pedro Andres, Lightweights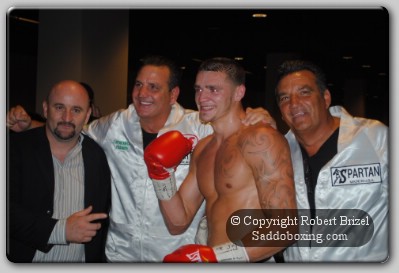 Click to read more boxing articles by Robert Brizel
Discuss in Boxing Forum
---