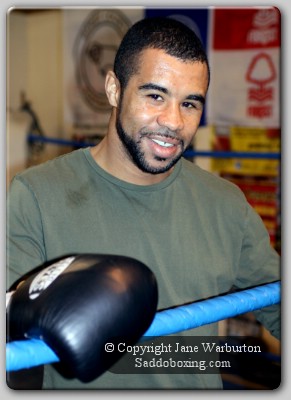 Click the above Image for more Photos from Jane Warburton
In December, former Super Bantamweight Champion – Rendall Munroe, retired from boxing aged 32 with a record of 24 wins (10 by KO) 3 losses (1 by KO) and 1 draw.
The Leicester man – known as the 'Boxing Bin-man', had suffered a sixth-round defeat to Bury Boxer Scott Quigg when they faced each other for a second time in November for the interim WBA World Super Bantamweight Title.
That night, Munroe knew he would be retiring from the sport.
So, it was a surprise to hear recently that he would be fighting again on May 12th in Leicester. Moving up in weight – 'TwoTone' will be facing Youssef Al Hamidi in a Super-Featherweight Contest.
Saddoboxing chatted to Munroe yesterday to ask what made him decide to come back to boxing so soon after retirement.
Rendall's first words were "if you love doing something – it's hard to stop".
"After the first fight with Quigg – when I got cut (the fight was declared a draw because of it) – I lost some motivation. I'd fought at world level against Nishioka – taking him to points, I'd worked hard all my career and hadn't got the result I wanted.
"I had to pick myself up for the re-match with Quigg. Afterwards, I just wanted to be at home with my family rather than training, then I got bored and went back to training again.
"Every day I would drive to Shinfields Gym at Alfreton (Derbyshire) and back. People were saying 'there must still be something still there Rendall if you keep coming back to the gym'. I always loved going to the gym anyway so I just laughed, then one day Jay (Shinfield) said he'd got a couple of lads in to spar with me.
"He was teasing us saying 'Come on lads, show us why Rendall had to retire', but of course I wasn't having any of it and I 'did my thing' in there. Jay could see there was a lot left in me and that was that – from that day I was back in training!
In 2011, Rendall gave up his much-loved job on the bins to become a full-time professional but – looking back – he now believes that this was when things started to go wrong.
"I liked working on the bins, I enjoyed it – I had some laughs and it was like a training session. I realise now that I needed it as a way of 'switching off ' mentally from the boxing for a bit. I was enjoying work and enjoying the boxing – there was no pressure.
"When I stopped doing the bins – it was all boxing seven days a week and it became a chore. I couldn't 'switch off' and didn't like the pressure.
When he retired from boxing – Rendall Munroe asked for his old job back on the bins but was refused. He'd always said he'd go back to being a bin-man so the rejection was a blow.
But it wasn't long before he found worthwhile work using his sporting experience to help the people of Leicester which in turn gives him a way to 'switch off'.
"Now I'm doing some sports work with Leicester City Council and I feel more like 'the old Rendall' because it's allowing me the 'break' that I need during training but I'm keeping busy and still doing sport.
"I'm doing some mentoring work with children and have been doing my Gym Instructors Certificates, I've got Level 2 and am going for Level 3 now. "
So it seems 'TwoTone Munroe' is back!
Fighting at a more comfortable weight in the Super-Featherweight Division – Rendall Munroe clearly sounds motivated again.