Tons of Boxing Photos
Greg Robinson's Power Promotions put on an explosive card Friday night at The National Guard Armory in Philadelphia and those in attendance were treated to an amazing five consecutive first round stoppages that kicked off the evening. In the final analysis, only one of seven fights lasted the distance with previously


Click for larger image
© John Dufner
Saddo Boxing




---
undefeated headliner and fan favorite Terrance Johnson joining the long list of knockout victims on a night full of overhand rights that found the target with shattering consequences.
Things got off to a quick start when the Tim Witherspoon trained local middleweight Jessie Blount went to 2-0 (1) by starching Montez Wilson, making his pro debut from Camden, New Jersey, in just thirty seven seconds of the first round. Blount showed a good right hand, catching Wilson with just one of them, forcing referee Roan Aurit to wave off the action.
Click for larger image © John Dufner / SaddoBoxing.com
Next up, a battle between light welters Julio DeJesus and Jaime Morales lasted a bit longer, but not by much. Morales, also making his pro debut from Camden, came out winging wide, hard shots but DeJesus, of Salisbury, MD, threw straighter and dropped the debutante with a crippling right cross. Morales showed his resolve by getting up on shaky pins before both men were at it again with reckless abandon. A colossal swapping of leather raged until the Jersey boxer hit the canvas again. After an eight count from the third man in the ring, DeJesus struck gold with a counter right that forced the referee to call off
the one sided pairing at just forty seconds into the initial frame.
Click for larger image © John Dufner / SaddoBoxing.com
The third installment of the first round knockout highlight reel came when light heavyweights Jameson Bostic and Davit Davitashvili climbed through the ropes and squared off. The stocky Philadelphian Davitashvili, bringing no previous professional experience to the bout, wasted no time in attacking his opponent and Bostic, of Brooklyn, NY, responded with both hands as he sought to gain room to throw by backpedalling. Davitashvili took his foot off the accelerator just long enough to smack the New Yorker with a right before catching one in return. Bostic followed up with a whipping counter right hand over a lazy jab and Davitashvili was on the floor. Two more full blooded rights send the local man reeling before he tries to rush Bostic and grab hold. The Brooklynite wisely backed off enough to shell Davitashvili with the heavy artillery and force a stoppage after 1:55 of the first round. Once again the untested professional novice falls to the more experienced man and Bostic moves to 3-3 (3) after surviving what appeared to be a basic barfight.
Click for larger image © John Dufner / SaddoBoxing.com
The next contest had to be one of the quickest in Pennsylvania boxing history. Camden finally had some success as cruiserweight Simon Carr won his pro debut over another novice, Philadelphia's Gary Jones. As soon as the bell rang, Carr ran across the ring and uncorked the punch everyone in the venue knew was coming, a haymaker right hand that appeared to miss a panicked Jones. A follow up left seemed to find nothing but air as Jones made his way to the refuge of the canvas. The crowd booed lustily as referee Aurit counted out Jones, who clearly had no intention of facing Carr again. As the shaken Jones climbed out of the ring, respected State Athletic Commissioner Greg Sirb had a few choice words for the cruiserweight and afterward could be seen having an animated discussion with a cornerman of Jones. Carr gets his feet wet in the pros and moves to 1-0 (1).
Click for larger image © John Dufner / SaddoBoxing.com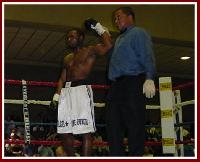 A real edge of the seat scrap brewed up next as Philly super middle Gabriel Rosado, giving away eight pounds to Wilmington, DE's Phil Hicklin, put on the best performance of the night so far. Making his pro debut and appearing much smaller than the three fight veteran Hicklin, Rosado looked headed for a difficult time but eventually proved to be the sharper skilled of the two. Initially, the fleet footed hometown man was missing big right hands by a foot or more but after the patient Hicklin stuck him with a counter right Rosado tightened up but not before a bit of clowning, caused a stir among the crowd. Finally dialing in his range, Rosado landed a searing right hand before driving home a booming body shot. Before Hicklin could regroup, Rosado scored with a huge right that hurled his rival to the floor. Hicklin smiled but couldn't keep his feet once standing, falling over on uncooperative legs, prompting referee Son Tall to stop the proceedings. Rosado goes to 1-0 (1) while Hicklin drops to 1-3 (0).
Click for larger image © John Dufner / SaddoBoxing.com
The only bout to last the distance followed, pitting yet another Camden based boxer, light heavyweight Max Alexander against Norristown, PA's Randy Pogue. Things got off to an interesting start as Alexander just missed a knockout shot an instant after touching gloves with fellow southpaw Pogue. It was a rough first round with the taller Alexander working behind the jab and Pogue bulling his adversary into the ropes. The second was Pogue's best as the rugged thirty six year old caught Alexander with some bracing power shots to the head and body but the New Jersey man narrowed the margin with a push at rounds end.
Click for larger image © John Dufner / SaddoBoxing.com
The third saw Pogue tiring from his efforts in the second and Alexander began to stalk his older opponent. Pogue tries to work behind the jab but can't maintain the pace and is momentarily stopped in his tracks by a big left from Alexander that lands flush. Pogue pins his rival to the ropes, trying to maul on the inside but loses his grip and a suddenly free Alexander unleashes a sharp one - two combination at the bell. The fourth sees Alexander holding his fire, looking for one big shot. He nearly finds it as a stinging right stuns Pogue but the tough journeyman won't go down, but rather chases Alexander and nearly shoves him through the ropes. Pogue gets in a sweeping left but once again Alexander nails him with a combination near the bell.
Alexander is still looking to end things with a single shot which allows Pogue to get a much needed breather. The shorter man rushes in, trying to close the distance but is finding it more difficult than before as Alexander begins to work a stiff right jab. A good exchange near the rounds end is finished off by a glancing hook from Pogue. The sixth and final frame sees Alexander tag the onrushing Pogue with a two handed fury but eventually the action moves to the ropes with both combatants trying to gain advantage on the inside.
The action pauses as Pogue's mouthpiece is retrieved but resumes with a slugfest until the end of the round.
Max Alexander wins all six rounds on the official scorecards, 60-54, and stays unbeaten at 7-0-1 (0). Randy Pogue falls to 8-4 (2).
The final bound of the evening features unbeaten light heavyweight Terrance Johnson meeting Toms River, New Jersey man William Gill. While Gill had dropped his last six bouts by decision, he'd faced a more accomplished level of opposition than had the 4-0 Johnson.
Click for larger image © John Dufner / SaddoBoxing.com
Things begin with both fighters showing good movement and mostly missing their offensive attempts until Johnson scores with a body shot, right hand combination. Nothing much takes place until Gill drives home an uppercut that seems to shake the local man at the bell. The second stanza is a bit more eventful as Gill opens up an assault full of uppercuts and short shots that drives Johnson to the ropes. Suddenly the tables are turned as the undefeated fighter shakes off Gill with a sharp one - two that signals the beginning of a withering slugfest. Both make their mark with right hands before Johnson finds a spearing left hook to the body. Johnson drives Gill across the ring, pushed on by the crowd chanting his name and rakes the tourist with furious flurry that sets Gill reeling until he can back Johnson off with a right at rounds end.
The third round sees Johnson continue his strafing of Gill who can't seem to back the Philadelphian off. It looks bad for the journeyman from the Jersey shore until he finds what will turn out to be the key to stopping Johnson. It's the right hand, which suddenly can't miss on the back end of a meaningless jab. Gill fires it off repeatedly and turns the tide on what had been a disastrous round for him. The fourth sees Johnson trying to walk through the fire with a stepped up offense of his own but it's Gill who is landing the more meaningful blows. The Toms River man wobbles Johnson near the end of the frame but the undaunted Philly fighter comes right back with a shot that shakes Gill at the bell.
Johnson looks exhausted during the fifth but manages to clip Gill with a tight hook before the visitor answers back with the lethal one - two and a counter right before they both head for the trenches. Gill emerges in better shape and repeatedly rams home a powerful right as Johnson is clearly hurt, trying to keep his feet along the ropes. Soon Johnson is swooning as Gill batters him ceaselessly, prompting a referee stoppage.
William Gill sees his record to 3-6 (2) as he hands Terrance Johnson his first loss at 4-1 (3).