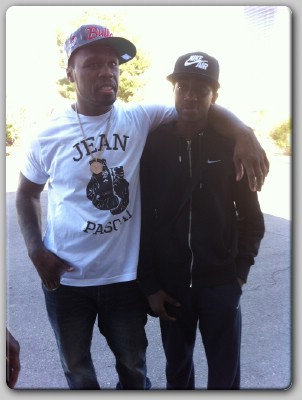 Traing exclusively out of Floyd Mayweather Jr's gym in Las Vegas, Nevada, 18 year old Junior 'Special Boy' Saba works with his uncle and trainer Tunde Ajayi.
On first glance at a popular video of pad work on YouTube, you would assume it was Roger Mayweather and Floyd hitting the pads in the rhythmic fashion that they have perfected over the years. But, it is actually Junior and Tunde. It really is uncanny and it clearly works well for the pair as Junior has been creating quite a buzz amongst all the right people.
Names get tossed around in boxing all too often, but it is evident and paramount when you hear the right names being tossed around that you stop and pay attention.
SaddoBoxing caught up with Tunde Ajayi recently, asking about Junior's short amateur stint in the UK:
Tunde Ajayi: "Basically, Junior had a short amateur career of 16 fights. What you have to remember is, I was the one who brought the so-called Mayweather stlye boxing to the UK [documented on the Sky Sports special] and no matter what anyone says I started all the trainers who are now doing that type of pad work, doing it.
"I had to take a lot of abuse for bringing this so-called American style training to the UK and I felt that because of it, they [amateur judges] were treating Junior unfairly in the few contests that he lost.
"They never worried when it was club shows but when it was national tournaments they would snatch the victory from Junior. This all made me decide to take Junior out of amateurs and keep working hard taking him back and forth to America till the time came to turn professional and anyone who's seen Junior work in the gym, knows that the time is now!"
SaddoBoxing: Do you feel there is a, so called 'old fashioned' way of training in the UK then? And more politics of how and where you are trained comes into play in the amateurs?
Tunde Ajayi: "I feel that, it's just whenever something new on the horizon appears it takes time to accept and I believe and know that in time everyone in the UK will accept that this style of training, along with all the other elements that play a part in making a great boxer will finally take a firm place in British boxing."
SB: So are you looking to make an announcement soon as to when Junior turns pro?
Tunde Ajayi: "Boza Edwards, who has watched Floyd Mayweather Jr grow since he was a 16 year old kid when he was a matchmaker with Top Rank Boxing, says he sees the exact same qualities in Junior as he did with Floyd Mayweather Jr when he was a young kid like Junior.
"He told me the same way I keep harassing him and bothering him about Junior is the same way Roger Mayweather did all those years ago. He remembers Floyd being exactly like Junior the very quiet and humble kid in the gym but look at him now.
"The main thing for me is that Junior is properly guided and brought up, not necessarily the traditional way, but the 'right way' and even if that means having three or four fights in the first year against moderate opponents while he is developing physically and mentally under my watchful eye then so be it, What we have to remember is junior has hardly had an amateur career so we have to do our developing in the pros"
SB: Why America then? Are you not thinking of the traditional route of regional area titles, followed by trying for the British, European then world honours?
TA: "Obviously we're British but I feel that America is where it is at! If you look at the great British past & present stars, Ricky Hatton, Amir Khan, Prince Naseem Hamed, Lennox Lewis, they all ended up having to come to the states anyway so why not start here.
"Having said that, both myself and Junior are not U.S citizens so the main thing for me at present is doing training camps in the U.S as we have been doing since 2010 and if someone like Goldenboy, 50cent or Mayweather Promotions hold shows in the UK then certainly, we will fight there."
SB: What weights are you looking at with Junior? What does he walk around at?
TA: "Right now, Junior will fight at super-bantam, he is very tall for the weight 5ft 8in and the way the Americans talk about weight and how they 'make weight' he could really do bantam weight but he is comfortable making 122lb he walks around at 128-129lb so 6-7lb is a 'doddle' as we say back home."
SB: What about yourself, Tunde? You are clearly passionate about your boxing, what's your background?
TA: "I've trained Kevin Mitchell, Akash Bhatia, Danny Williams, Ola Afolabi, undefeated two weight world champion Harry Simon and a host of others, but Junior is by far the most talented and has bags of potential.
"Currently, I train undefeated amateur star 16-0 O'Hara Davies, who's out here in Las Vegas with us and he's been sparring tough Mexicans, Mayweather fighters and also undefeated professional Shaun 'Showtime' Porter, who has done tons of rounds with Manny Pacquiao and let me tell you, 'Davies' as we call him, is 'raw talent' and very, very exciting!
"I love boxing, people say there's a bad side to boxing but I feel when you recognise there's a positive and negative in every situation in life then the goal is to focus your mind on the positive and let the negative die a natural death."
Tunde Ajayi has a very positive outlook and is a very passionate man, he also knows his boxing, and Junior, whose idols are Salvador Sanchez, Aaron Pryor, Jack Johnson, Roy Jones, Lennox Lewis and of course Floyd Mayweather, looks very impressive.
This scribe has only seen what links I have been sent by his management, but he looks to have impeccable timing, lightning reflexes, and good footwork, a credit to the style of his training but what impressed me most was his calmness under pressure and his ability to pick shots, for such a young prospect with not a long amateur history, he looks like he can go far.
I, for one, look forward to seeing the young man in a ring very soon.