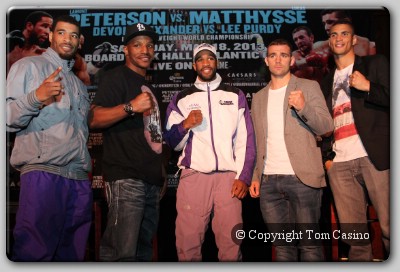 The action this weekend is at Atlantic City's famed Boardwalk Hall as Devon Alexander put his IBF welter title at risk and Lucas Matthysse lays his WBC Interim light welter belt on the line.
Alexander, 24-1 (13), meets unheralded Englishman Lee Purdy, 20-3-1 (13), while Matthysse, 33-2 (31), squares off with Lamont Peterson, 31-1-1 (16).
Southpaw Alexander, ex-WBC/IBF light welter king, is enjoying a new lease on life since heading up to 147 pounds, where he outpointed Randall Bailey this past October to cage the IBF bauble.
Purdy, a two-time British champ and current IBF International beltholder, is coming off a stoppage of veteran Cosme Rivera in March and is facing Alexander as a replacement to stablemate Kell Brook, who has seen three scheduled fights with the American scrapped due to injury.
Alexander is definitely favored to win as Purdy hasn't been anywhere near world level and was outboxed the only time he ever got close, against Colin Lynes in 2011.
Alexander has had trouble with pressure fighters although, such as Lucas Matthysse, and Purdy does have an outside chance if he can draw the champion into the trenches during the later rounds.
That's a very big "if" however as Purdy doesn't have the one-punch concussive power of Matthysse, Bailey or Marcos Maidana, three big sluggers who Alexander has faced in his last three bouts.
Also, Purdy has only been 12 rounds twice, losing both times, and that's not good preparation for a boxer who must fight hard for three minutes of every round if he is have any hope at all at knocking off Alexander.
Alexander will likely manage to control the distance and pace of the contest, catching Purdy on the way in with jabs and left hands before tying up the challenger.
The other big bout on the bill is an interesting one with Peterson, 31-1-1 (16), challenging Matthysse, 33-2 (31), over 12 rounds.
Peterson's IBF title won't be on the line and the Washington DC man will be in the ring for the first time since defensing his belt with a stoppage over ex-WBO strapholder Kendall Holt in February.
Matthysse should provide a sterner test for Peterson as the Argentine power-puncher excels at the close quarters action Peterson prefers and has the advantage if the bout is fought toe to toe.
Clever boxers, such as Devon Alexander and Zab Judah, have put losses on Matthysse's record and it would benefit Peterson if he could follow suit but don't expect a leopard to change his spots.
Peterson will likely count on his high work rate to provide the margin of victory but to produce a win in Atlantic City, he'll have to make Matthysse miss a lot of punches and counter effectively.
Many feel that Matthysse was on the wrong end of decisions against Alexander and Judah and if another close contest occurs against Peterson, who is perceived to have been a lucky beneficiary against Amir Khan, expect the Argentine belter to come out on top this time.