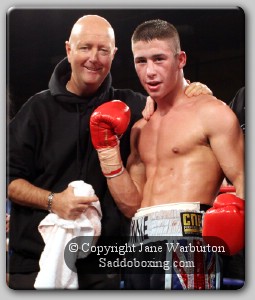 The boxing community is still reeling from the sad news yesterday that respected Manager, Promoter, Trainer and Matchmaker – Dean Powell, has tragically passed away.
Dean had worked in boxing for 25 years and was regularly seen at boxing shows around the country, his last – at York Hall, Bethnal Green, on Saturday night.
Frank Warren Promotions – where Dean worked as a Matchmaker, made the following tribute on their website:
Frank Warren, Francis Warren, George Warren and all at Queensbury Promotions:
All of us are deeply saddened and shocked by the loss of our very close friend and colleague, Dean Powell. Dean was a valued and popular member of our team and within the sport of boxing and our thoughts and prayers are with his family and loved ones for their tragic loss.

Dean Powell was the friendliest and most lovely guy in boxing. He always had time for everyone he met. RIP to a dear friend to all of us.
Saddoboxing would also like to offer our sincere condolences to the family and friends of Dean Powell, may he rest in peace.