Click for larger image © Natasha Chornesky / Saddo Boxing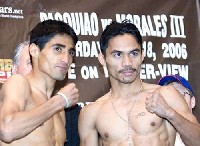 Both Eric Morales and Manny Pacquiao weighed in at 129 pounds for their highly anticipated rubber match, scheduled for Saturday night at the Thomas & Mack Center in Las Vegas, Nevada.
Morales quickly put to rest any lingering questions regarding his ability to make the weight, as he showed up lookng physically much better than he has at recent weigh-ins.
The weigh-in was open to the public and brought in legions of fans from Mexico and the Phillipnes to support their fighters. If the buzz at the Thomas & Mack Center for the weigh-in is any indication of the intensity level for Saturday, the 17,000 plus fans in attendance and HBO pay-per-viewers around the world are going to be in for a real treat.
Undercard weights
Mike Arnoutis, 138 pounds versus Ricardo Torres, 139
pounds for the Vacant WBO Light Welterweight Title
Omar Nino Romero, 107 pounds versus Brian Viloria, 108
pounds for the WBC Light Flyweight Title.