Click for larger image © Natasha Chornesky / Saddo Boxing
Manny Pacquiao showed Eric Morales and the rest of the boxing world that he is frighteningly fast, powerful, and right in his prime by scoring a devastating 3rd round knockout over the Mexican legend to retain his WBC International Super Featherweight Title.
The opening round of the trilogy started with both working behind the jab and a couple of nice counters from Pacquiao, particulary a nice right hook. Morales got in a good shot against the ropes, but Pacquiao landed a few more shots to take the first round.
The two warriors exchanged furiosly in round 2, electrifying the 18,276 fans in attendance at the Thomas and Mack Center in Las Vegas, Nevada. Morales had his moments and landed some good shots against the ropes but Pacquiao spun out and landed a left hand to put Morales down and set the Fillipino fans afire. The legs of Morales seemed a little unsteady but being the warrior that he is, Morales finished the round with a flurry of punches sending Pacquiao backwards and throwing the Mexican fans into a frenzy with a few words for Pacquiao.
Pacquiao and Morales continued the heated exchanges in round 3, but Pacquiao's advantage in speed and power was evident as a flurry of punches puncutated by a straight left hand put Morales down with a strong left. Morales bounced up from the knockdown and fought back gallantly in continuing to trade with Pacquiao. Morales landed some punches but couldn't hurt Pacquiao and found himself on the canvas again after getting hit with another straight left hand. Morales remained seated on the canvas thru the ten count and conceded defeat at 2:57 of round three.
After the competitiveness of the first two bouts, the quick ending to the fight suprised many, including Pacquiao trainer Freddie Roach. "I think the weight loss was too much for Morales. We expected the fight to go much longer. According to Compubox statistics,Pacquiao landed an
amazing 51 of 71 power shots in the 3rd round. "I was faster and bigger than Morales" stated Pacquiao. "For the first time in my career, I felt my opponent's power", said Morales. "Maybe it's getting to be that time" (retirement). If the guaranteed hall of famer Morales, now 48-5(34KO's), does decide to retire, there's no doubt the proud warrior went out on his shield , with guns blazing.
Click for larger image © Natasha Chornesky / Saddo Boxing
Undercard Action.
The opening bout of the HBO pay-per-view portion of the Top Rank promoted card got the Mexican and Fillipino fans roaring early as Mexico's Omar Nino retained his WBC Light Flyweight Title with a majority draw in his rematch with Brian Villoria.
Villoria had lost the title to heavy underdog Nino back in August in a lacklustre, hesitant performance by the Fillipino known as the Hawaiian Punch.
Villoria came out fast early and landed a solid right hand but then essentially sat back and posed with Nino in a feeling out type first round.
The previously unheralded Nino proved early on that he is a crafty boxer that Villoria continued to have difficulty landing any flush punches. Nino upped his aggression level in round 3 with some body shots and the best combination of the fight, a right hand-left hook combo that got Villoria's attention.
The combatants let some leather fly in the fourth round, after Villoria was angered by some borderline low blows from the champion in round four. The pace of the fight settled down a bit until Villoria hit Nino with a cuffing right hand to the back of the neck that threw Nino off balance, his right hand perhaps touching the canvas, prompting referee Joe Cortez to rule a questinable knockdown. Nino was effective enough in the eyes of one of the judges to salvage a 10-9 round for Villoria, instead of the usual 10-8 rounds scored with a knockdown.
Nino stepped up his activiy levels to sweep rounds 6-8 and had a particularly strong seventh round, landing a vicious uppercut. Villoria wasn't using the jab like Nino and was simply not throwing enough leather. As the fight was slipping out of Villoria's hands, his fortune changed in round 9, when a two punch combo struck an off balance Nino for a legitimate knockdown, giving Villoria a 10-8 round.
The combatants let their fists fly early in round 10 with neither gaining a clear advantage before things settled down for a close round.
Villora was ahead on the scorecards after the 10th round and let the fight slip away with inactivity in rounds eleven and twelve. Nino was the only one pressing the action, utiizing an effective jab, while Villoria was doing much posing, seemingly waiting too long for the perfect shot. With Nino sweeping the last 2 rounds, one judge favored Nino, 115-112, while the other 2 judges saw the fight even at 113 apiece for the majority draw. Villoria did much better than the first encounter but still was far to hesitant and inactive against a crafty boxer to regain his title.
Click for larger image © Natasha Chornesky / Saddo Boxing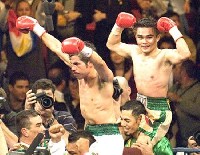 In the co-undercard feature, Colombia's Ricardo Torres was awarded a controversial 116-111, 114-113,113-114 split decision over Greece's Mike Arnaoutis to capture the vacant WBO Light Welterweight Title. Most ringside media members were suprised by the scoring, particularly at Adalaide Byrd's lopsided score favoring Torres.
Although Arnaoutis did appear to outbox Torres for most of the fight, like Villoria, Arnaoutis at times seemed too passive and let victory slip away. Torres spent much of the early rounds in pursuit of Anrnaoutis, unable to catch up to "Mighty Mike". However, Arnaoutis wasn't punching enough in the judges eyes, who were apparently favoing Torres aggression over Arnaoutis safe boxing.
The southpaw Arnaoutis started to sit down on some punches in the mid rounds and caught Torres with a hard countering left and a follow up right to put Torres on the canvas towards the end of round seven. Torres was clearly hurt and instead of going in for the finish, Arnaoutis, to this writer's astonishment, reached out to touch gloves with Torres before running out of time in the round to damage Torres further. Arnaoutis seemed to let Torres off the hook again after hurting the Colombian with a right hook in the eighth round. Torres was clearly more hesitant after feeling the Greek's power, but Arnaoutis got complacent and gave Torres some confidence as Torres jabbed away to finish round the round on a positive note and take the round on the judges cards. Torres rode his new confidence to take rounds nine and 10 and Arnaoutis showed some urgency late in the fight and swept the final round but by then it was too late and Arnaoutis suffered the first loss of his career to fall to 17-1-2(9KO's). Torres, who has lost only to former WBO champion Miguel Cotto in his only other fight in the United States, improved his record to 30-1(27KO's)
Click for larger image © Natasha Chornesky / Saddo Boxing