By Boxing Press December 5th, 2006 All Press Releases
Click for larger image © Tom Casino / Showtime Boxing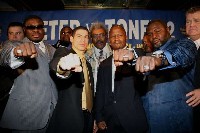 At Tuesday's press conference formally announcing Peter vs. Toney 2, promoter Don King and Ken Hershman, Showtime Networks senior vice president of Sports Programming, announced the addition of Rivera vs. Simms to the Jan. 6, 2007 edition of SHOWTIME CHAMPIONSHIP BOXING. The world title doubleheader will air live at 9 p.m. ET/PT (delayed on the West Coast) and is being promoted by Duva Boxing, Goossen Tutor Promotions, Warriors Boxing Promotions, and Don King Productions.
The always exciting Jose Antonio Rivera (38-4-1, 24 KOs) will make the first defense of his WBA super welterweight title against undefeated, WBA champion "in recess" Travis Simms (24-0, 18 KOs). Rivera won the title in spectacular fashion May 6, 2006, on SHOWTIME, dropping Alejandro "Terra" Garcia four times en route to winning a lopsided decision. Simms, who knocked out Garcia to win the WBA 154-pound belt, will be making his first start since October 2004 when he defeated Bronco McKart.
The main event features the hottest young heavyweight in the world, Samuel "The Nigerian Nightmare" Peter, and one of the craftiest pugilists in history, James "Lights Out" Toney, fighting a WBC-ordered rematch at Hard Rock Live at the Seminole Hard Rock Hotel & Casino in Hollywood, Fla.
Fighter Quotes
Sam Peter (WBC No. 1 contender, 27-1, 22 KOs)
"I am preparing to be a world champion. The WBC and James Toney are trying to take what is mine. But they will not be able to do it.
"This is a big fight. You've got to prove, convincingly, who you are. And with God's will, I will be able to prosper.
"I beat him the first time. When I hit him, I hurt him. I could feel that I hurt him. He was holding on to the ropes.
(In the rematch) "He can't be better. He won't improve. Toney has been fighting for 18 years with the same style. But to beat a great fighter like James Toney was special. Everybody says I am a knockout specialist. I am a knockout specialist, but I proved that I can go 12 rounds with a great fighter ad win.
"A world title shot is the most important thing for me in boxing. I want to be heavyweight world champion for my country, for my family, for myself."
"Toney is the toughest fighter I have faced in my career. He's a hard man to hit."
James Toney (WBC No. 2 contender, 69-5-3, 1 ND, 43 KOs):
"Sam Peter got a gift. When they announced the decision (Sept. 2, 2006 on SHOWTIME), Sam Peter as the winner, I saw the look on his face and on Dino Duva's face (Peter's promoter). They were stunned.
"Then they ran and hid, Ivaylo (Gotzev, Peter's manager) and Dino. They hid behind their man and they ran; ran right out of the ring. Even Peter was running.
"But I am done talking. You'll see the best conditioned James Toney on Jan. 6, the James Toney that you have not seen in a long time. (You will see) James Toney at 120 percent."
Jose Antonio Rivera (WBA Super Welterweight Champion, 38-4-1, 24 KOs):
"I have had great opportunities in my life. And to be part of this Don King fight card, a historic event for Florida, I am truly honored. Many of you don't know my past and the things that I've gone through. But to be here today is a real honor. Thanks to SHOWTIME for stepping up to televise this fight. They know that I always come to fight and it is going to be a great show.
"I am not worried about Simms and the "in recess' aspect of the championship. When I won the title against Garcia, I won a sanctioned championship fight. Now, we have got this fight signed and I am looking forward to putting all this behind us.
"Simms is a crafty southpaw. He's fast and strong and a very versatile athlete. So he's going to fight a smart fight. He's going to try to outclass me. In order to counter that, I have to put pressure on him -- and not (just) pressure here and there. I have to pressure him for 12 rounds. He's going to have to stand there and fight me until he folds."
Travis Simms (WBA Super Welterweight Champion "in recess, (24-0, 18 KOs):
"I am very anxious and excited to get back in the ring and do what I do. I look forward to putting on a tremendous show. It has been two long years of bull. I am happy to get that behind me and get it on and retain my title. I have to show that I am the best in the division. I look forward to beginning to do that Jan. 6.
"I have the ability to beat any fighter out there. Rivera is not a hard guy to figure out. He's going to come straight at me and he's going to try his hardest, but I can handle any fighter.
"It does not make a difference what Rivera does. I can handle anything. My sparring partner is Luis Collazo.
"I have been in the gym training full time. I am well prepared and, as always, in shape. I am ready to go right now."
Click to read more boxing articles by Boxing Press
Discuss in Boxing Forum
---