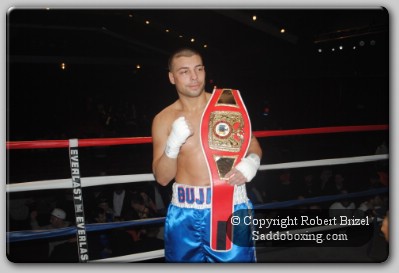 In an exclusive interview with Saddoboxing, World Boxing Council USNBC regional cruiserweight champion Stivens 'Steve' Bujaj, fresh off an eight round decision win over veteran Zack Page on November 8, 2014, at the Masonic Temple in Detroit, Michigan, expressed an interest in defending his title in 2015 against former world champions Glen Johnson and Roy Jones Jr. Bujaj also holds the New York State Cruiserweight title.
Also called 'Superman', Bujaj has a professional record of 13-0-1 with nine knockouts. Originally from Albania, Bujaj now fights out of New York City, where he won the Golden Gloves championship in the heavyweight open category in 2009 and 2010.
Bujaj is trained by Billy Jiles, best known as the trainer of such world champions as the late Hector 'Macho' Camacho Sr. and Paulie Malignaggi. Bujaj is managed by Don Majeski. Steve Bujaj is currently the number 27 ranked cruiserweight in the world by the World Boxing Council.
SaddoBoxing: Steve, your jaw was injured and you lost a tooth in your ten round draw with Chicago Golden Gloves champion Junior Anthony Wright for the vacant WBC International title in May 2014. When did you return to the gym?
Steve Bujaj: "I have been back in the gym for four and a half months now. I had a jaw fracture, so I had to get a titanium plate installed in my jaw so it could heal. The plate is still in there. I was cleared to fight by my doctors, and by the New York State Athletic Commission, so I'm ready to fight.
"I just beat Zack Page, and I'm ready to fight again. I'm scheduled to fight again in January 2015 on a Dmitriy Salita card in New York City. I have also been offered a December 2014 fight in Canada. Nothing is definite yet."
SB: You picked a tough comeback opponent to beat in Zack Page, a veteran of 67 fights, with 454 rounds of professional experience in the bank. How was your experience fighting him?
Bujaj: "Zack beat Kevin McBride, who beat Mike Tyson. He's been in the ring for nearly 70 fights, and he's only been stopped seven times. Page knows how not to get hit, and he knows how to go the distance. He's very crafty.
"He's faced 23 undefeated fighters, a lot of contenders [including number one ranked heavyweight Kubrat Pulev] and three world champions [Lou Del Valle, Guillermo Jones, Yoan Pablo Hernandez]. Fighting Zack Page was overall a good experience for me. I actually hurt him bad with a left hook in the fifth round, but he tied me up and I could not get him out of there. He made it a little ugly."
SB: Do you anticipate what kind of a fight your opponent will bring to the table, based on watching their previous fights, your technical skills, and the abilities of your opponents?
Bujaj: "It's all about what my opponent gives me as well. Page tried to make it a slow pace. He tried to limit the action and how many punches I could land. I still landed some big shots. Every time I hurt him, he would smother me and tie me up! He has made a profession out of going the distance [56 times] in this fashion."
SB: What big names would like to fight in 2015?
Bujaj: "Right now I want to fight regularly, on the road to my goal of becoming the cruiserweight champion of the world. I am scheduled to fight at Webster Hall on January 22, 2015, on a Dmitriy Salita card in New York City. Dmitriy came to my fight in Detroit with Zack Page this past weekend, and he was cheering for me. I would love to fight on Dmitriy's next card if it happens.
"We also have an offer on the table to fight in Canada next month. I don't know who. Nothing is definite yet. In terms of big names, I'm very interested in fighting 'The Road Warrior', Glen Johnson. I would love to fight Glen Johnson or Roy Jones Jr. for my WBC USNBC title sometime next year."
SB: You are calling Glen Johnson and Roy Jones Jr. out to fight you?
Bujaj: "Yes, definitely. I would love to fight Roy Jones Jr. more than anything!"